This is the 2nd Best Streak of Global Trends in 35 Years
---
---
It's been a heckuva year for the most benchmarked index in the world. And while some securities have been struggling (mostly of the smaller cap variety), the recovery in indexes has been a global phenomenon.
For more than 7 months now, every major world equity index that we follow has been in a solid long-term uptrend, with a rising 200-day moving average. Even the incredible momentum run in 2017 didn't see such pristine conditions, as there was usually at least one global index bucking the uptrend.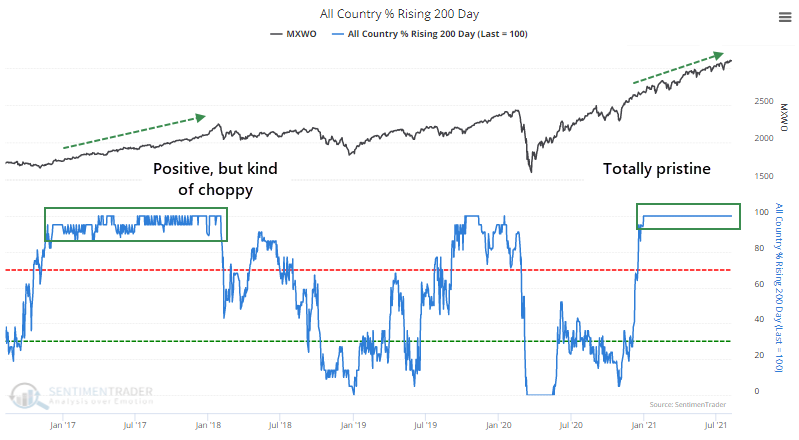 Over the past 50 years of data we have, this is now the 5th-longest streak of uninterrupted global uptrends and is creeping up on the longest in 35 years.
As we've seen with most momentum studies in recent months, there are few precedents.
The general pattern after the few times this occurred is shorter-term weakness but medium- to long-term strength. The MSCI World Index saw one double-digit pause following the 2009-10 recovery. The other three all saw consistent and impressive gains.
This has been a year like few others, and that has typically meant good things when viewed over a 6-12 month window.

---
What else we're looking at
Full returns in global markets after an uninterrupted string of uptrends
Financials are overbought...but not necessarily the bad kind of "overbought"
Using a simple trend-following method to outperform using the S&P 500 equal-weight index
---
Stat box



The S&P 500 has closed at a record high on 46 days so far in 2021. This is the 3rd fastest it has recorded so many new highs in a year. The only other years with more new highs before mid-August were 1964 and 1995.
---
Etcetera
Bond warning. As the S&P 500 reaches record highs day after day, the Cumulative Advance/Decline Line for the high-yield bond market deteriorates and is below its 20-day moving average.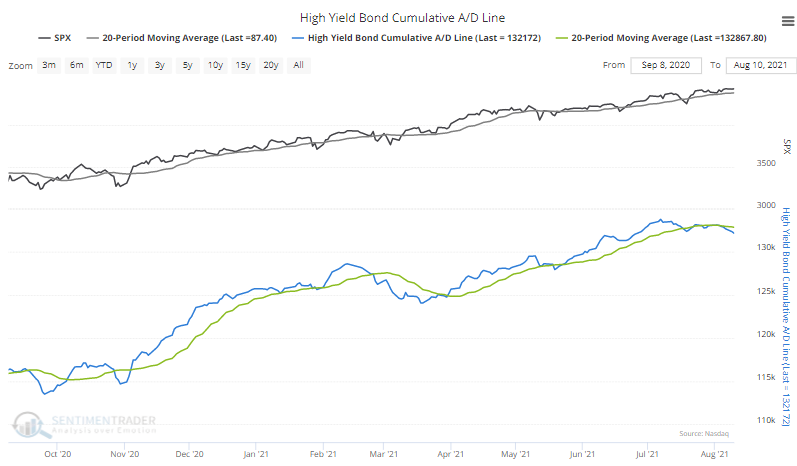 It's spreading. While not as extreme as for high-yield bonds, the A/D Line for securities traded on the NYSE is also having trouble keeping up with the S&P for the first time in over a year.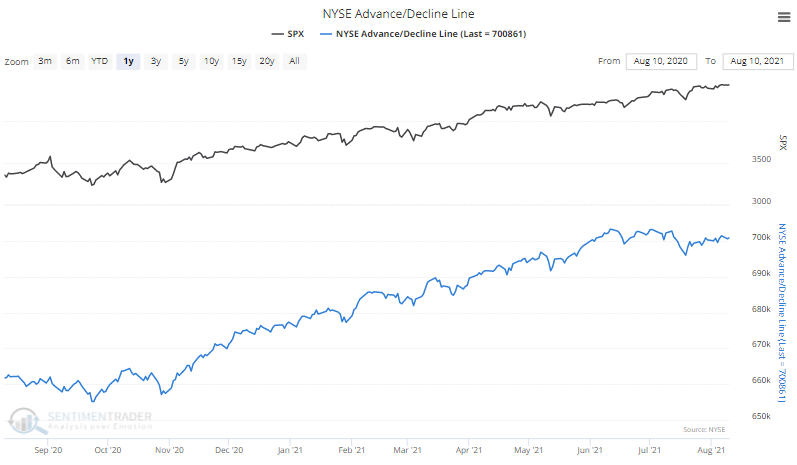 Gaining weight. Jay notes that the ratio of the capitalization-weighted S&P 500 to the equal-weighted version is close to crossing above its 13-month exponential moving average. This has important implications for future returns.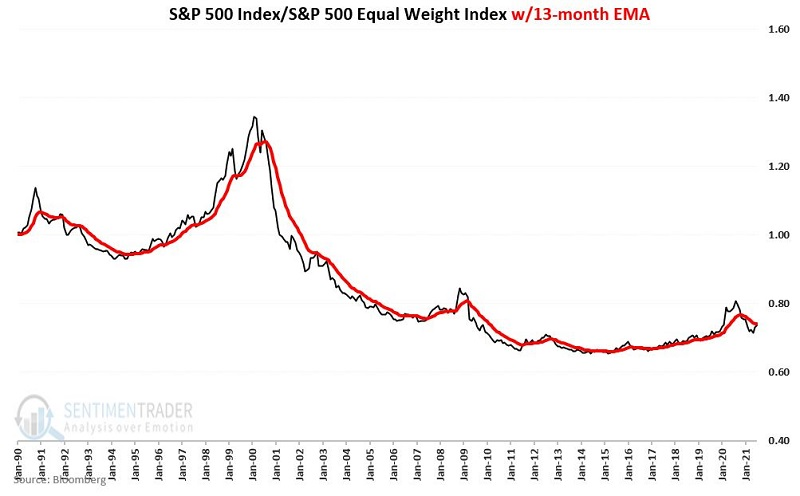 The post titled This is the 2nd Best Streak of Global Trends in 35 Years was originally published as on SentimenTrader.com on 2021-08-12.
At SentimenTrader.com, our service is not focused on market timing per se, but rather risk management. That may be a distinction without a difference, but it's how we approach the markets. We study signs that suggest it is time to raise or lower market exposure as a function of risk relative to probable reward. It is all about risk-adjusted expectations given existing evidence. Learn more about our service , research, models and indicators.
Follow us on Twitter for up to the minute analysis of market action.
Follow @sentimentrader