This is (not) just like 2009
---
---
According to a major investment bank, stocks are trading just like they did during the recovery in 2009.
As noted on MarketWatch, Morgan Stanley shows that the percentage of stocks within the S&P 500 that are trading above their 200-day averages looks just like it did when they emerged out of the financial crisis.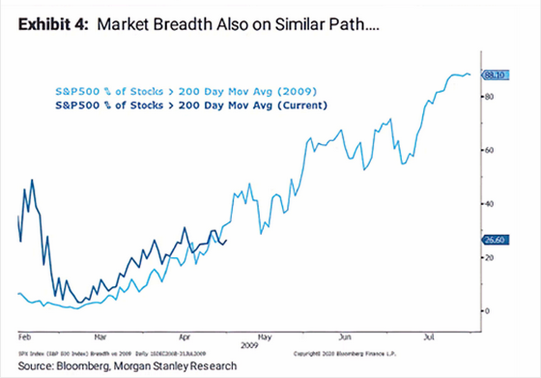 In the decades that we've been looking at price analogs (how highly correlated a current period is to the path during other periods), they've proven to be modestly useful.
The main problem is that it's way too easy to cherry-pick examples based on whatever outlook the analyst wants to convey. That's why we use a transparent methodology, going back as far as history allows, and show every occurrence.
When we do this with the percentage of stocks above their 200-day moving average, the initial recovery in 2009 doesn't even make the list.
Below, we can see the 4 most recent instances. This is not the S&P 500 we're looking at, it's the percentage of stocks above their 200-day averages, showing the most highly-correlated paths to what we've just seen over the past 40 days.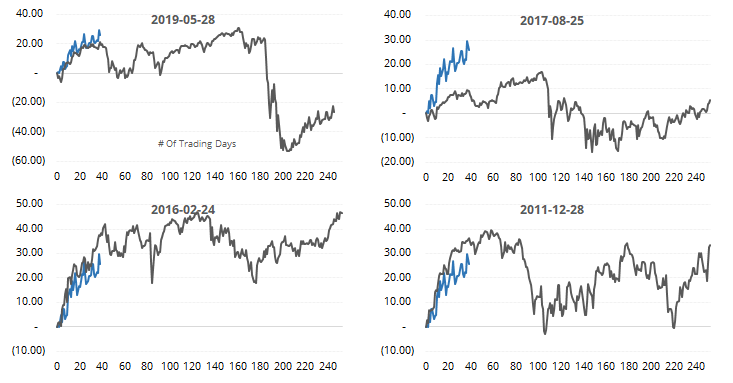 For the S&P 500 index itself, the most highly-correlated periods showed decent gains, especially longer-term. While it might not be the slam-dunk positive it was if we rely on the 2009 template, it does suggest a modest upside bias long-term.
This is an abridged version of our recent reports and notes. For immediate access with no obligation, sign up for a 30-day free trial now.
We also looked at:
A more detailed look at the highest-correlated recoveries in stocks above their 200-day averages
Consumers' attitudes about the present are improving relative to expectations about the future
Among financial experts, though, present vs future sentiment is still plunging
Dumb Money Confidence is getting high for a bear market
Fear & Greed is high, too
The Nasdaq 100 has almost erased its bear market losses
So has the Nasdaq Composite - what usually happens next

Related Posts:
---
Tagged As:
The post titled This is (not) just like 2009 was originally published as on SentimenTrader.com on 2020-05-21.
At SentimenTrader.com, our service is not focused on market timing per se, but rather risk management. That may be a distinction without a difference, but it's how we approach the markets. We study signs that suggest it is time to raise or lower market exposure as a function of risk relative to probable reward. It is all about risk-adjusted expectations given existing evidence. Learn more about our service , research, models and indicators.
Follow us on Twitter for up to the minute analysis of market action.
Follow @sentimentrader