This Indicator Shows Hedge Funds are Panic Buying
---
---
We already know that small options traders, among many others, have been jumping once again into speculative trades. Now we can add hedge funds to the mix.
Many of them have had a rough start to the year, and now seem intent on making up for lost ground. Per the Wall Street Journal.
"Client notes from both Morgan Stanley and Goldman Sachs Group Inc. showed that fundamental stock-picking hedge funds posted negative alpha-trader shorthand for poor performance-in the first half of the year.

Part of the challenge for professional stock pickers is that markets have been heavily rotational, Mr. Dowling and several fund managers said. Markets this year have whipped back and forth between growth stocks and value stocks, making it difficult for managers to find winning trades."
The latest estimate of Hedge Fund Exposure shows that funds are nearly 40% net long stocks, a quick rise from almost being flat a month ago. Over the past few years, when it has climbed this high, the S&P ended up giving any further gains back, though it took a long time to play out during the momentum market immediately prior to the pandemic crash.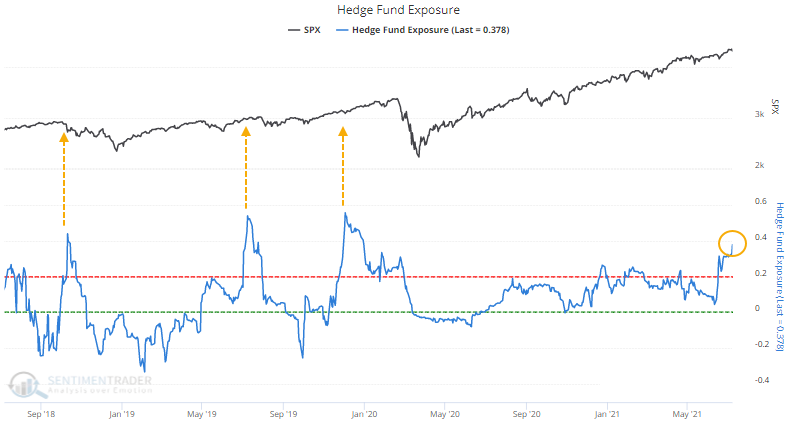 After any day since 2003 when Exposure was below zero, the S&P 500 returned an annualized 15.2%, versus only 1.4% when Exposure was above 25% as it is now.
In stocks, we continue to see a frustrating dichotomy between momentum and, well, pretty much everything else. Momentum has clearly been winning and anything counter to that has looked idiotic. Markets cycle between rewarding certain strategies over others but this has been a historically long stretch.

---
What else we're looking at
Full returns following a spike in Hedge Fund Exposure above 35%
How hedge funds appear to be positioned in bonds and the U.S. dollar
An update on absolute and relative trends in sector, industry, and country ETFs
A major update on corn and its prospects for the coming months
---
Stat box



On Monday, 45% of major S&P 500 sectors reached a 52-week high, the most in more than 2 months. Our Backtest Engine shows that over the past 5 years, there were 33 days with this many new sector highs and the S&P rallied over the next 3 months after 14 of those days.
---
Etcetera
Momentum market. With a 5-month streak, the S&P 500 has triggered the kind of momentum rarely seen in its history. This quick video shows it never lost ground over the next year after other signals.
Ostentatious oats. Oat prices have mostly followed their typical seasonal pattern this year. For bulls, this could be an issue because the contract has tended to see its summer peak in mid-July.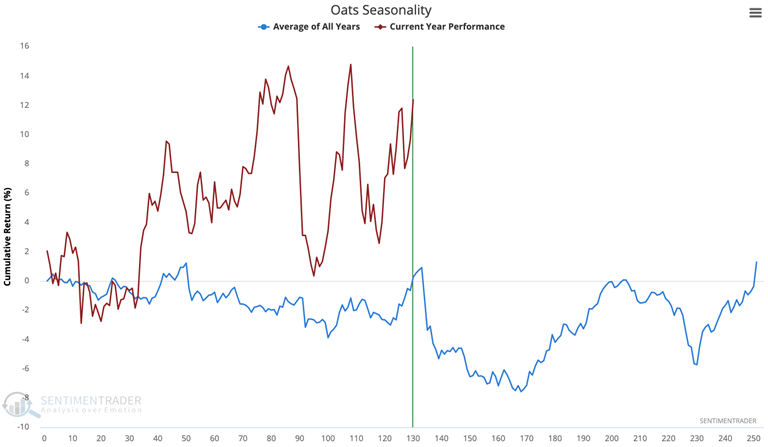 Scaredy cats. The CSFB Fear Barometer is at its highest point in the last three years. Like the SKEW index, this is showing that some investors are paying up for protective hedges.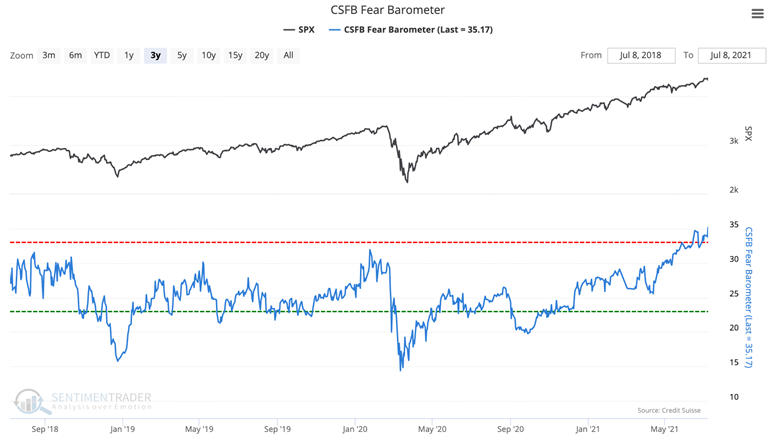 The post titled This Indicator Shows Hedge Funds are Panic Buying was originally published as on SentimenTrader.com on 2021-07-13.
At SentimenTrader.com, our service is not focused on market timing per se, but rather risk management. That may be a distinction without a difference, but it's how we approach the markets. We study signs that suggest it is time to raise or lower market exposure as a function of risk relative to probable reward. It is all about risk-adjusted expectations given existing evidence. Learn more about our service , research, models and indicators.
Follow us on Twitter for up to the minute analysis of market action.
Follow @sentimentrader