This indicator is now giving a warning for stocks
---
---
One of the major developments we've been watching for since there was overwhelming evidence of excessive optimism is weakening internals.
That can take any number of forms, and for the most part, we haven't really seen it until very recently.
One of the clearest ways to look for this is the net percentage of securities on the NYSE that reach 52-week highs versus 52-week lows. After the surge in new highs in early March, there was a minor divergence as those figures weakened even as the S&P 500 made a new high, but it wasn't major.
More concerning is that by Tuesday, there were more 52-week lows than 52-week highs. We don't care that it was caused by a fall in SPACs or any other excuse - there's always something.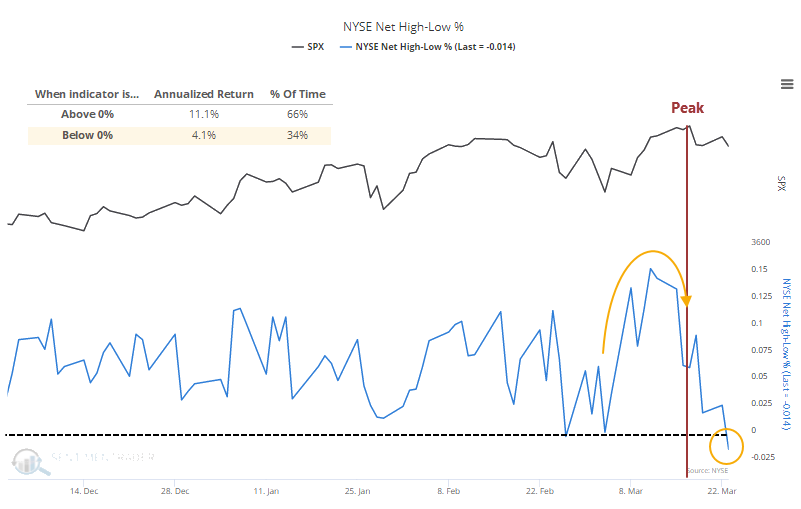 The reason we shouldn't expect a protracted divergence this time is simply how far stocks have traveled. Across all the major equity indexes, and throwing in over-the-counter stocks just because they have seen such a tremendous surge of interest, the median stock is up more than 100% from its lows.
What else we're looking at
Looking at other peaks in recent years, compared to behavior in the NYSE New High / New Low indicator
Charts of the median stock gain in the S&P 500, Dow Industrials, Nasdaq 100, Russell 2000, and OTC market
Comparing 1-year returns across sectors and factors versus a typical 1-year anniversary from a bear market low
Looking at gold and its 4-year cycle
What happens when there is a surge in equity inflows relative to stock market capitalization
An update on our Relative Range Rank for risk-on index ratios

Stat Box



Emerging markets indexes fell into a correction,

10%

below their highs, for the first time since hitting new highs in February. This is the 16th time they've done so since 1987.
Etcetera
Harvesting gains. Investors in corn futures have been plenty hopeful, driving a 50-day moving average of the Optimism Index close to record highs. That's now starting to turn.
Not feeling good about the buyers, though. Much of the enthusiasm for grains comes from exports overseas to markets like China. Traders in the FXI fund, though, haven't been too keen about stocks in that market, with the 20-day Optimism Index dropping to one of the lowest levels in 5 years.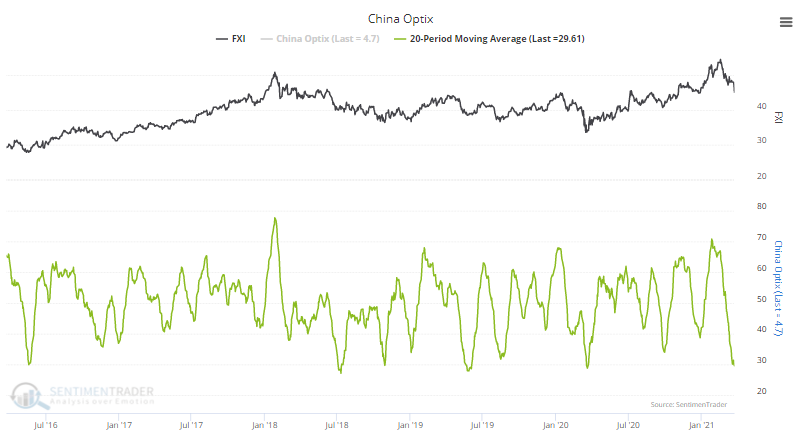 Small-cap smackdown. The carnage in small-cap stocks has pushed so many of them below their 10-day averages that fewer than 5.5% of components in the Russell 2000 remain above those short-term averages, the fewest of this bull market.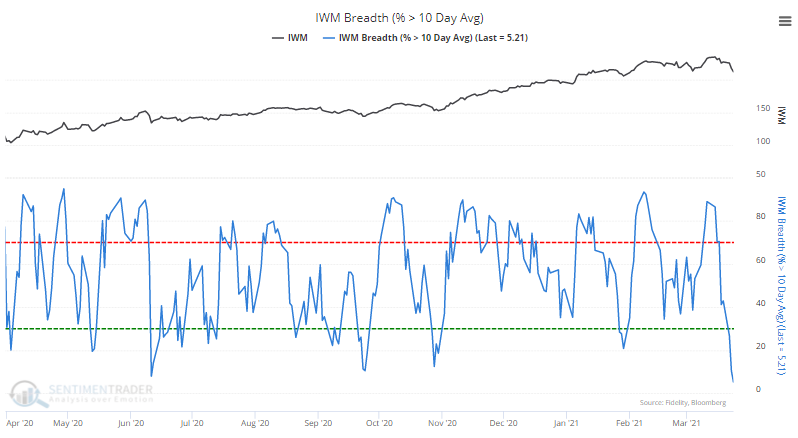 The post titled This indicator is now giving a warning for stocks was originally published as on SentimenTrader.com on 2021-03-25.
At SentimenTrader.com, our service is not focused on market timing per se, but rather risk management. That may be a distinction without a difference, but it's how we approach the markets. We study signs that suggest it is time to raise or lower market exposure as a function of risk relative to probable reward. It is all about risk-adjusted expectations given existing evidence. Learn more about our service , research, models and indicators.
Follow us on Twitter for up to the minute analysis of market action.
Follow @sentimentrader