This Has Only Happened Twice In 40 Years
---
---
High confidence
Dumb Money Confidence has recovered from its dip below neutral territory in May. Now above 77%, it's to a level that has preceded weak annualized returns in stocks.
As a signal, the first reading above this level after a dip below 50% has led to mostly weak short- and medium-term returns.
Small struggles
Three of the "big four" stock indexes hit new highs last week. The exception was the Russell 2000, which was still mired more than 9% below its own high.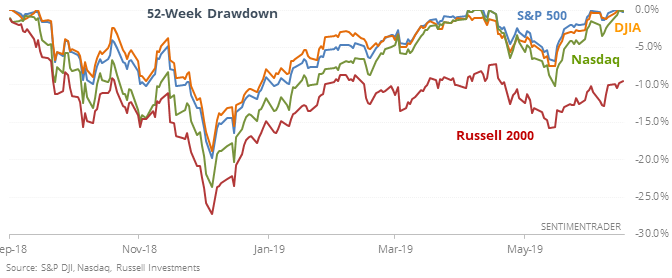 A divergence this large has only been seen twice in 40 years, both in 1999. Looking at smaller divergences, there was still a tendency to lead to weak returns in most of those indexes going forward.
Bulls return
The Bull Ratio in the AAII survey moved above 50% for the first time in nearly two months, with the S&P hovering near a 52-week high. Of the 6 other times they've behaved this way, the S&P declined over the next 2-12 weeks all but once, in 1992. Longer-term, it was a better sign.
The latest Commitments of Traders report was released, covering positions through last Tuesday
The 3-Year Min/Max Screen shows that "smart money" hedgers established new multi-year short exposure in corn and Eurodollar futures. They're short more than 20% of open interest in corn for the first time since 2013. They've gone from extreme optimism in gold last September to one of the largest short positions ever last week.
This post was an abridged version of our previous day's Daily Report. For full access, sign up for a 30-day free trial now.

Related Posts:
---
Tagged As:
The post titled This Has Only Happened Twice In 40 Years was originally published as on SentimenTrader.com on 2019-07-09.
At SentimenTrader.com, our service is not focused on market timing per se, but rather risk management. That may be a distinction without a difference, but it's how we approach the markets. We study signs that suggest it is time to raise or lower market exposure as a function of risk relative to probable reward. It is all about risk-adjusted expectations given existing evidence. Learn more about our service , research, models and indicators.
Follow us on Twitter for up to the minute analysis of market action.
Follow @sentimentrader