This Gas Rally is Reaching Historic Proportions
---
---
It's gotten terribly expensive to power the world.
Natural gas is an increasingly important source of energy for developed markets. According to the EIA, natural gas accounted for 40% of U.S. electricity generation in 2020.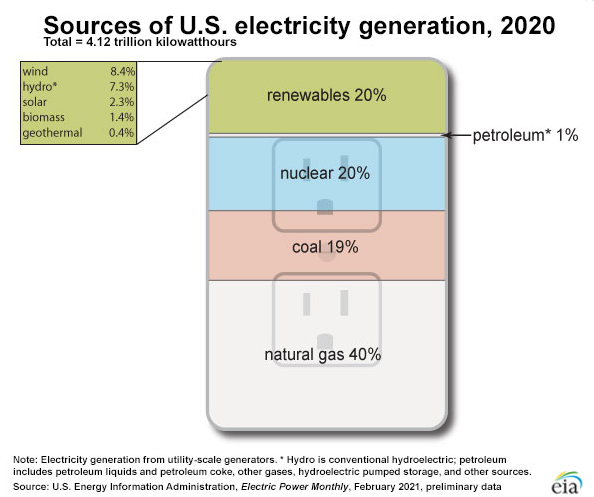 And it has gotten a whole lot pricier. Since the low in June 2020, the continuous front-month natural gas futures contract has risen by 268%, rising by over 38% in just the past month.
So, what should we expect from here if we use history to guide our future outlook for gas prices?
Dean noted that the natural gas one-year futures spread as a percent of the first contract price is an excellent indicator to assess a dislocation in the futures curve. Historically, a high spread identifies significant peaks in the commodity. In contrast, the commodity tends to form a substantial bottom when the spread falls to a low level.
With the spread increasing above 29% last week, it has moved to one of its most extreme positions in 30 years.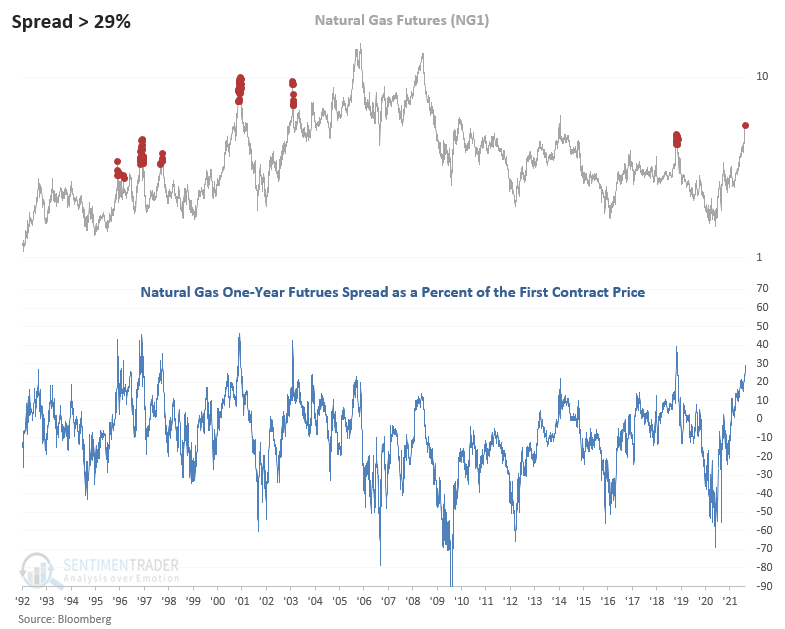 After the other signals, results were a coin toss in the short term with some substantial gains. Once you get past that timeframe, watch out below.
Natural gas prices tend to rise during September and October, and "smart money" commercial hedgers are still net long. Gas may quickly dissipate as that seasonal window fades, especially if hedgers turn less optimistic on the contract.

---
What else we're looking at
A deeper look at natural gas, forward returns, and its tendencies after big rallies over various time frames
Seasonal tendencies in retail stocks
Semiconductor stocks just had a historic run - what's that's meant for future returns
---
Stat box



It's been 219 sessions since the S&P 500 closed below its 50-day moving average on consecutive days. That's the 4th-longest streak since 1928.
---
Etcetera
Powering down. After a stellar August, utility stocks have pulled back, and the Optimism Index for the XLU fund has plunged below 10%. It's now at one of the lowest levels of the past year.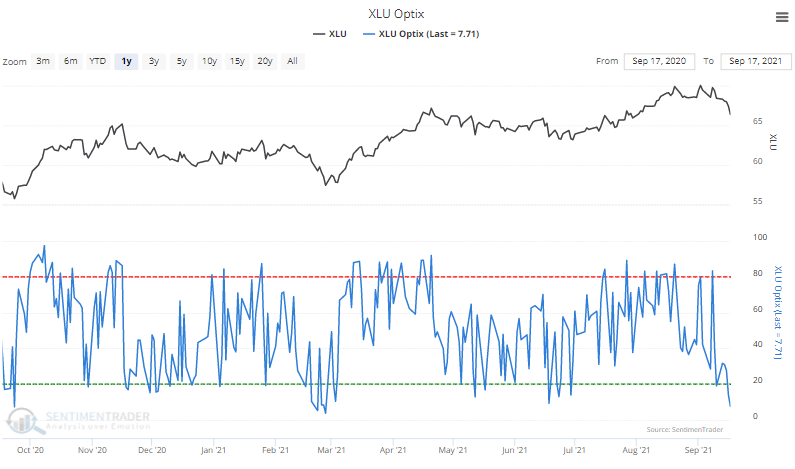 In-correct. After a brief respite during the spring, 100% of gold mining stocks are back in correction territory, trading more than 10% below their 52-week highs.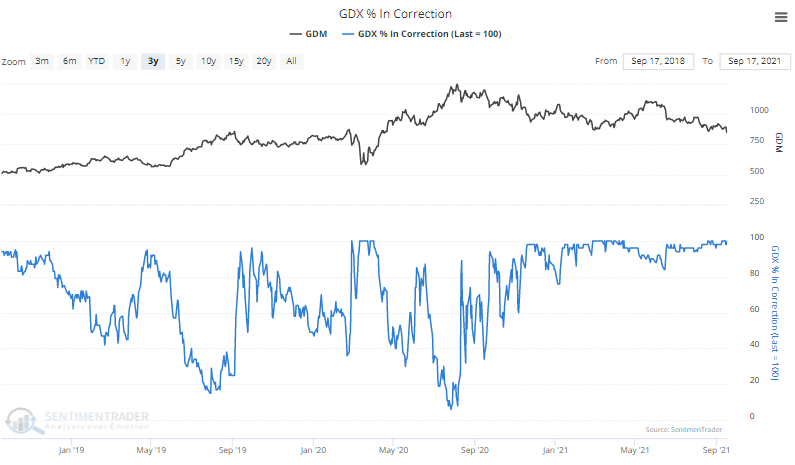 Lotsa lows. Not only are many gold miners in correction territory, more than 15% of them have declined to 52-week lows. Other panics saw this figure jump to 30% or more. We update these figures every day for premium subscribers.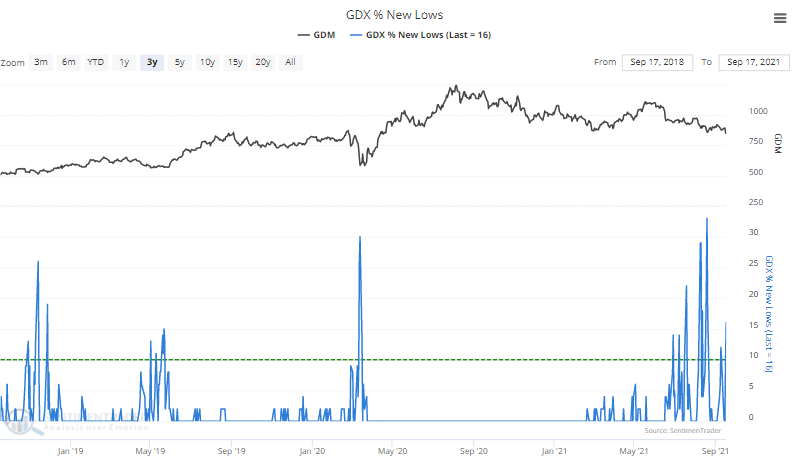 The post titled This Gas Rally is Reaching Historic Proportions was originally published as on SentimenTrader.com on 2021-09-20.
At SentimenTrader.com, our service is not focused on market timing per se, but rather risk management. That may be a distinction without a difference, but it's how we approach the markets. We study signs that suggest it is time to raise or lower market exposure as a function of risk relative to probable reward. It is all about risk-adjusted expectations given existing evidence. Learn more about our service , research, models and indicators.
Follow us on Twitter for up to the minute analysis of market action.
Follow @sentimentrader