This Fundamental Indicator Just Ended a Record Positive Streak
---
---
For the first time in a year, economic data is disappointing those who predict it.
The Citi Economic Surprise Index briefly turned negative near the end of last week. That's the first time the index has been negative since May of last year.
The index measures how much that economic data is beating or missing economists' forecasts. As a group, economists tend to self-correct as new data comes in, and then they extrapolate into the future, so the index consistently swings between extremes.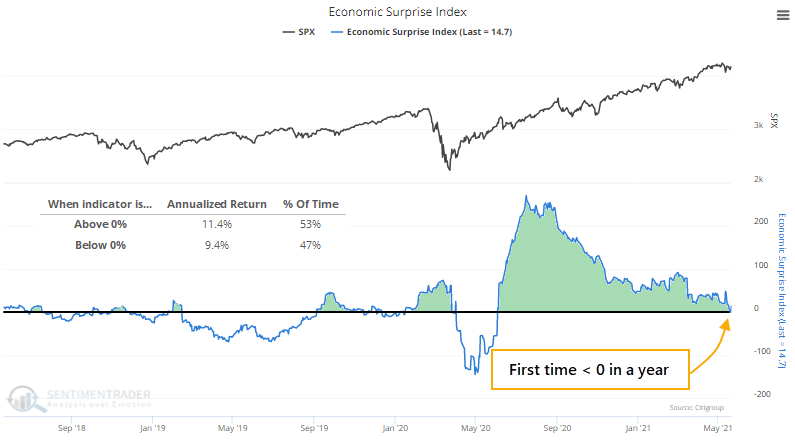 We can see from the chart that the S&P 500 has a very slight tendency to show a better return when surprises are positive than when they're negative, but it's not a big difference.
What may be more notable is that this is ending a record streak of days with positive surprises.
Perhaps stocks will dip once economic data starts to disappoint after investors had become comfortable with positive surprises? To check, we can look at the S&P's future returns after the few other times when a long streak of positives was interrupted.
There were only four other times when Economic Surprises lasted six months or longer, and after the ends of those streaks, the S&P showed mixed returns. There were two times when it fell immediately, and the other two saw their short-term gains wiped out in the months ahead. All four showed a positive one-year return, though.

Stat Box



On Monday,

69%

of gold mining stocks were trading above their 200-day moving average. This is nearing a level that indicates overbought conditions, and rallies in miners often fail around this level - but if they don't, it's a sign of strong buying interest that tends to then persist for months afterward. We update this figure, along with a handful of other unique breadth metrics for gold mining stocks, on our site each day for members.
What else we're looking at
Full details for S&P 500 returns after economic surprises turn negative
Future returns in gold and the dollar were more compelling after surprises turned negative
Sector and factor returns after the same signals
One particular industry is entering a bullish seasonal window
What happens when there is a spike then retreat in Nasdaq 100 stocks falling below their Bollinger Bands
An update to industry, sector, and country ETF absolute and relative trends

Related Posts:
---
Tagged As:
The post titled This Fundamental Indicator Just Ended a Record Positive Streak was originally published as on SentimenTrader.com on 2021-05-25.
At SentimenTrader.com, our service is not focused on market timing per se, but rather risk management. That may be a distinction without a difference, but it's how we approach the markets. We study signs that suggest it is time to raise or lower market exposure as a function of risk relative to probable reward. It is all about risk-adjusted expectations given existing evidence. Learn more about our service , research, models and indicators.
Follow us on Twitter for up to the minute analysis of market action.
Follow @sentimentrader