There is a battle brewing among industries, sectors, and worldwide indexes
---
---
As we monitor the rally for health and watch how many stocks, industries, sectors, and countries are able to hold their trends, we're seeing an unusual battle between time frames.
For about half of the trading days over the past month, almost all industry indexes have managed to hold above their 50-day moving averages, but not even half of them have held above their 200-day averages.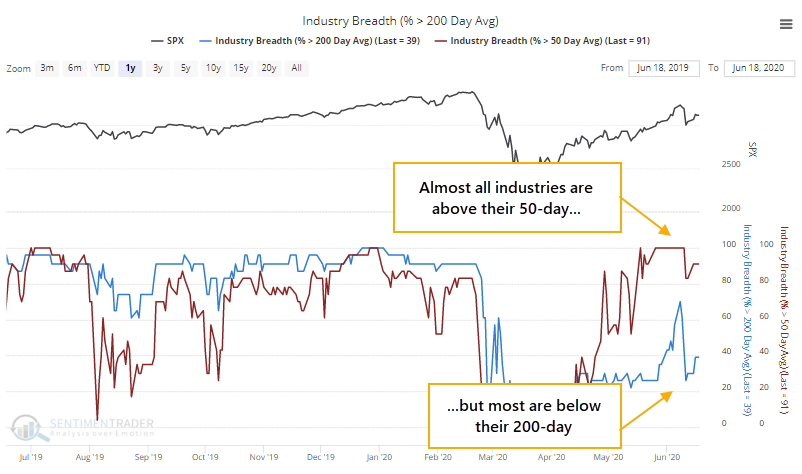 Same goes for the major sectors and major world equity indexes.
Other times when there was this kind of protracted battle between all (or almost all) industries, sectors, or countries trading above their 50-day moving averages while less half of them managed to hold above their 200-day averages, stocks showed some short-term weakness but longer-term strength.
This is an abridged version of our recent reports and notes. For immediate access with no obligation, sign up for a 30-day free trial now.
We also looked at:
A look at sectors and global equity indexes above their moving averages, and a full signal table of past occurrences
Big money managers went overweight stocks for the first time in months
The crude oil term structure is almost back to even
The Nasdaq's momentum streak is historic
The monthly RSI for the Nasdaq 100 / S&P 500 ratio has been this high only once before
The S&P 500 crashed in one day, then went nowhere for a week - what happens next

The post titled There is a battle brewing among industries, sectors, and worldwide indexes was originally published as on SentimenTrader.com on 2020-06-22.
At SentimenTrader.com, our service is not focused on market timing per se, but rather risk management. That may be a distinction without a difference, but it's how we approach the markets. We study signs that suggest it is time to raise or lower market exposure as a function of risk relative to probable reward. It is all about risk-adjusted expectations given existing evidence. Learn more about our service , research, models and indicators.
Follow us on Twitter for up to the minute analysis of market action.
Follow @sentimentrader