The Year That Everything Rallied
---
---
This is an abridged version of our recent reports and notes. For immediate access with no obligation, sign up for a 30-day free trial now.
The year of everything
Through late October, stocks, bonds, gold, and oil are all showing solid year-to-date gains. This is only the 5th year in the past 30 when buyers were so persistent in each of the markets.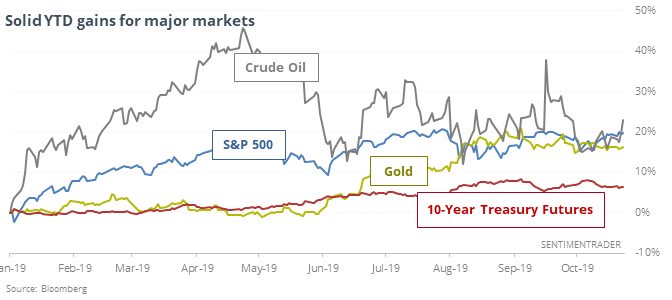 It was more common when we exclude the volatile oil contract, and typically led to further gains for stocks, less so for the other assets. The S&P 500 was higher over the next 2-3 months 9 out of 10 times. Bonds and gold had a harder time showing gains.
VIX smash
The VIX "fear gauge" fell below 13 for the first time in months. While low volatility is considered a warning by many, the S&P rose almost every time after the VIX crossed 13, with a heavily positive ratio of reward to risk.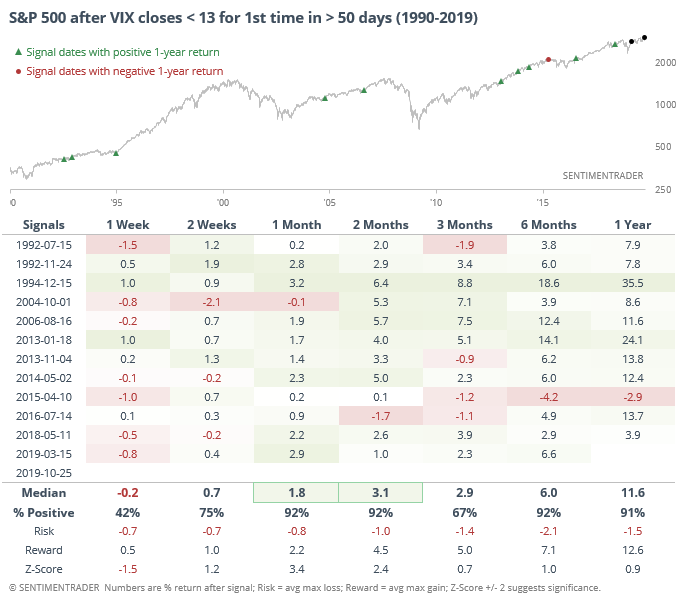 The S&P's forward returns were almost universally positive. Over the next 3 months, the most the S&P lost at any point among any of the signals was a mild -3.5%. At the same time 9 of the signals gained more than +3.5% at some point at their best points. That led to a highly positive risk/reward skew on average.

The post titled The Year That Everything Rallied was originally published as on SentimenTrader.com on 2019-10-28.
At SentimenTrader.com, our service is not focused on market timing per se, but rather risk management. That may be a distinction without a difference, but it's how we approach the markets. We study signs that suggest it is time to raise or lower market exposure as a function of risk relative to probable reward. It is all about risk-adjusted expectations given existing evidence. Learn more about our service , research, models and indicators.
Follow us on Twitter for up to the minute analysis of market action.
Follow @sentimentrader