The worst six months are even worse during bad (so far) years
---
---
Those next 6 months could be a challenge based on the calendar. We've all heard about 'sell in May and go away' and it has been particularly acute during down years. When the S&P 500 was down at least 5% year-to-date through April, the months ahead were skewed more toward risk and less toward reward.
It has been particularly dastardly over the past 60 years. The next 2-6 months were not pleasant.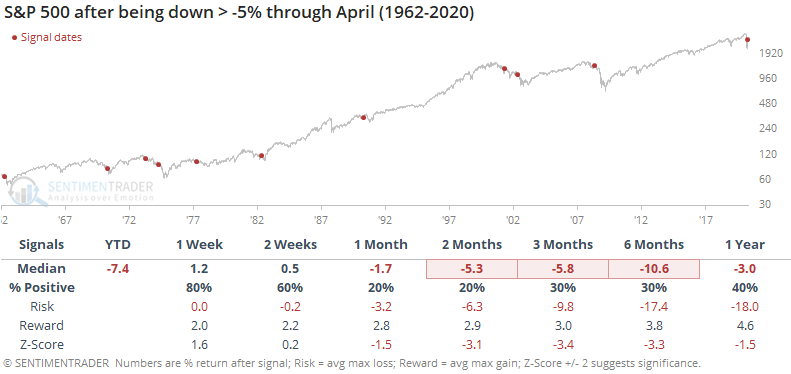 Contrast that to the returns during the 42 years when the S&P was up at least 5% through April.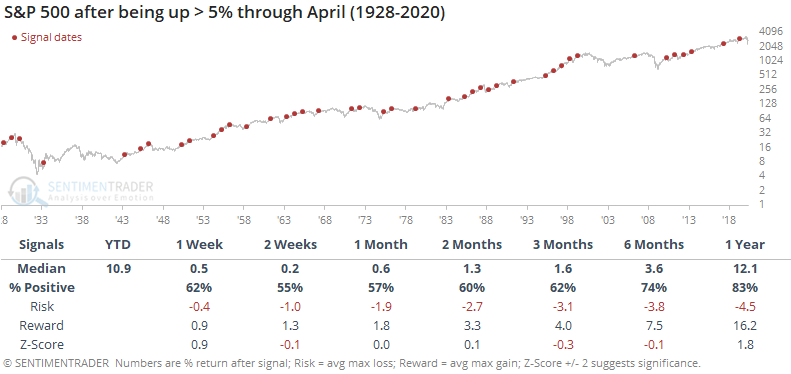 When the S&P was down 5% or more heading into the summer, the next 6 months averaged -1.4% with a 47% win rate, compared to an average of +3.6% and 74% win rate during up years.
Seasonality is a tertiary input at best, but it suggests that upside over the summer months might be hard to come by given the already-weak conditions.
This is an abridged version of our recent reports and notes. For immediate access with no obligation, sign up for a 30-day free trial now.
We also looked at:
With a surge in buying interest, stocks enjoyed a "double" Zweig Breadth Thrust
Market returns after plunges in GDP
Personal spending also plunged, and what that meant for stocks

The post titled The worst six months are even worse during bad (so far) years was originally published as on SentimenTrader.com on 2020-05-01.
At SentimenTrader.com, our service is not focused on market timing per se, but rather risk management. That may be a distinction without a difference, but it's how we approach the markets. We study signs that suggest it is time to raise or lower market exposure as a function of risk relative to probable reward. It is all about risk-adjusted expectations given existing evidence. Learn more about our service , research, models and indicators.
Follow us on Twitter for up to the minute analysis of market action.
Follow @sentimentrader