The troops are leading the general
---
---
For the first time in a month, there have been enough stocks in the S&P 500 rallying versus declining to push its Cumulative Advance/Decline Line to a 52-week (and all-time) high.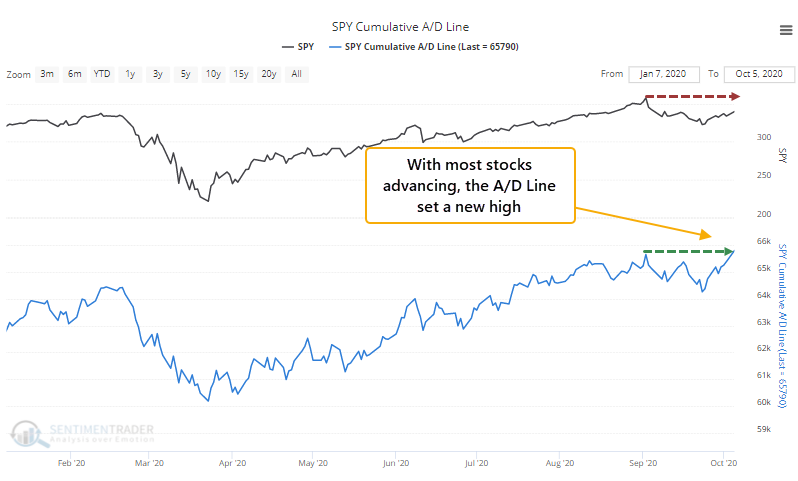 This may be notable because the S&P 500 itself was dragged lower by some of the big tech stocks that had the air let out of them in September. It's a case where the troops are leading the general.
This is supposed to be wildly bullish. To check, we looked for every time when the S&P's A/D Line made a 52-week high for the first time in at least a month, while the S&P 500 itself was more than 2.5% below its own high.
This was not a signal to put all spare cash to work and rush into a leveraged long position. Several of these signals saw medium-term choppiness, but looking at the Risk/Reward table, only 3 of the 14 signals saw a loss of more than -5% at any point within the next 3 months.
This is an abridged version of our recent reports and notes. For immediate access with no obligation, sign up for a 30-day free trial now.
We also looked at:
Full returns following times when the A/D Line was leading the S&P 500
When this happened at major extremes, the signal was even more notable
"Smart money" hedgers are short 10-year Treasuries but long 30-years - what that's meant for the yield curve, stocks, gold, and more
What happens after there is a surge in breadth among utility stocks

The post titled The troops are leading the general was originally published as on SentimenTrader.com on 2020-10-07.
At SentimenTrader.com, our service is not focused on market timing per se, but rather risk management. That may be a distinction without a difference, but it's how we approach the markets. We study signs that suggest it is time to raise or lower market exposure as a function of risk relative to probable reward. It is all about risk-adjusted expectations given existing evidence. Learn more about our service , research, models and indicators.
Follow us on Twitter for up to the minute analysis of market action.
Follow @sentimentrader