The top 5 have set a new record
---
---
Thanks to the big tech stocks that we're all so familiar with, the most important equity index in the world has become historically top-heavy.
For the first time since 1979, only 5 stocks account for more than 20% of the S&P's market cap. Back then, it was IBM and AT&T with more than 6% weight each, followed by GM, GE, and Kodak.
Over the past year, these top 5 stocks have accumulated an additional 5% of market cap relative to the other ~500 stocks in the index, exceeding their rate of growth in 2000.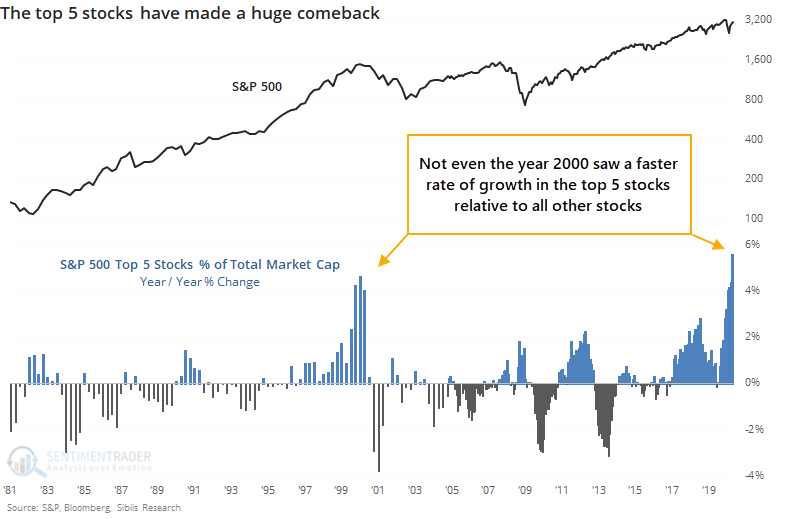 Because the large stocks are dominating the index so much right now, the index itself can show a gain even when most of its stocks are declining. That's what happened on Monday, and to a historic degree. Never before in 30 years has the S&P risen so much on a day when so many more of its component stocks declined rather than advanced. It wasn't just the S&P. Across the entire NYSE, more securities declined than advanced, and more volume flowed into those declining issues.
We tend to not put a lot of weight on single-day breadth readings. Sometimes a single stock can heavily skew volume figures, or some weird news event can trigger an odd reading. It's more worrying when these oddities pile up.
This is an abridged version of our recent reports and notes. For immediate access with no obligation, sign up for a 30-day free trial now.
We also looked at:
What happens when the S&P 500 rallies but most of its stocks decline
What happens when the S&P 500 rallies but most issues on the NYSE (and most volume) are negative
Foreigners bought a record amount of U.S. stocks relative to market cap
Silver is making big daily jumps to new yearly highs - how it reacted after similar spikes
The VIX "fear gauge" has dropped for 15 out of 18 weeks

The post titled The top 5 have set a new record was originally published as on SentimenTrader.com on 2020-07-22.
At SentimenTrader.com, our service is not focused on market timing per se, but rather risk management. That may be a distinction without a difference, but it's how we approach the markets. We study signs that suggest it is time to raise or lower market exposure as a function of risk relative to probable reward. It is all about risk-adjusted expectations given existing evidence. Learn more about our service , research, models and indicators.
Follow us on Twitter for up to the minute analysis of market action.
Follow @sentimentrader