The start of 2022 suggests a good year for Energy and Value
---
---
The dollar loses its medium-term trend

A well-known seasonal pattern, originated by Stock Trader's Almanac, suggests that how investors behave in the first 5 days of a new year sets the tone for the rest of the year.
In theory, this is silly. There is no reason why such a short-term move would have any impact on returns nearly 12 months later. In practice, it's not so easy to dismiss.
Instead of rehashing the familiar, let's look at sectors and factors and see if there is any reason to be especially bullish or bearish on their prospects for the rest of this month and this year depending on how they were treated during that first week. Based on that theory, things are looking good for Energy, Financial, and Value stocks. High-beta investors might have a reason to worry.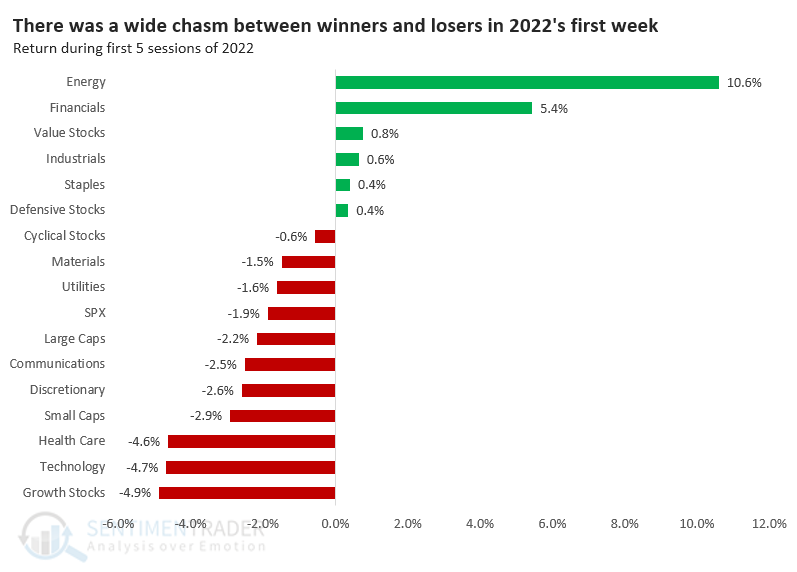 When we look at how first-week winners performed for the rest of the month and the rest of the year, the results were good.
Taking first place was Energy, which added to its gains during the rest of the month only 52% of the time, but during the other approximately 247 other days in the year, it rose a whopping 90% of the time.

Stat box



Despite relatively mild losses in the Nasdaq 100, only 54% of its member stocks are trading above their 200-day moving averages. That's tied for the lowest amount since May 2020.

Most commodities are above their averages
Value has been surging relatively to Growth, and that's impacting overseas markets relative to domestic ones.
The MSCI ACWI Index leans more toward growth-oriented groups. In contrast, the MSCI ACWI ex USA Index favors value. So, when comparing a USA-dominated world index to the world ex USA index, it's one big growth versus value trade.
Dean assessed the outlook for the MSCI ACWI ex USA Index (a value trade) when 90% or more global country ETFs outperform the S&P 500. He used a 21-day rolling return to calculate the percentage of foreign markets exceeding the S&P 500.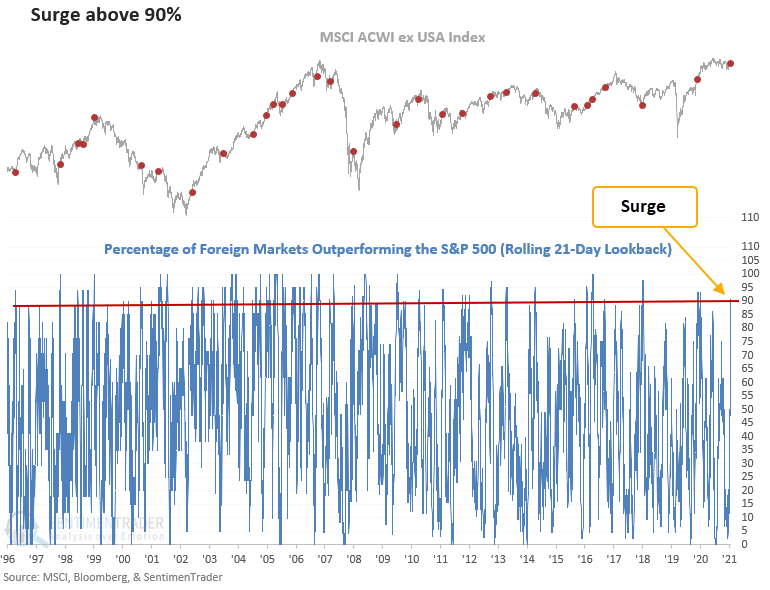 This signal has triggered 30 other times over the past 25 years. After the others, future returns, win rates, and z-scores look solid across medium and long-term time frames, especially the 1-month window.
Results after a swift reversal in the percentage of markets outperforming were even more compelling.


The post titled The start of 2022 suggests a good year for Energy and Value was originally published as on SentimenTrader.com on 2022-01-14.
At SentimenTrader.com, our service is not focused on market timing per se, but rather risk management. That may be a distinction without a difference, but it's how we approach the markets. We study signs that suggest it is time to raise or lower market exposure as a function of risk relative to probable reward. It is all about risk-adjusted expectations given existing evidence. Learn more about our service , research, models and indicators.
Follow us on Twitter for up to the minute analysis of market action.
Follow @sentimentrader