The S&P hit a high, but most of its stocks are in downtrends
---
---
Since markets bottomed last fall, a lot of stocks (and bonds) were rising, and the buying pressure was impressive. That kind of activity tends to lead to longer-term gains.
Shorter-term is a different matter, but even that has led to only inconsistent losses. The biggest issues have come when underlying momentum wanes and we see cracks under the surface.
That's what's happening now.
Relatively few stocks have been rising on days the S&P 500 shows a gain. That difference between advancing and declining stocks has been negative enough that the McClellan Oscillator for the S&P 500 is well below zero.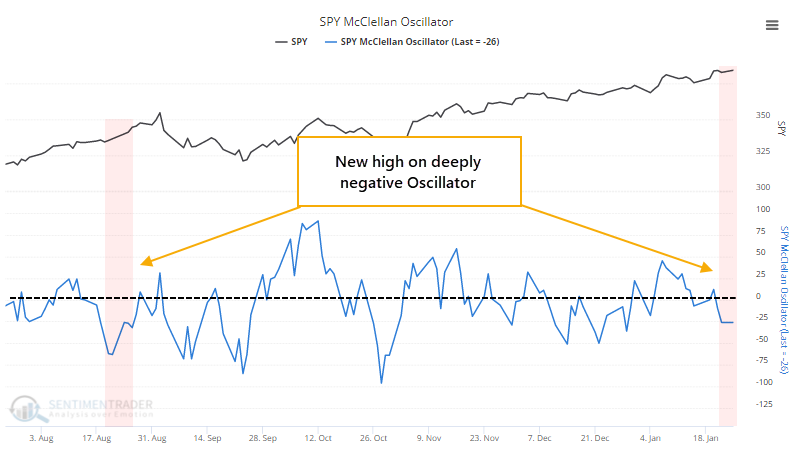 It's unusual to see the Oscillator below zero, and especially well below zero, when the index itself closes at a 52-week high. The only time in recent years that it triggered was last August.
What else we're looking at
What happened since 1928 when the S&P closes at a new high with the majority of its stocks in short-term downtrends
Full returns since 1928 following new highs with a negative McClellan Oscillator
A (very) long-term look at when we might see a change in long-term interest rates
A (very) short-term look at Gamestop options

Stat Box



The S&P 500's McClellan Oscillator is below the zero line. Since 1928, its annualized return when the Oscillator was below zero is an abysmal

-3.2%,

versus well into double-digits when it's above zero.
Sentiment from other perspectives
When investors become scared, they tend to sell everything at the same time. When they're comfortable, they buy and sell based on the individual merits of stocks. As stocks rise, correlations among them drop. Like now. Source: Bloomberg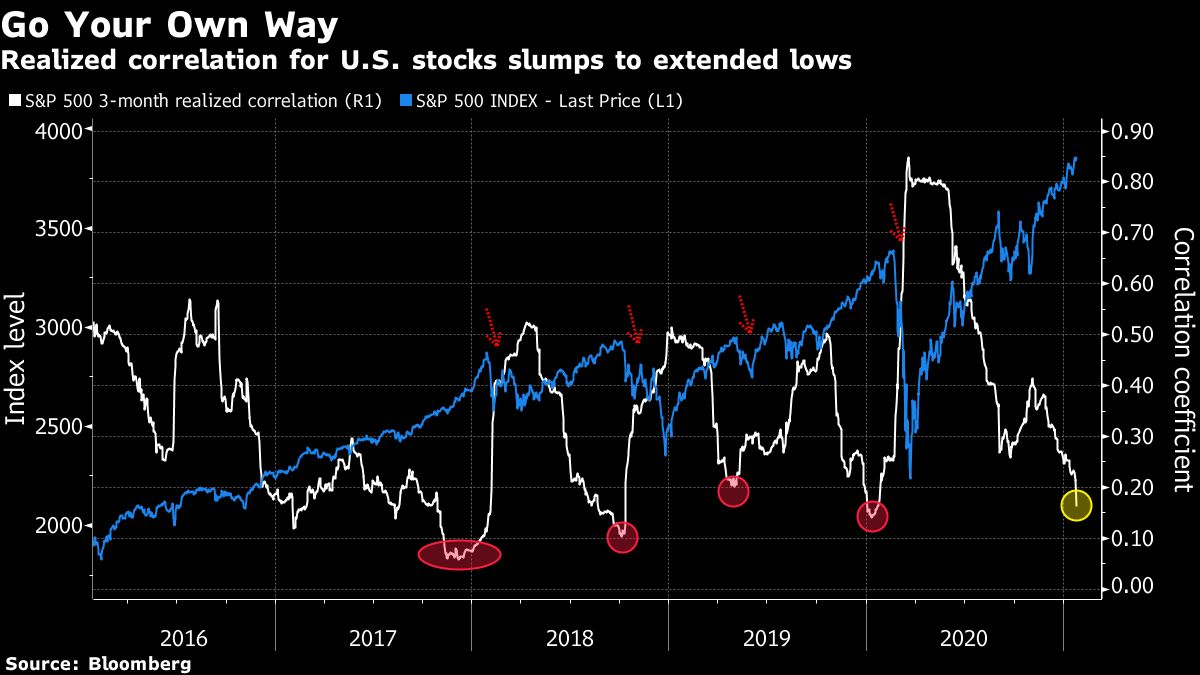 The year 2020 was a good one for gold prices, and true to their nature, investors poured in, hoping for more gains. Inflows to gold ETFs soared to a record high last year. Source: Visual Capitalist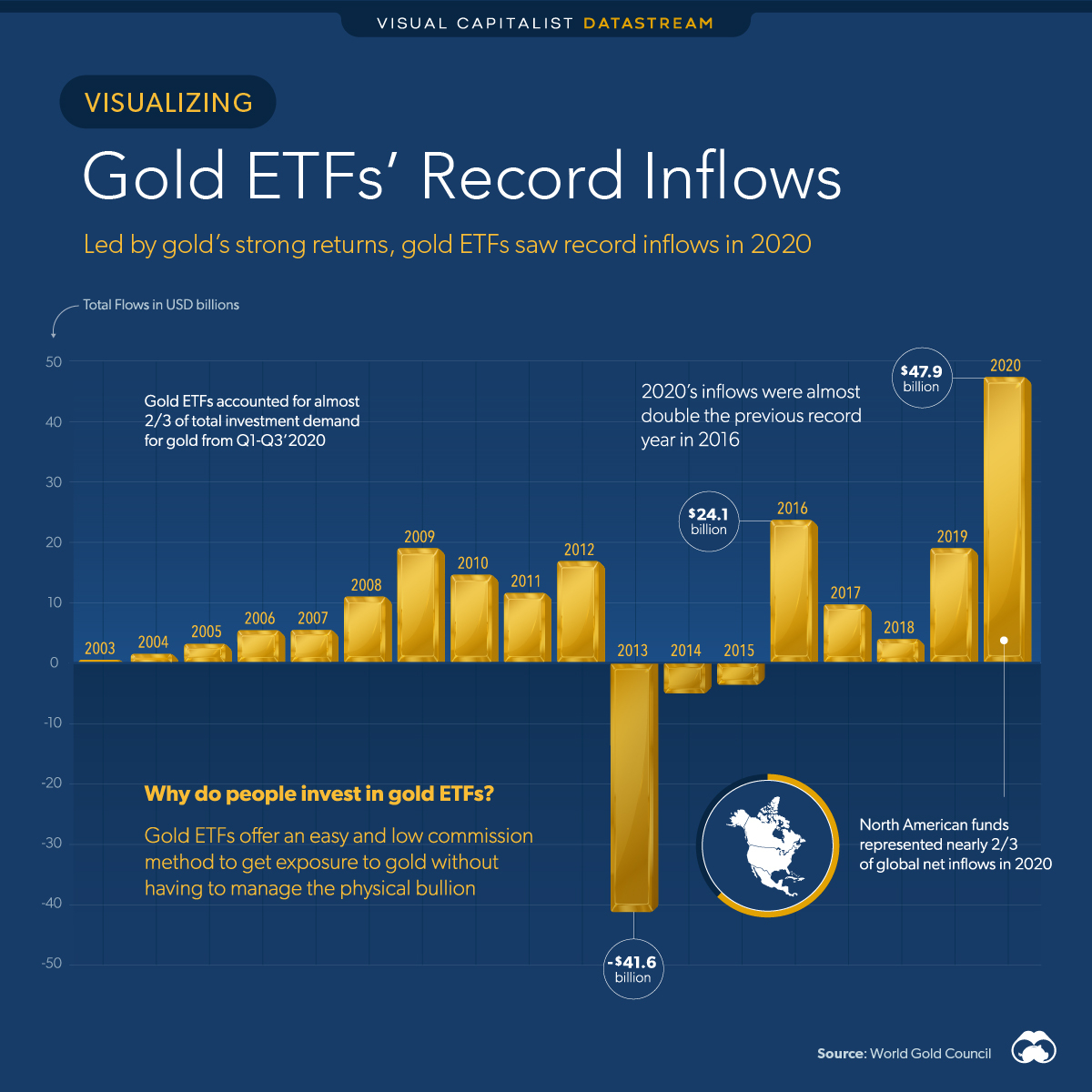 GameStop isn't the only YOLO stock. A handful of others, popular with short-sellers and their retail-trading nemeses, have skyrocketed on huge volume and volatility in recent days. Source: Wall Street Journal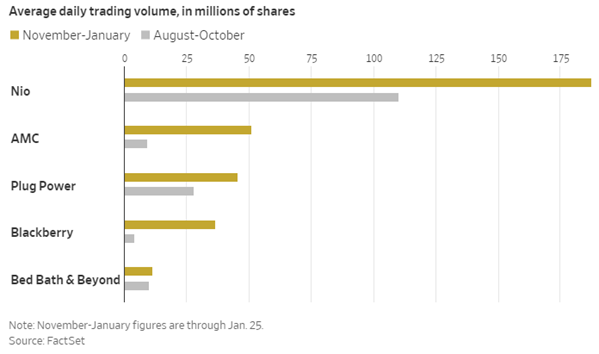 The post titled The S&P hit a high, but most of its stocks are in downtrends was originally published as on SentimenTrader.com on 2021-01-27.
At SentimenTrader.com, our service is not focused on market timing per se, but rather risk management. That may be a distinction without a difference, but it's how we approach the markets. We study signs that suggest it is time to raise or lower market exposure as a function of risk relative to probable reward. It is all about risk-adjusted expectations given existing evidence. Learn more about our service , research, models and indicators.
Follow us on Twitter for up to the minute analysis of market action.
Follow @sentimentrader