The S&P 500 is becoming uncorrelated with its own members
---
---
The correlation between the S&P 500 index that everyone watches and its equal-weighted cousin have broken down. The two versions of the same index are moving less together than at almost any point in the past 30 years, due to the by now well-documented dominance of the very large tech stocks, and otherwise poor breadth.
The index is even becoming uncorrelated with itself. Isabelnet notes that the correlation between the S&P 500 and its own Cumulative Advance/Decline Line is breaking down.
This is nearing the smallest-ever correlation between the index and...itself. The only other time this happened was 1999-2000.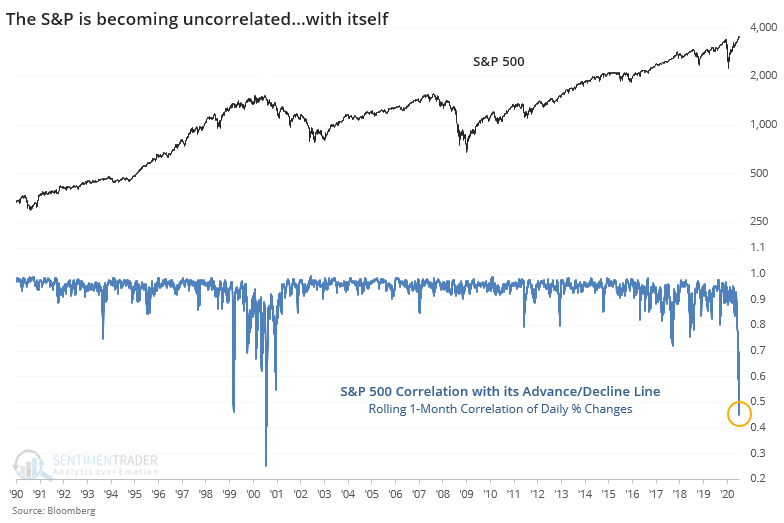 This kind of split in the market has also caused a drop in the correlation between value and growth stocks. Going back to 1928, the two factors have never moved quite like this. Over the past month, the two actually have a negative correlation, a stunning historical anomaly.
This is an abridged version of our recent reports and notes. For immediate access with no obligation, sign up for a 30-day free trial now.
We also looked at:
A look what happens when the correlation between value and growth stocks breaks down
Corporate insiders are buying two specific sectors, while pulling back on a third
More than a third of Nasdaq 100 stocks are overbought
Finally, less the half of S&P 500 stocks are in a correction

The post titled The S&P 500 is becoming uncorrelated with its own members was originally published as on SentimenTrader.com on 2020-09-03.
At SentimenTrader.com, our service is not focused on market timing per se, but rather risk management. That may be a distinction without a difference, but it's how we approach the markets. We study signs that suggest it is time to raise or lower market exposure as a function of risk relative to probable reward. It is all about risk-adjusted expectations given existing evidence. Learn more about our service , research, models and indicators.
Follow us on Twitter for up to the minute analysis of market action.
Follow @sentimentrader