The Recession Is Officially Over (But Don't Tell Growth Stocks)
---
---
The recession is over, and we can all breathe easier now.
According to the National Bureau of Economic Research (NBER), the "official" arbiter of U.S. business cycles, the economy pulled out of recession last April, ending the shortest recession on record.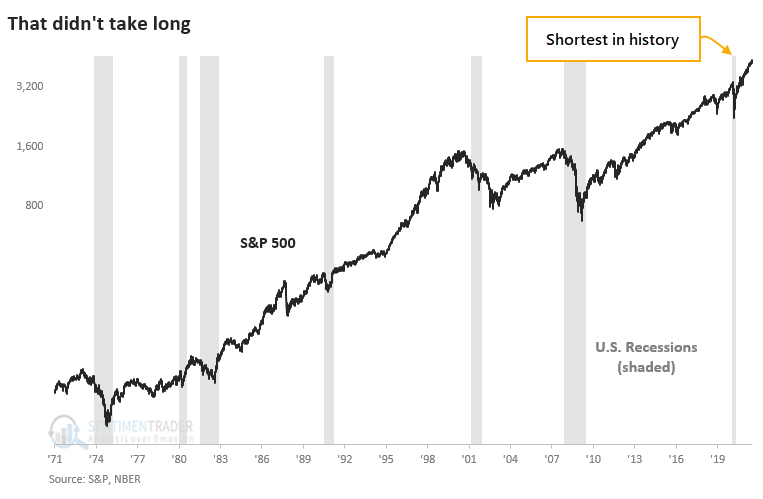 Great!
The only problem is that it would have been nice to know this a year ago. Because of data lags and the requirements for determining business cycles, that's not possible, so we have to deal with things well after the fact.
To see if there is any potential use in becoming more optimistic once a recession is officially declared to be over, we looked at how the S&P 500 performed following a publicly declared end to a recession by the NBER.
In the very short-term of a couple of weeks, the S&P dropped after each of the last five declarations. The weakness didn't last long, though it still underperformed a random return up to a year later. Only over the next 2-3 years did it show above-average performance, with low risk and high reward.
The U.S. dollar showed mixed returns. Gold was basically the inverse, with declines in the 1980s as the dollar rallied and gains after the last two as the dollar fell. The yield on 10-year Treasuries rose four out of five times.
Returns in sectors and factors showed that Energy and Value stocks showed some of the best returns while Growth stocks...did not.

---
What else we're looking at
Full returns in the S&P 500, dollar, gold, and 10-year Treasuries after declarations that recessions had ended
More details about sector and factor returns after the ends of recessions
What happens when the McClellan Oscillator in the energy sector gets deeply oversold
Coffee just saw one of its biggest 1-day jumps in history - how others performed
Updating an outlook on grains
The importance of selecting an appropriate options strategy
---
Stat box



In the Energy sector, all member stocks have been below their 50-day moving averages for more than 5 straight days, while XLE is still above its rising 200-day moving average. That has only happened one other time in 30 years, in May 2005, per our Backtest Engine.
---
Etcetera
In the hole. Hedge Fund Exposure to bonds has dropped to its lowest point since February of 2020 even as 10-year Treasury futures have rallied in recent weeks.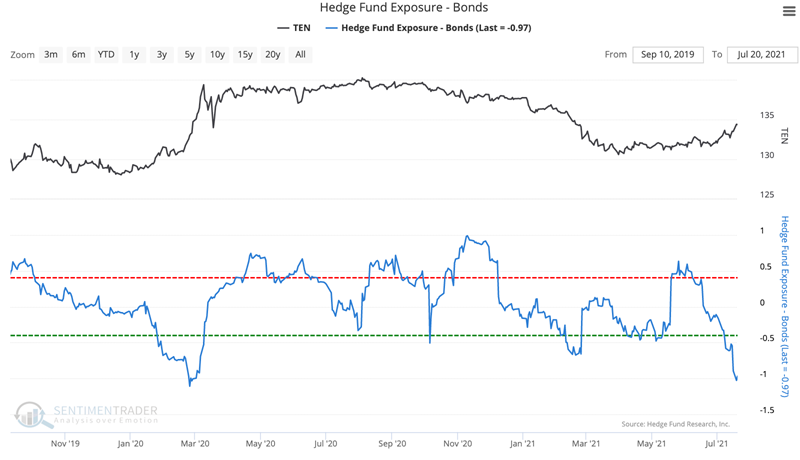 Silver slump. Silver seasonality typically rebounds following the end of June into August but it hasn't been following the pattern very closely lately.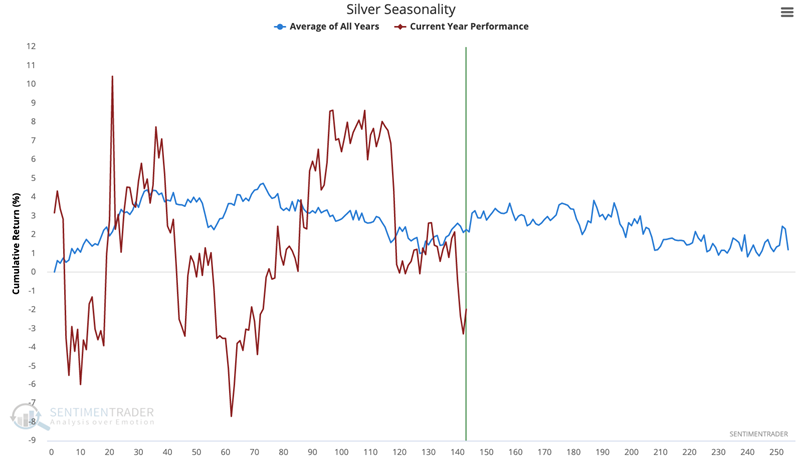 Tergiversation. The IBB biotech fund on Tuesday had its largest increase in funds in five years; Wednesday, it has had its largest withdrawal in six.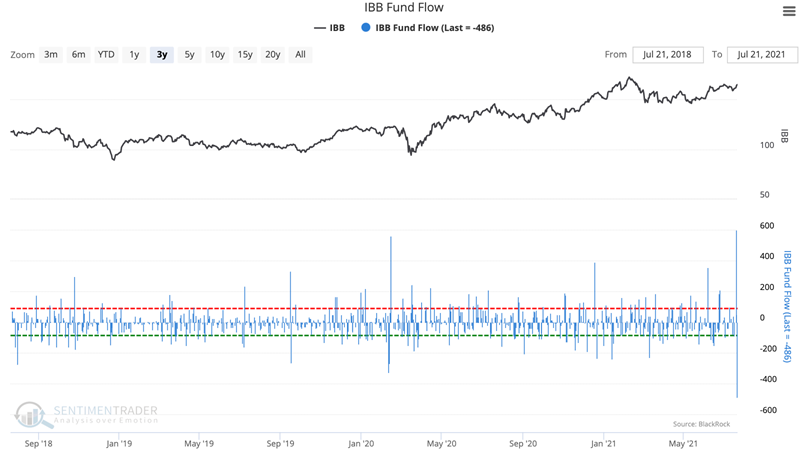 Related Posts:
---
Tagged As:
The post titled The Recession Is Officially Over (But Don't Tell Growth Stocks) was originally published as on SentimenTrader.com on 2021-07-23.
At SentimenTrader.com, our service is not focused on market timing per se, but rather risk management. That may be a distinction without a difference, but it's how we approach the markets. We study signs that suggest it is time to raise or lower market exposure as a function of risk relative to probable reward. It is all about risk-adjusted expectations given existing evidence. Learn more about our service , research, models and indicators.
Follow us on Twitter for up to the minute analysis of market action.
Follow @sentimentrader