The Probability of a New Bear Market is Rising
---
---
BEAR SIGHTING?
The probability of a new bear market is rising.
Now that data from May have been finalized, the Bear Market Probability model has risen to its highest level since January 2020.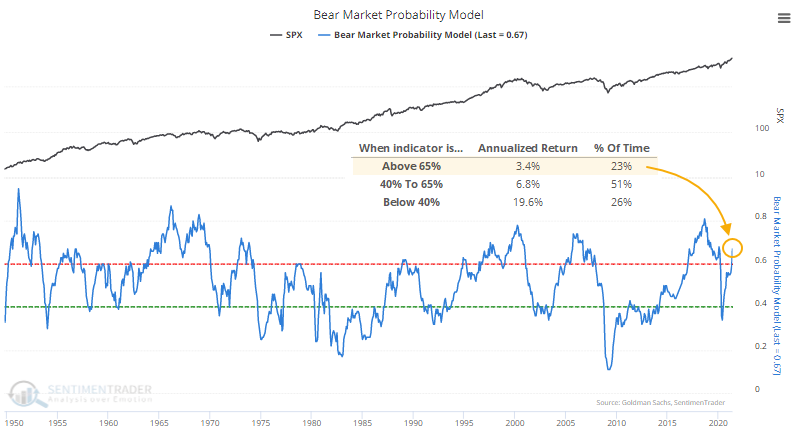 When the model is above this threshold, the S&P 500 has returned an annualized +3.4%. That's not disastrous, but it's well below average and only a sixth of the return when the probability is below 40%.
Bear Market Probability is our version of a model outlined by Goldman Sachs using five fundamental inputs. Each month's reading is ranked versus all other historical readings and assigned a score. The higher the score, the higher the probability of a bear market in the months ahead.
When we looked at this last March, we saw that it would plunge below 40%. While it was way too early in 2008, the other signals all preceded gains, and it added another win over the past year.
The past year is the fastest that Bear Market Probability has cycled from one extreme to the other.
WHAT ELSE WE'RE DISCUSSING
Full details following a cycle in Bear Market Probability from below 40% to above 65%
An update on industry, sector, and country ETF relative and absolute trends
Taking a look at Real Estate, Oil & Gas, and Brazil ETFs with their trends
What happens when there is a drop in the % of sectors in bear markets

---
STAT BOX
With the excitement over Biogen (BIIB) and its Alzheimer's drug, traders plowed more than $350 million into the largest ETF for the biotechnology sector, IBB. According to our Backtest Engine, there have been 7 other days in the past decade with that large of an inflow. The average return for IBB over the next month was -0.3%.

---
FOR YOUR CONSIDERATION
Drained...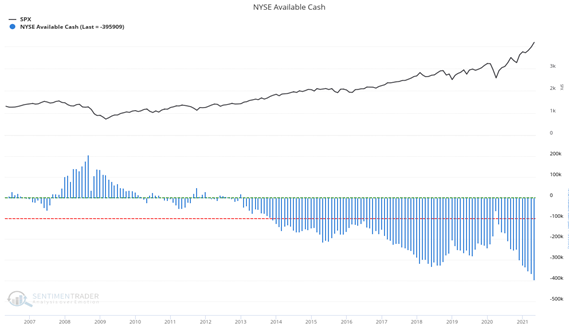 Available cash among brokerage accounts monitored by the NYSE is below $400 million for the first time in history. This subtracts free credits (cash) from margin debt.
Rise and fall...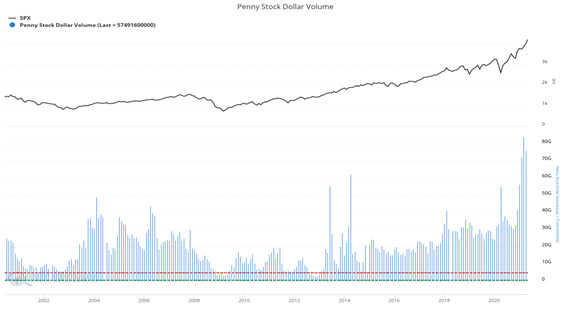 Penny stock shares and transactions reached their highest volume since mid-2006 last in February, then subsequently dropped 40%. Dollar volumes also pushed to their highest point in a decade, afterward losing 26 billion over the course of two months. It picked up a bit in May but remained well below peak.
Need. More. Money...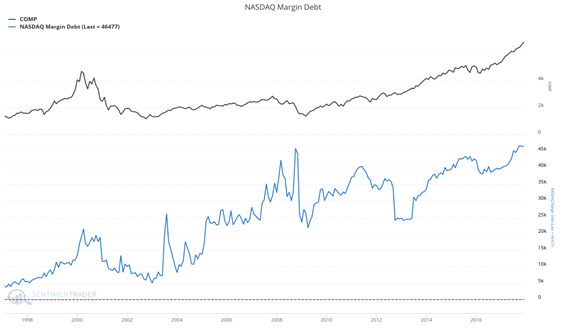 NASDAQ margin debt recently peaked at $46 billion, surpassing its previous high set in the fall of 2008. Investors are borrowing heavily in the U.S. (and elsewhere).

Related Posts:
---
Tagged As:
The post titled The Probability of a New Bear Market is Rising was originally published as on SentimenTrader.com on 2021-06-08.
At SentimenTrader.com, our service is not focused on market timing per se, but rather risk management. That may be a distinction without a difference, but it's how we approach the markets. We study signs that suggest it is time to raise or lower market exposure as a function of risk relative to probable reward. It is all about risk-adjusted expectations given existing evidence. Learn more about our service , research, models and indicators.
Follow us on Twitter for up to the minute analysis of market action.
Follow @sentimentrader