The probability of a commodity super cycle
---
---
It's been a heckuva run for most assets in recent months, even formerly left-for-dead ones like commodities.
More and more, there are calls that we're in the beginning of a commodity super-cycle, those multi-year cycles when broad baskets of things that people pull out of the ground actually rise in price.
The gains in commodity contracts over the past years have been spectacular, with a median return of more than 50%. That's on the cusp of challenging the best run in 40 years, with the only comparable thrust coming out of the financial crisis in 2009.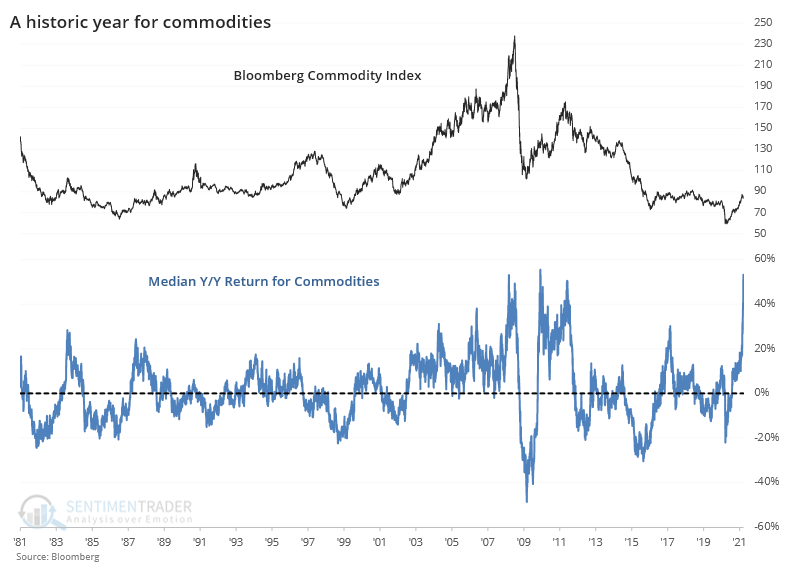 If we focus on the breadth of the price increases among commodity contracts, then we can look at other times when a majority of them were showing gains and see if it suggested a high probability that it was a new super cycle.
The conclusion, based on 11 other signals since 1980, was that it was a tough slog ahead for commodities bulls.
What else we're looking at
Full returns in a commodity index after 80% or more of contracts showed a year-over-year gain
Forward returns in the S&P 500 and individual commodity contracts, too
What it means when most S&P 500 stocks are outperforming the index, like they're doing now
What might happen if bonds don't bounce

Stat Box



Despite a gain of more than 0.70% on the S&P 500 on Monday, less than

39%

of NYSE volume flowed into advancing stocks. This is one of the lowest figures since 1928.
Etcetera
Nobody wants bonds. Over the past 100 days, the LQD corporate bond fund has seen an outflow averaging more than $100 million per day. That's the largest average outflow in its history, reversing much of the inflow from mid-2020.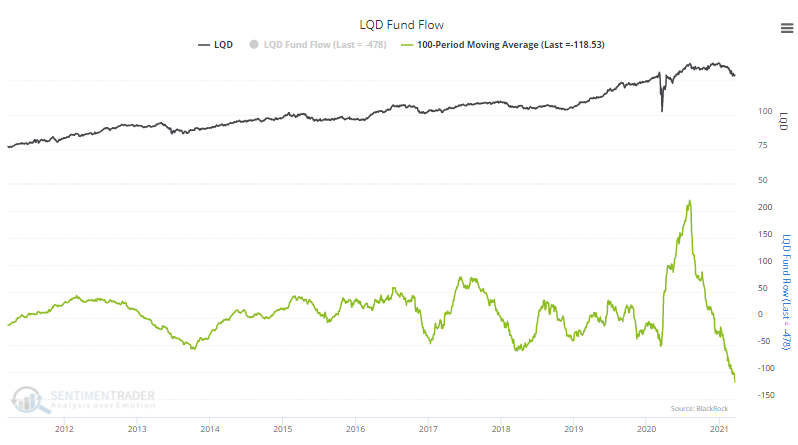 They do want tech. The Nasdaq 100 fund, QQQ, saw an massive inflow on Monday. At nearly $5 billion, it's the largest single-day inflow in that fund's history.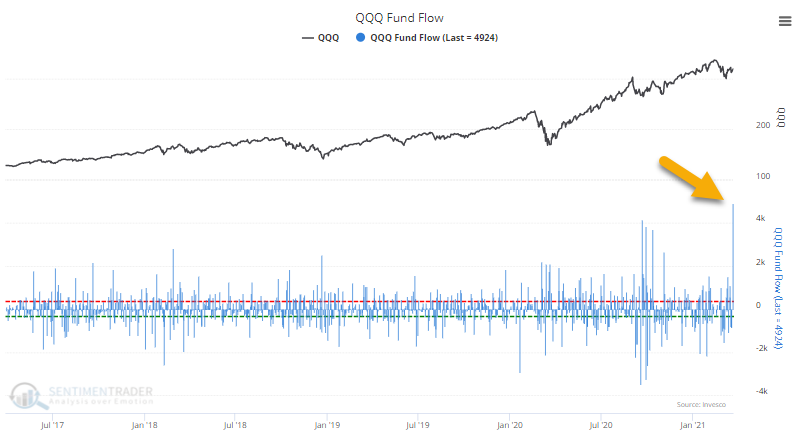 Historic selling in Indian stocks. Within the SENSEX index, there has been enough internal selling pressure that the McClellan Summation Index has plunged to the 2nd-lowest reading in 20 years. Only the depths of the financial crisis saw a lower reading.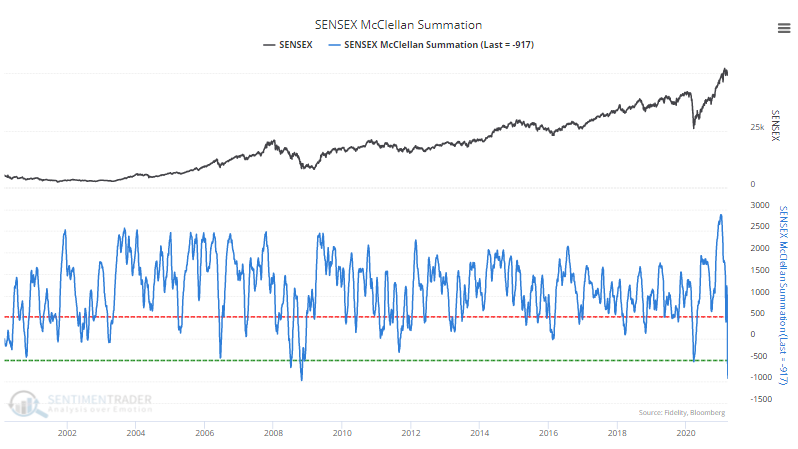 Related Posts:
---
Tagged As:
The post titled The probability of a commodity super cycle was originally published as on SentimenTrader.com on 2021-03-23.
At SentimenTrader.com, our service is not focused on market timing per se, but rather risk management. That may be a distinction without a difference, but it's how we approach the markets. We study signs that suggest it is time to raise or lower market exposure as a function of risk relative to probable reward. It is all about risk-adjusted expectations given existing evidence. Learn more about our service , research, models and indicators.
Follow us on Twitter for up to the minute analysis of market action.
Follow @sentimentrader