The past 3 months' "everything rally"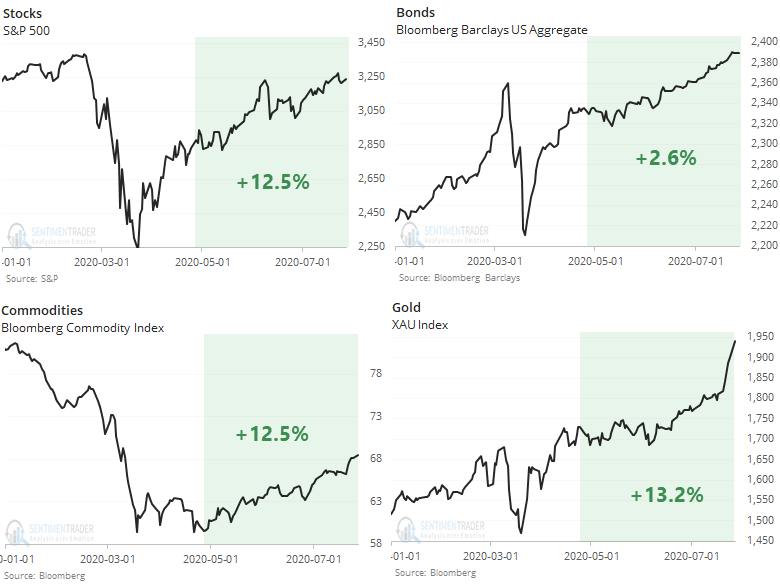 It's been a monster few months for stocks and just about every other financial asset.
As the WSJ noted, this is one of the few times in history when it seems like everything is rallying, and rallying hard. Stocks, bonds, commodities, and gold have all rallied strongly over the past three months, even though their historical relationships are not often positively correlated.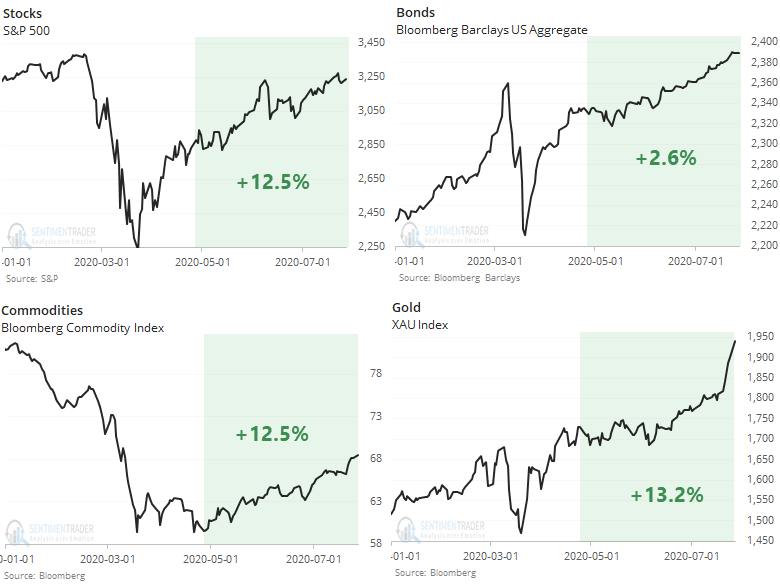 Every one of the assets has rallied over a 3-month span, and their median return is a whopping 12%. That ranks among the highest in nearly 45 years.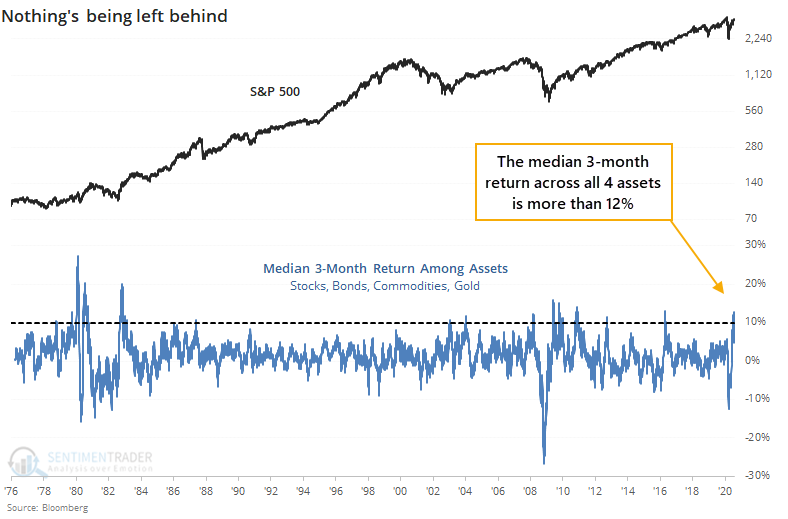 When this happens, it is typically touted as a sign that "something" structural is driving all assets higher (usually the Federal Reserve, for better or worse). Opinions always vary widely whether this kind of activity is sustainable.
At the risk of relying on historical precedents during an unprecedented time, for stocks, this kind of behavior was a medium-term issue, but longer-term positive.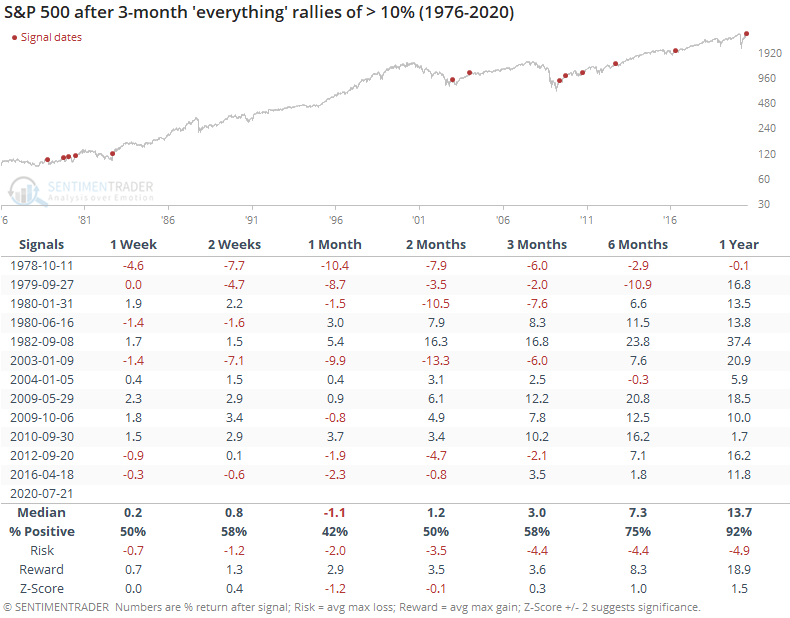 Over the following 1-2 months, the S&P tended to decline or tread water, with a couple of breakout gains at the starts of major bull markets like 1982 and 2009. Otherwise, investors took a slight breather, and the risk/reward was negative up to three months later.
Bonds struggled during the early precedents but the unrelenting bull market since then led to positive returns (note that this is total return and not just price gains).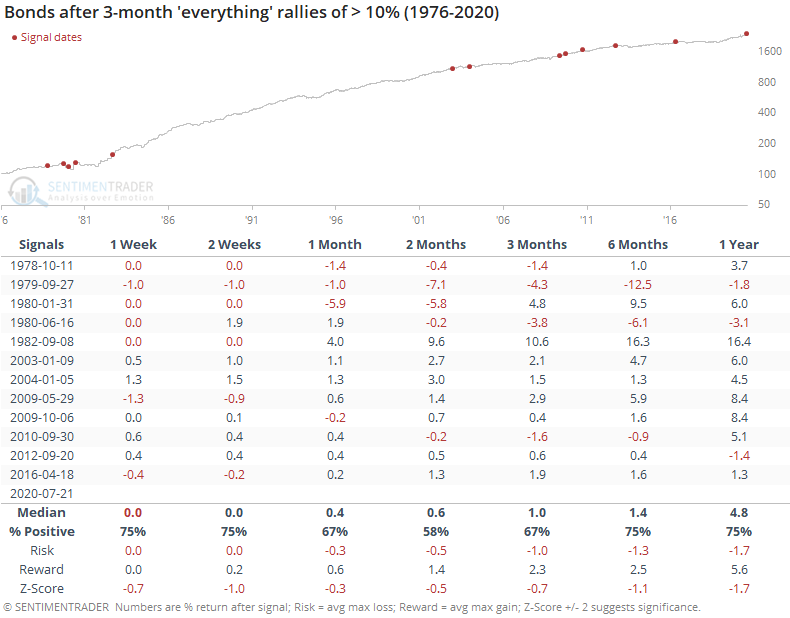 The broad-based buying momentum across assets tended to carry commodities further short-term, and while there were some wobbles, longer-term returns were positive as well. Signals near peaks in 1980 and 2012 were the biggest outliers.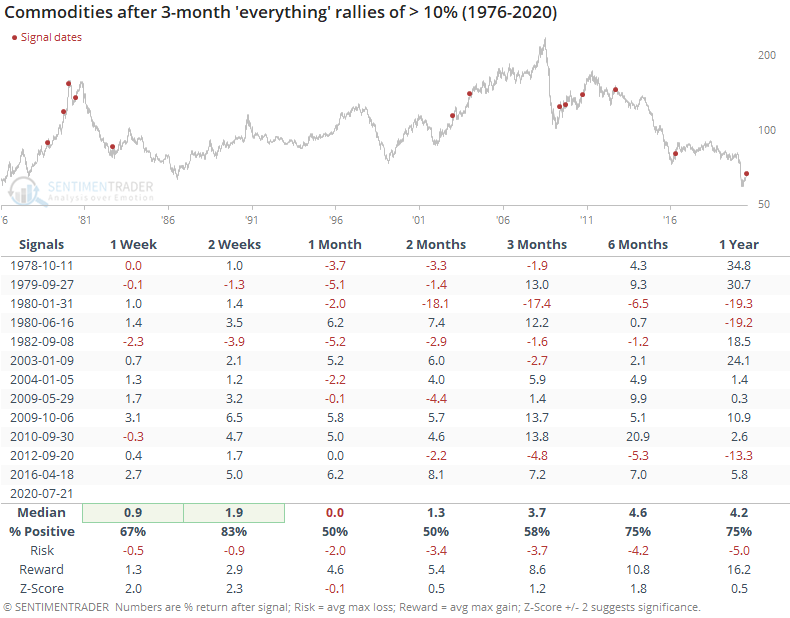 The most consistent asset going forward was gold, and not in a good way. The metal struggled to hold its gains over the medium-term, with well-below-average returns up to six months later. The most notable exceptions were in 2009-10 as it embarked on the 2nd half of its decade-long bull market.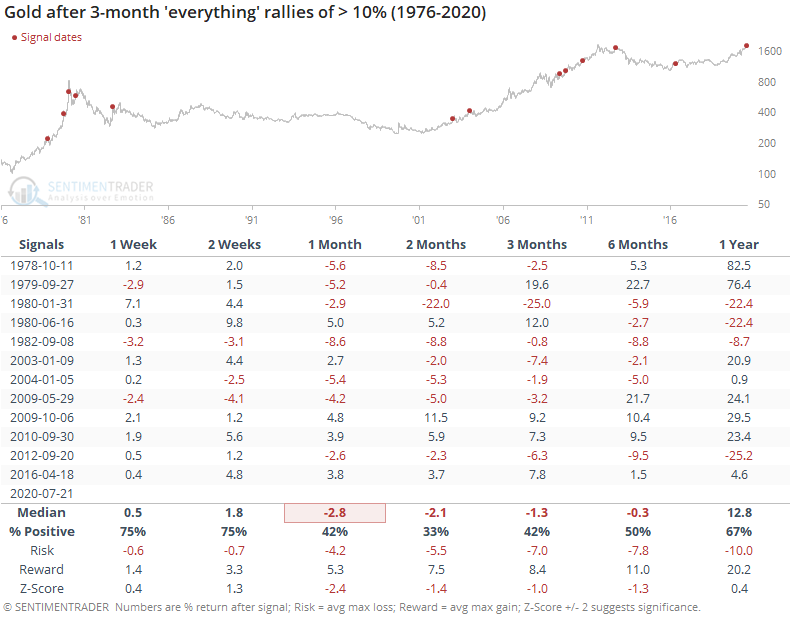 The factors that have contributed to the intense and widespread buying interest over the past three months are still largely intact, so maybe these assets can keep going. Historically, that would be unusual, especially during the next several months. The assets all saw relatively poor medium-term returns after spurts like this, none more so than gold.