The Nasdaq finally sees a big positive breadth thrust
---
---
Leave it to this market to be as perverse as possible.
Just days after it became apparent that underlying momentum in the Nasdaq wasn't just deteriorating but was turning negative, it has one of the most broadly positive days in months with more than 85% of volume on the exchange flowing into advancing stocks.
Remarkably, it had been more than 100 days since more than 85% of any day's volume flowed into advancing stocks.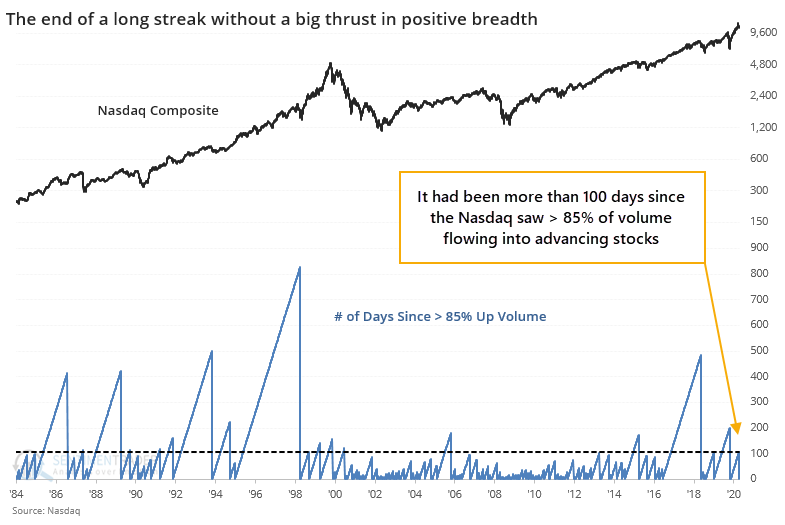 The worry over the past couple of months has been that breadth was turning questionable, with a huge number of extremely odd readings, and those have historically not turned out well. Combined with signs of astounding speculation and a neutral-at-best market environment, the risk/reward outlook was poor. If we start to see continued thrusts in some of these breadth figures, it would offset a lot of those oddities from August and make the idea of sustained gains more palatable.
This is an abridged version of our recent reports and notes. For immediate access with no obligation, sign up for a 30-day free trial now.
We also looked at:
What happens when Up Volume surges AFTER the Nasdaq had already rallied strongly
Returns when Up Volume is > 85% for the first time in months and recently negative
The ratio of industrial stocks to the S&P 500 recently surged more than 10% in only 3 months
Equal-weight industrials have also surged relative to the equal-weight S&P
Nasdaq Fear/Greed shows some fear after big selloff
U.S. dollar sentiment is recovering from deep pessimism - what that has meant in the past
Value is finally outperforming growth

The post titled The Nasdaq finally sees a big positive breadth thrust was originally published as on SentimenTrader.com on 2020-09-16.
At SentimenTrader.com, our service is not focused on market timing per se, but rather risk management. That may be a distinction without a difference, but it's how we approach the markets. We study signs that suggest it is time to raise or lower market exposure as a function of risk relative to probable reward. It is all about risk-adjusted expectations given existing evidence. Learn more about our service , research, models and indicators.
Follow us on Twitter for up to the minute analysis of market action.
Follow @sentimentrader