The Most Split S&P 500 In History
---
---
Split index
With the recent surge in stocks, more than 20% of them in the S&P 500 hit a 52-week high. But the percentage of stocks mired in a bear market, or at least 20% off their highs, hasn't come down by much.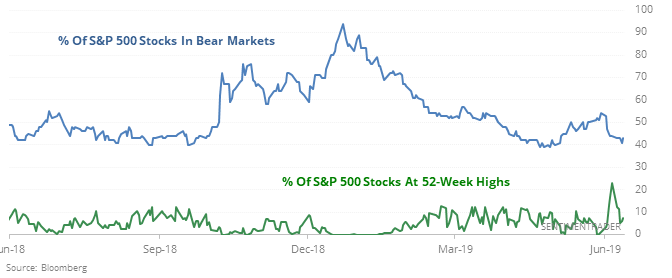 This leaves a split index, with a lot of stocks at either a new high, or in bear market territory. Split markets can highlight dangerous market conditions, like we saw near the end of 2017. The broader the split, the more dangerous they tend to be, though, and so far we're not seeing anything like we did in late 2017 through early 2018.
On hold
Stocks surged off the early June low, with the S&P 500 jumping more than 5% in only a week. Since then, it has gone flat, without a move more than 0.5% for six straight days.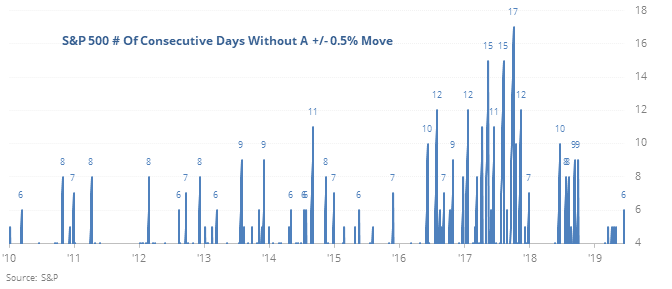 While this seems heavily influenced by the looming FOMC meeting, other times the index surged then went flat consistently led to further gains.
New model
Eric has posted a new model to the site, the Short-Term Combined Model. It is an ensemble model he built using machine learning methods, comprised of 14 shorter-term indicators that we track on the site. Annualized returns when above threshold are -16.0% versus +85.0% when below threshold. It has given some very interesting short-term signals, especially when spiking below -10. The 20-day average just curled up from below -6, which has had a very strong record of preceding gains.
This post was an abridged version of our previous day's Daily Report. For full access, sign up for a 30-day free trial now.

Related Posts:
---
Tagged As:
The post titled The Most Split S&P 500 In History was originally published as on SentimenTrader.com on 2019-06-18.
At SentimenTrader.com, our service is not focused on market timing per se, but rather risk management. That may be a distinction without a difference, but it's how we approach the markets. We study signs that suggest it is time to raise or lower market exposure as a function of risk relative to probable reward. It is all about risk-adjusted expectations given existing evidence. Learn more about our service , research, models and indicators.
Follow us on Twitter for up to the minute analysis of market action.
Follow @sentimentrader