The most important index in the world set a new high...along with only 1 sector
---
---
The S&P 500 finally did what it's been trying to do for days now, and crept to a new high.
This ended its shortest bear market in history. Using the completely arbitrary definition of a 20% decline from a multi-year high, it has taken the index only 110 days to cycle to a fresh high. That's several months faster than the other fastest recoveries in 1967 and 1982.
This is its first new all-time high in months, but the S&P's sectors are struggling somewhat to keep up. Only one of them, Consumer Discretionary, managed to close at an all-time high on Tuesday.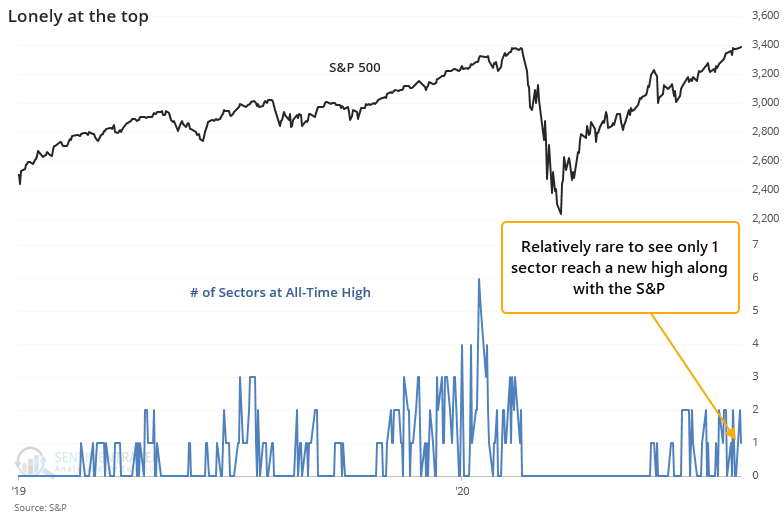 When the S&P reaches its first new high in months with only 1 or 2 sectors following suit, its future returns were mediocre with only one exception (1995).
We've seen a lot of these oddities over the last few weeks, and yet here we are talking about new all-time highs in the major indexes. Clearly, "odd" hasn't mattered so far.
This is an abridged version of our recent reports and notes. For immediate access with no obligation, sign up for a 30-day free trial now.
We also looked at:
Returns when the S&P 500 ends the shortest bear markets in history
What happened after the S&P hit a new high along with only 1 sector
Despite a push to new highs on Tuesday, few Nasdaq stocks went along for the ride
Most industries, sectors, and countries are still not in solid uptrends
Volume has plunged as traders head for summer vacation

The post titled The most important index in the world set a new high...along with only 1 sector was originally published as on SentimenTrader.com on 2020-08-20.
At SentimenTrader.com, our service is not focused on market timing per se, but rather risk management. That may be a distinction without a difference, but it's how we approach the markets. We study signs that suggest it is time to raise or lower market exposure as a function of risk relative to probable reward. It is all about risk-adjusted expectations given existing evidence. Learn more about our service , research, models and indicators.
Follow us on Twitter for up to the minute analysis of market action.
Follow @sentimentrader