The Most Important Index in the World Has Doubled - Now What?
---
---
It seems like it's taken forever, but in reality, it was almost no time at all.
The most-benchmarked index in the world has now doubled from its pandemic low. After falling to 2,191 on March 23 of last year, the S&P 500 closed at 4,384 on Monday. This marks the third time that the index has doubled from a multi-year low over the past two decades.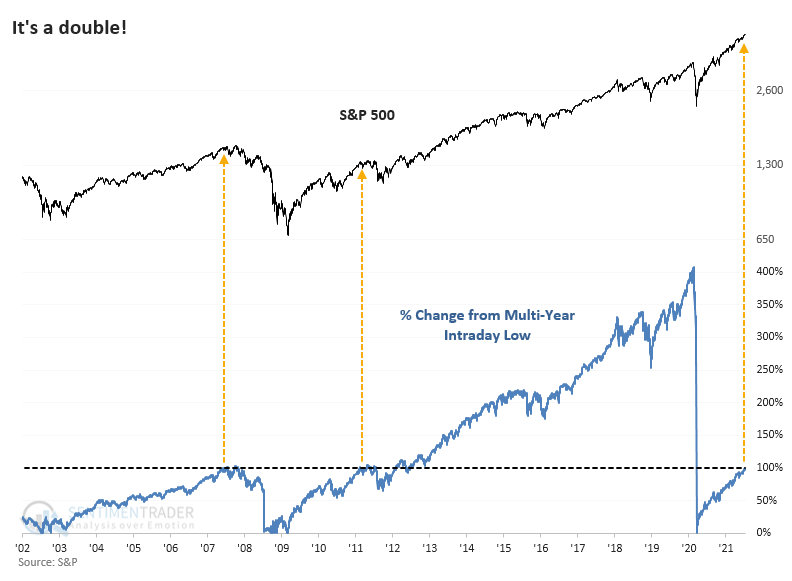 For what it's worth (maybe not much), the other two times the S&P reached its doubling point preceded a correction and a bear market. Going back to 1928, this is the 2nd-fastest doubling off of a multi-year low, eclipsed only by a breathtaking rally in 1932. These are the only two times it managed to double in under 400 trading sessions.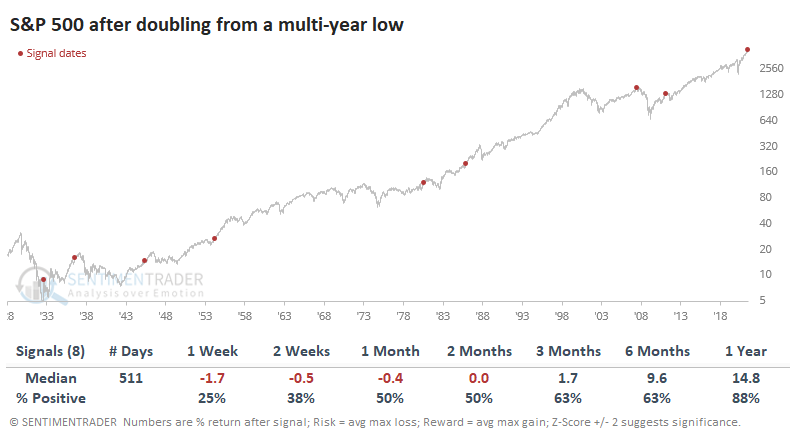 It's doubtful whether investors pay much attention to this metric, so there's little reason why it should matter much to future returns. As we've seen time and again, however, trying to find a reason for moves is just an academic exercise, and often what seems to make sense doesn't work, anyway.
After the other doublings, the S&P continued to rally heartily in 1954 and 1985. The others either saw short- to medium-term pullbacks or had shorter-term gains erased as investors took a breather.

---
What else we're looking at
Full returns following a doubling in the S&P 500 from a multi-year low
What happens after a cluster of all-time highs in the S&P
The index has been hitting highs, but still fewer than 60% of stocks are above their 50-day moving averages
What gas prices mean for inflation
A look at a small-cap value vs. large-cap growth stock rotation switching system
There has been a surge in 4-week lows in Vietnamese stocks
---
Stat box



Earlier this week, there were 25 times more negative Tweets about the XLE energy fund than positive tweets. That's the largest difference in at least a decade.
---
Etcetera
Out of energy. The ratio of corporate Insiders buying versus selling shares int their companies has sunk to 0.08, its lowest point in almost 7 years.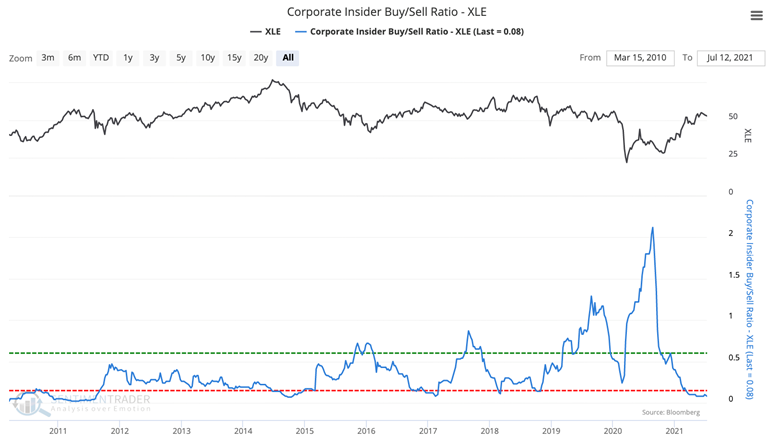 AMLPessimism. Over the past 5 sessions, the Optimism Index on the AMLP master limited partnership fund has dropped below 25 while the 200-day average of the fund shows an uptrend. Our Backtest Engine shows this has happened 10 other times, 8 of which preceded a rebound over the next month.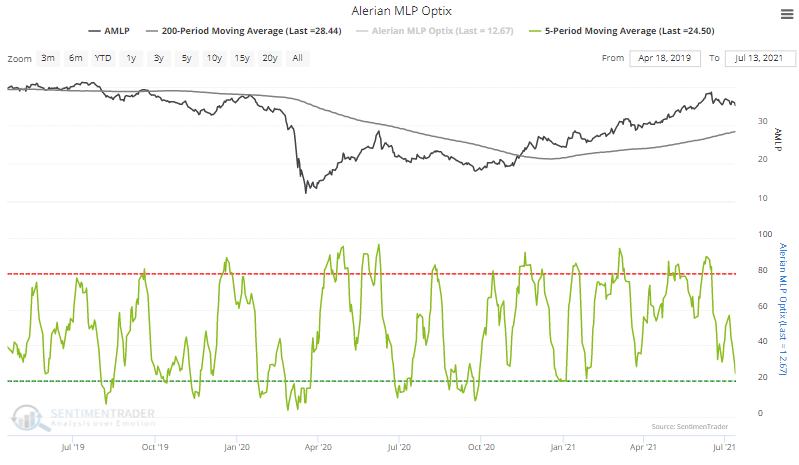 Tech boom. Rydex Technology Assets skyrocketed nearly $40 million last week. It looks to be the largest single-day jump since 2000 as mutual fund traders jump into what has been a hot sector.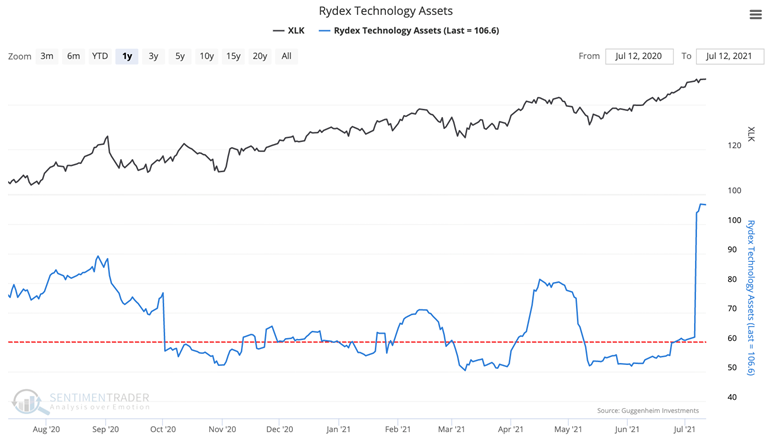 Related Posts:
---
Tagged As:
The post titled The Most Important Index in the World Has Doubled - Now What? was originally published as on SentimenTrader.com on 2021-07-14.
At SentimenTrader.com, our service is not focused on market timing per se, but rather risk management. That may be a distinction without a difference, but it's how we approach the markets. We study signs that suggest it is time to raise or lower market exposure as a function of risk relative to probable reward. It is all about risk-adjusted expectations given existing evidence. Learn more about our service , research, models and indicators.
Follow us on Twitter for up to the minute analysis of market action.
Follow @sentimentrader