The Market "Un-Splits" As Momentum Is Relentless
---
---
An "un-split" market
In November, a main reason for worry was the "split" in the market. On the Nasdaq and then the NYSE, there were an abnormally large number of both winning and losing stocks. When that has happened before, stocks consistently declined over the short- to medium-term. Those warnings failed, and badly.
Since then, the market has become "un-split" as there are few remaining losing stocks. Now, it's almost all winners. That has pushed the HiLo Logic Index to a very low level.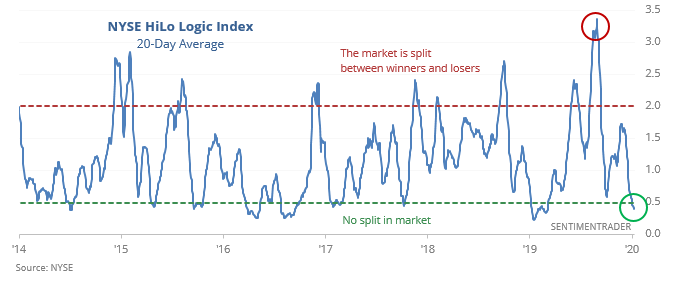 When the 20-day average of the HiLo Logic Index is below 0.5, annualized returns in the S&P have been excellent, at more than 21%. But when the index first cycles down to a low following following a high one, it hasn't been quite so pristine of an indication.
Relentless rally
If it seems like the S&P 500 is making a new high every day, that's because it has been doing just that. The past 3 months have seen 26 new all-time highs.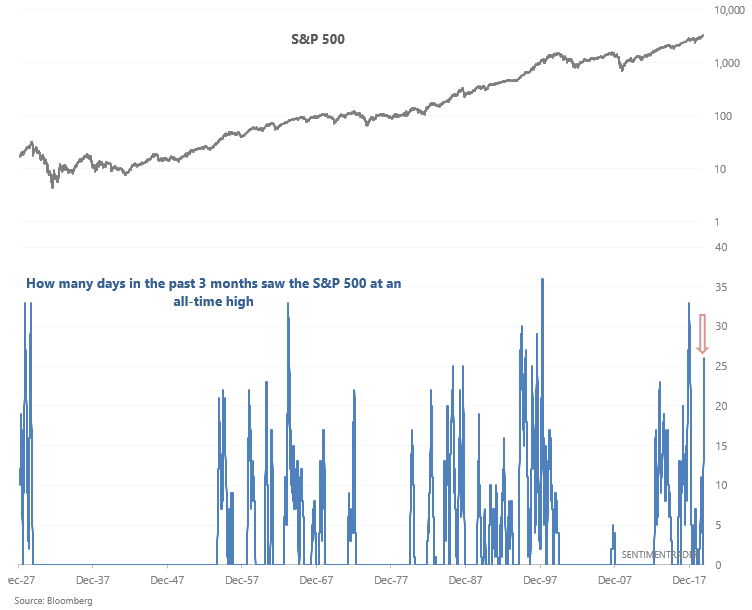 The last time this happened was in late-2017, just as the U.S. stock market began a blow-off top that ended with a crash in January-February 2018. Prior to that, we'd have to go back more than 20 years. And of course the worst such cases were in 1928-1929, which culminated in an epic stock market crash.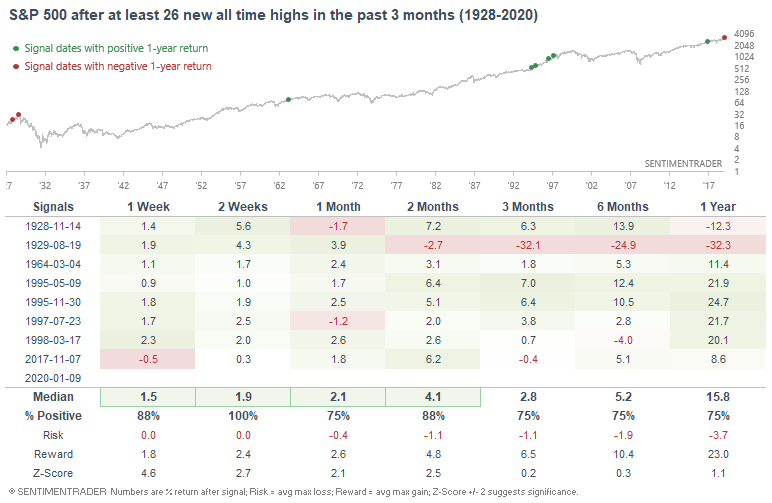 But in the interim, the momentum tended to continue. Even broadening the criteria to get a larger sample size confirms this. Momentum has been the primary reason to not become overly negative among all the metrics we've been following in recent weeks (even months) and it hasn't showed much sign of stopping.
This is an abridged version of our recent reports and notes. For immediate access with no obligation, sign up for a 30-day free trial now.
We also looked at:
Bank failures have been historically low for 5 years
The S&P 500's Bullish Percent Index (BPI) is breaking out as more stocks reach point-and-figure buy signals
What happens when the Fed's probability of recession drops
The relative strength index of utilities has plunged

The post titled The Market "Un-Splits" As Momentum Is Relentless was originally published as on SentimenTrader.com on 2020-01-10.
At SentimenTrader.com, our service is not focused on market timing per se, but rather risk management. That may be a distinction without a difference, but it's how we approach the markets. We study signs that suggest it is time to raise or lower market exposure as a function of risk relative to probable reward. It is all about risk-adjusted expectations given existing evidence. Learn more about our service , research, models and indicators.
Follow us on Twitter for up to the minute analysis of market action.
Follow @sentimentrader