The last time tech stocks ran like this was 1996
---
---
NOTE: Troy published a more in-depth summary of some of the factors we're watching - check it out here.
We just finished 120 trading sessions of 2020, and one pattern is clear. It's no surprise - tech rules the kingdom.
The Nasdaq Composite rallied 19 out of 22 days heading into Wednesday. That's a tie for the best streak in almost 25 years.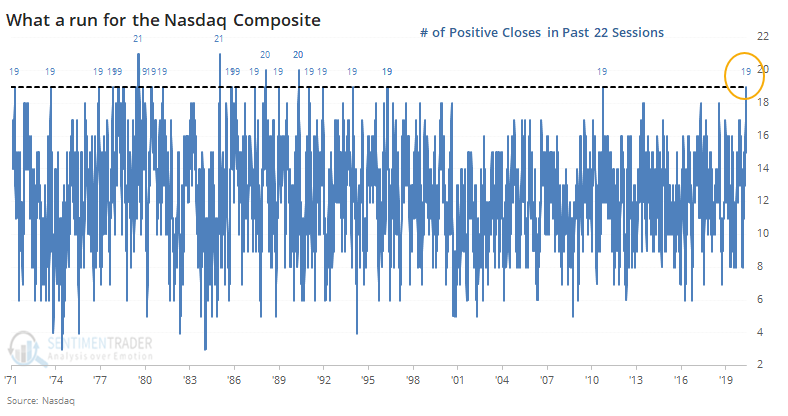 It also notched an all-time high for good measure. It hasn't enjoyed this kind of a run since the 1990s.
Year-to-date, the technology sector is beating every major sector by more than 5%. Its lead over energy is a whopping 49%, while the sector closest on its heels is consumer discretionary, and even that is lagging by 7%.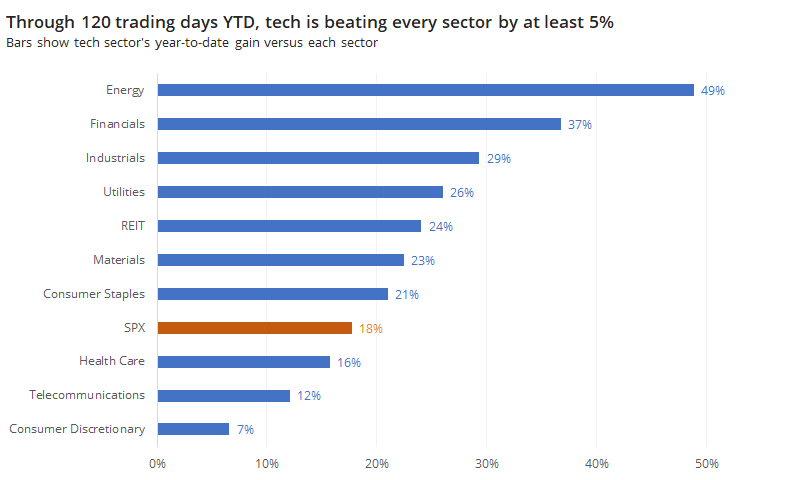 Going back to 1928, there haven't been too many years when tech has been such a winner, especially relative to sectors like industrials and financials.
This is an abridged version of our recent reports and notes. For immediate access with no obligation, sign up for a 30-day free trial now.
We also looked at:
Full tables showing what happens after Nasdaq streaks like this
A view of tech's year-to-date gains versus the average (and best and worst) sectors through 120 trading days
What happens when technology stocks lead industrials, financials, and energy stocks by this much midway through a year

The post titled The last time tech stocks ran like this was 1996 was originally published as on SentimenTrader.com on 2020-06-25.
At SentimenTrader.com, our service is not focused on market timing per se, but rather risk management. That may be a distinction without a difference, but it's how we approach the markets. We study signs that suggest it is time to raise or lower market exposure as a function of risk relative to probable reward. It is all about risk-adjusted expectations given existing evidence. Learn more about our service , research, models and indicators.
Follow us on Twitter for up to the minute analysis of market action.
Follow @sentimentrader