The last time stocks did this was in the year 2000
---
---
The Nasdaq keeps rallying, the S&P 500 has moved well above its 200-day moving average, and yet relatively few stocks seem to be coming along for the ride.
The S&P itself moved to more than 3% above its 200-day average, and yet less than half of stocks within the index have managed to climb above their own averages. This is a theme across industries, sectors, and world indexes.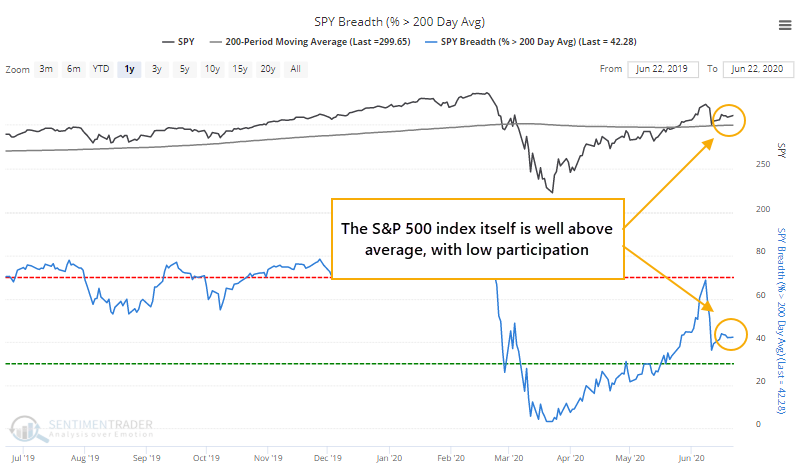 The last time that happened was in the year 2000. Since 1990, the only signals were from 1998 through 2000. If the S&P was above its 200-day average by any amount, while fewer than 45% of its members were above their averages, then that only happened in 2007, and 1999 prior to that.
Oddities like this started building in late 2019, and it took months before any potential consequences. Periods of rising index prices and high optimism, during markets where relatively few stocks are in long-term uptrends, have a strong tendency to resolve lower in the weeks-to-months ahead.
This is an abridged version of our recent reports and notes. For immediate access with no obligation, sign up for a 30-day free trial now.
We also looked at:
The Nasdaq Composite hit a new high on the same day as gold, a safe-haven asset
What happens during the last 5 days of a really, really good quarter (hint: asset allocation adjustments)
The Nasdaq is more than 16% above its 200-day average, while less than 60% of its members are above average
Internet stocks are wildly overbought
The Speculative Volume Index is the highest in 15 years

The post titled The last time stocks did this was in the year 2000 was originally published as on SentimenTrader.com on 2020-06-24.
At SentimenTrader.com, our service is not focused on market timing per se, but rather risk management. That may be a distinction without a difference, but it's how we approach the markets. We study signs that suggest it is time to raise or lower market exposure as a function of risk relative to probable reward. It is all about risk-adjusted expectations given existing evidence. Learn more about our service , research, models and indicators.
Follow us on Twitter for up to the minute analysis of market action.
Follow @sentimentrader