The "Energizer" Rally Keeps Going Despite Rising Jobless Claims
---
---
The Energizer rally
Despite extremes in sentiment which started to pop up in November, stocks continued to rally. After the spread between Smart and Dumb Money fell to -50%, the S&P has since enjoyed almost uninterrupted upside. This is the best reaction in 20 years after such extreme sentiment.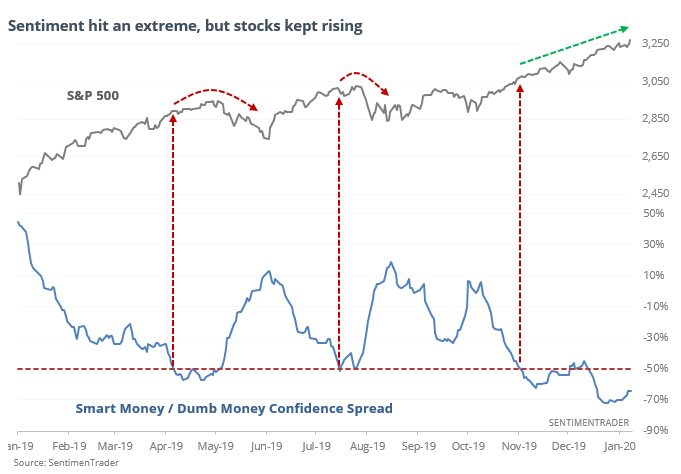 Instead of ignoring failures, we pay special attention to them, because sometimes it tells us something important about what's going on and if the risk/reward skew has changed.
In this case, it doesn't seem to be. There were only four times when such a wide spread failed like this, and each of them saw any further upside erased in the weeks ahead, and with high risk relative to reward up to 3 months later.
Claims climbing
Continued Claims in the U.S. has risen to the highest level since April 2018.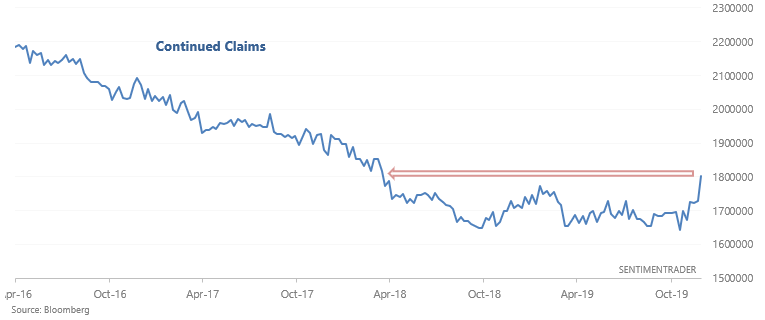 This is somewhat worrisome because Initial Claims and Continued Claims tend to trend higher during a recession and bear market. The following table illustrates what happened next to the S&P 500 after Continued Claims increased to a 1 year high: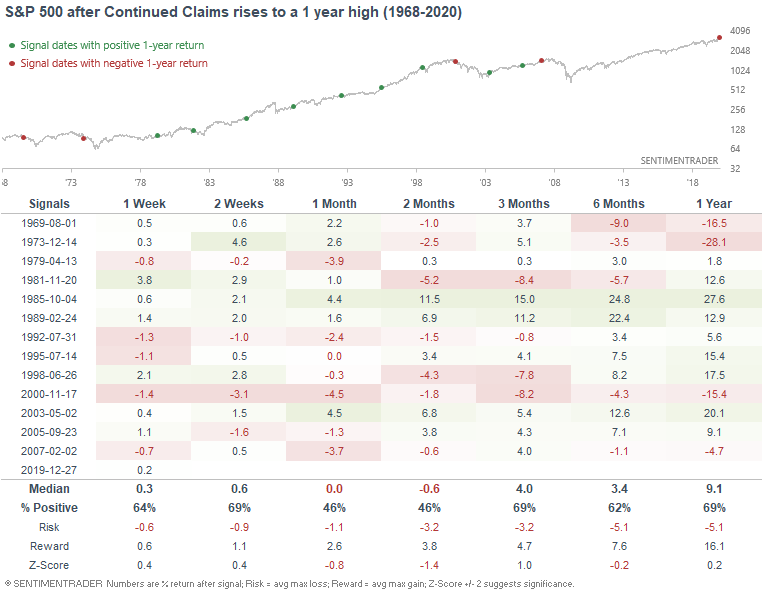 Returns were even worse during late-cycle periods, like when claims were still below several million.
This is an abridged version of our recent reports and notes. For immediate access with no obligation, sign up for a 30-day free trial now.
We also looked at:
There is a 15-year high in money-losing stocks within the Russell 3000
2019 was only the 2nd year since 1980 with so many money-losing IPOs and those back by venture capital
There is a 5-year high in the number of days with twice as many call options traded as put options
The German DAX is within spitting distance of a new high
What happens after the Nasdaq has rallied 13 out of 15 weeks
Emerging markets are overbought
The S&P 500 hasn't had a 1% move for 3 months

Related Posts:
---
Tagged As:
The post titled The "Energizer" Rally Keeps Going Despite Rising Jobless Claims was originally published as on SentimenTrader.com on 2020-01-13.
At SentimenTrader.com, our service is not focused on market timing per se, but rather risk management. That may be a distinction without a difference, but it's how we approach the markets. We study signs that suggest it is time to raise or lower market exposure as a function of risk relative to probable reward. It is all about risk-adjusted expectations given existing evidence. Learn more about our service , research, models and indicators.
Follow us on Twitter for up to the minute analysis of market action.
Follow @sentimentrader