The End Of A Historic Streak Of Terribleness
---
---
Beating expectations
For the first time in 6 months, economic reports in the U.S. haven't totally sucked. The Citi Economic Surprise Index is starting to rise quickly, as economists deflated their estimates enough for the economic data to catch up. This ends the longest terrible streak since the inception of the data.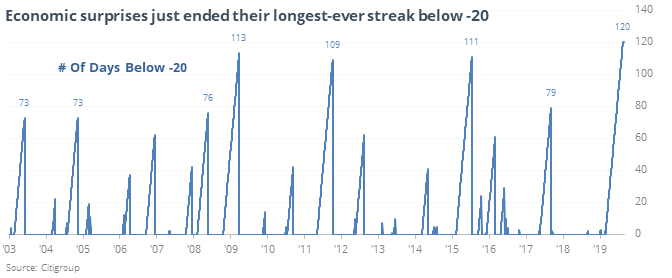 The ends of similar streaks had consistent repercussions for stocks (mostly good), bonds (bad), and gold (bad).
Kind of thrusty
Investors pulled back a bit as Tuesday's session progressed, but by the end of the day, more than 70% of NYSE volume had still flowed into securities that advanced for the day.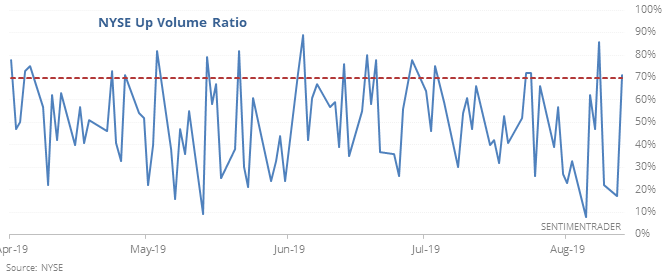 This is the 2nd time in only a few sessions that volume was so positively skewed, coming on the heels of what had been a 30-day low in the S&P. While not as impressive as January, it still qualified as "kind of" a thrust and as a result had "kind of" good returns going forward.
Bond buyers
Volatile conditions have kept quick-fingered traders continuing to pile into bonds, even though they've suffered some nasty intraday reversals. The 10-day Optimism Index for TLT rose above 80 by Monday. According to the Backtest Engine, readings this high led to gains in TLT over the next two months only 12% of the time (5 out of 41 days) with an average return of -5.2%.
Agly
Ag contracts have been ugly, yet again. But sentiment has come down a lot, and the Risk Level has averaged only 2.2 over the past week. Even over the past 5 years of horrid price action, this led to a rebound in the DBA fund over the next month after 71 out of 97 days.
This post was an abridged version of our previous day's Daily Report. For full access, sign up for a 30-day free trial now.

Related Posts:
---
Tagged As:
The post titled The End Of A Historic Streak Of Terribleness was originally published as on SentimenTrader.com on 2019-08-14.
At SentimenTrader.com, our service is not focused on market timing per se, but rather risk management. That may be a distinction without a difference, but it's how we approach the markets. We study signs that suggest it is time to raise or lower market exposure as a function of risk relative to probable reward. It is all about risk-adjusted expectations given existing evidence. Learn more about our service , research, models and indicators.
Follow us on Twitter for up to the minute analysis of market action.
Follow @sentimentrader