The "easiest" year ever to make money
---
---
Despite the pandemic, recession, and record unemployment, the year 2020 has been the most consistently positive year in history.
Strategist Callie Cox noted that this year has seen only 32 days that were mired in a losing streak, defined as back-to-back losing sessions. On a rolling one-year basis, this is the lowest in history.
If we look at this on a calendar-year basis, then we're currently on trading day #242 of the year. No other year has had so few losing streaks this far into the calendar since 1928.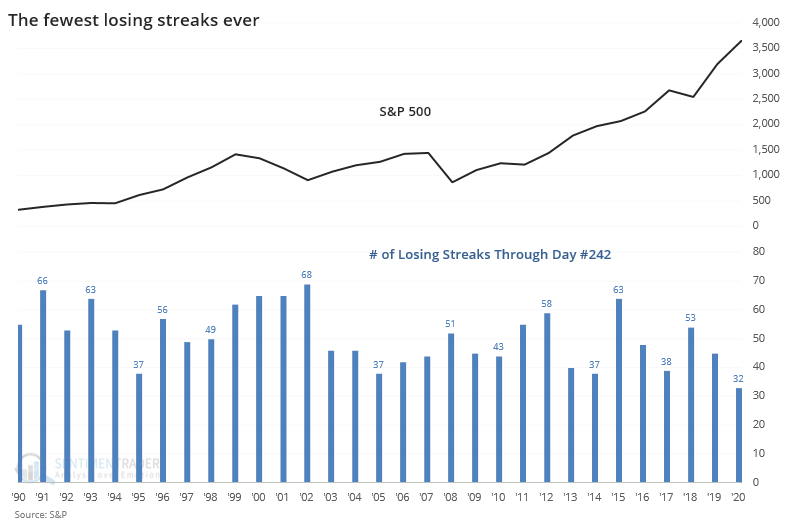 The S&P's next-year return was much higher after years with the most losing streaks than it was after years when there were few of them. That makes sense, as stocks meander from one extreme to the other.
---
What else is happening
These are topics we explored in our most recent research. For immediate access with no obligation, sign up for a 30-day free trial now.
What happens going forward after other years with few losing streaks since 1928
And also after years with the most losing streaks
Even on a rolling one-year basis, we're seeing a record amount of positive consistency
---
Stat Box

On Wednesday, stocks ticked to record highs and closed positive, but 83 more stocks within the S&P 500 declined than advanced.
---
Sentiment from other perspectives
We don't necessarily agree with everything posted here - some of our work might directly contradict it - but it's often worth knowing what others are watching.
1. Amid all the signs of optimism, one is missing - the smartest money of them all, corporate insiders. The ratio of insider buys to sells is around the lowest levels of the year. [Bloomberg]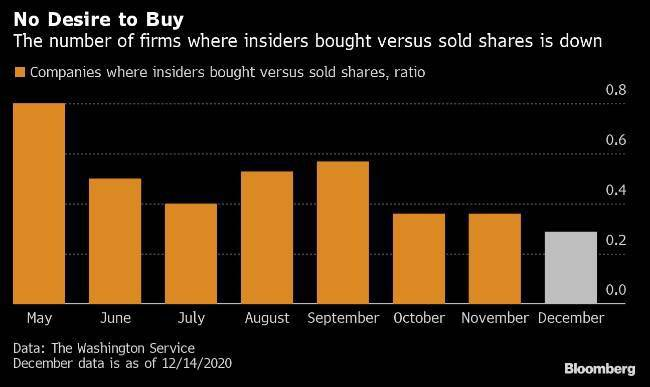 2. Individual investors ask, "Why be bearish when stocks only go up?" The percentage of them saying that they expect prices to fall continues to decline. [AAII via Helene Meisler]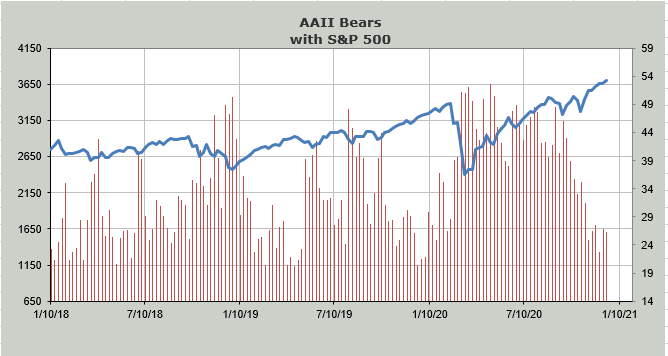 3. Despite what looks like manic trading, social media sentiment on bitcoin hasn't reached the heights that it has at other points during the year. [Augmento]


The post titled The "easiest" year ever to make money was originally published as on SentimenTrader.com on 2020-12-17.
At SentimenTrader.com, our service is not focused on market timing per se, but rather risk management. That may be a distinction without a difference, but it's how we approach the markets. We study signs that suggest it is time to raise or lower market exposure as a function of risk relative to probable reward. It is all about risk-adjusted expectations given existing evidence. Learn more about our service , research, models and indicators.
Follow us on Twitter for up to the minute analysis of market action.
Follow @sentimentrader