The Dow Is Being A Dud
---
---
Dow dud
The Dow Industrials dropped below the 50-day average for the first time in months. When it loses its trend after such a long time, and when so near a multi-year high, it has tended to snap back. It was an even better sign for the S&P 500.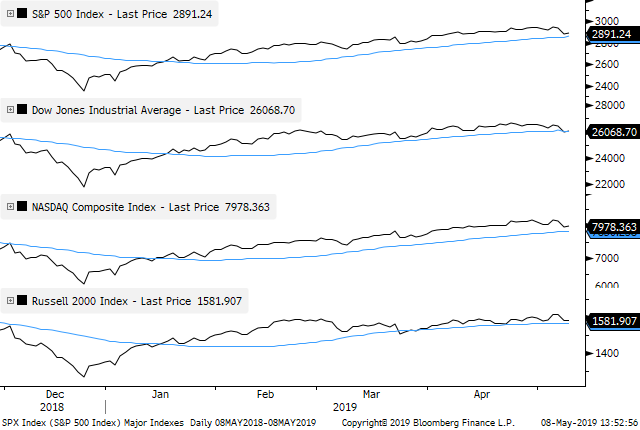 It was also the only one of the "big four" equity indexes to drop below its average, which has also led to positive returns every time.

No bid
Over a 5-week span through early May, the S&P 500 gained more than 4%, but equity mutual fund investors pulled more than $33 billion out of the market. That seems like it should be a solid brick in the "wall of worry" but future returns were mixed.
Still scared
The VIX Term Structure remained above 1 on Wednesday, meaning that traders were pricing in a greater probability of shorter-term volatility than longer-term volatility. That happens during periods of high concern. We saw in a premium note that the first signal in 3 months led to a rebound in the S&P 92% of the time. The Backtest Engine shows that any reading above 1 when the S&P was above its 50-day average led to gains a month later 89% of the time.
NOTE
We added the McClellan Oscillator and Summation Index for the high-yield bond market to the site. These are useful to see underlying strength and momentum in that corner of the market, which also often translates to the stock market. As a simple test in the Backtest Engine, when the Oscillator for bonds is above zero, the S&P 500 has returned an annualized 10.6%. When below zero, that falls to 5.2%.
This post was an abridged version of our previous day's Daily Report. For full access, sign up for a 30-day free trial now.

Related Posts:
---
Tagged As:
The post titled The Dow Is Being A Dud was originally published as on SentimenTrader.com on 2019-05-09.
At SentimenTrader.com, our service is not focused on market timing per se, but rather risk management. That may be a distinction without a difference, but it's how we approach the markets. We study signs that suggest it is time to raise or lower market exposure as a function of risk relative to probable reward. It is all about risk-adjusted expectations given existing evidence. Learn more about our service , research, models and indicators.
Follow us on Twitter for up to the minute analysis of market action.
Follow @sentimentrader