The Composite Recession Model issued a new warning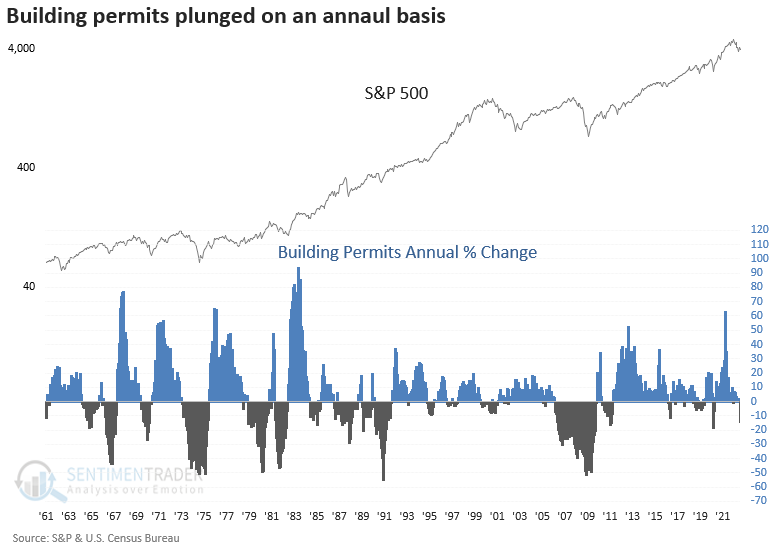 Key points:
Building permits have fallen more than 14% on an annual basis
At the same time, the S&P 500 is trading below its 12-month average

After similar conditions, t

he S&P 500 was flat to slightly negative up to 6 months later
The TCTM Composite Recession Model count increased, triggering a recession warning
Housing as a leading indicator of economic activity
The Census Bureau released the August housing data, and building permits plunged by over 14% annually. The significant contraction triggered a new alert for a member in the TCTM Composite Recession Model. 
When building permits fall by over 6% annually, and the S&P 500 is trading below its 12-month average, all is not well with two leading indicators.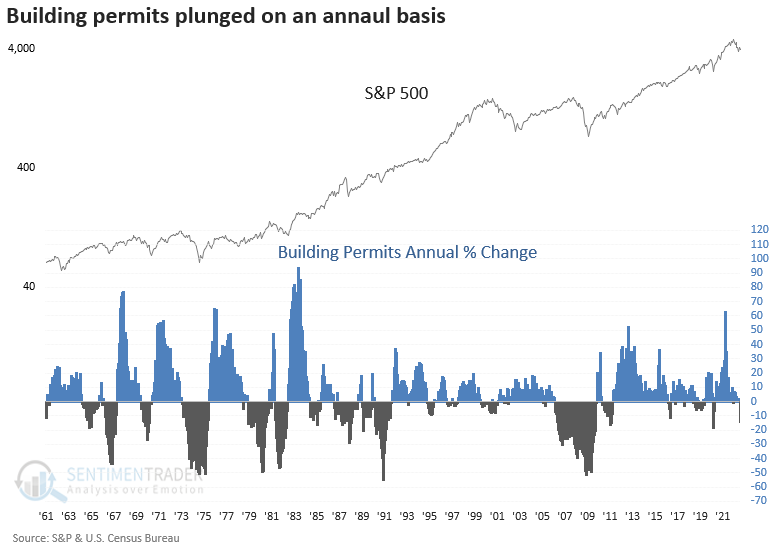 A plunge in building permits preceded flat to negative returns for stocks
Stocks struggled across most short and medium-term time frames, with the 2-month window showing the weakest results. The long-term outlook depends on whether the economy fell into a recession or got startled by a growth scare.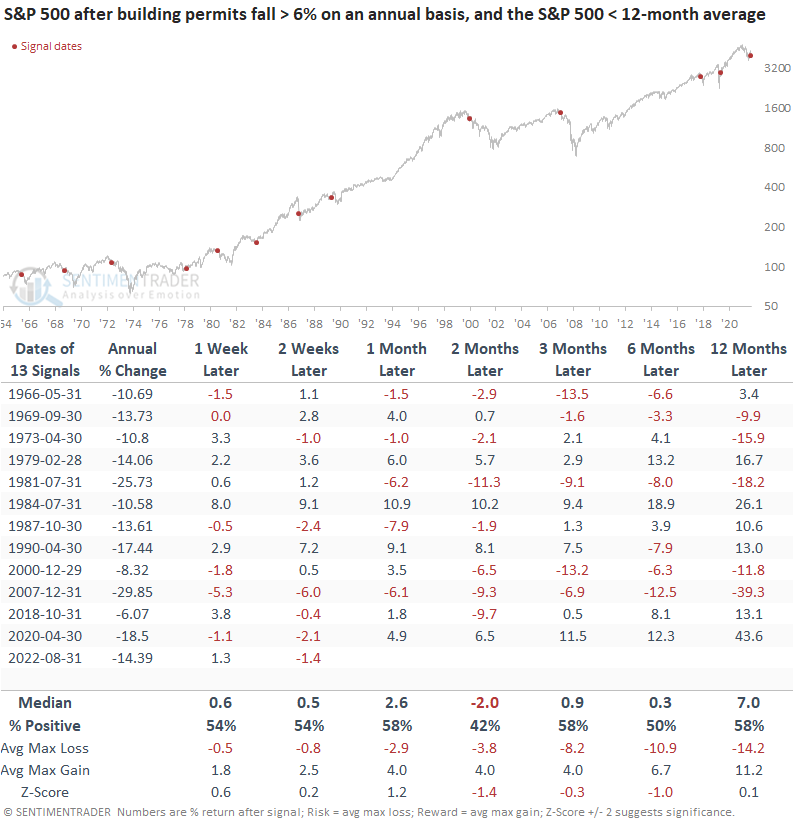 A recession looks more likely now that building permits have plunged
The building permits model generated a signal before or during a recession in eight cases since 1966. If a signal occurred before a contraction in the economy, it took on average 94 days until the NBER declared a recession.
The weight of the evidence suggests a potential recession
With the new alert from the building permits model, the TCTM Composite Recession Model count increased to 50%, triggering the 16th warning since 1928. So, we now have heavyweight truck sales, corporate bond yields, economic sentiment, and housing, all pointing toward a potential economic contraction.
Signals:
Building permits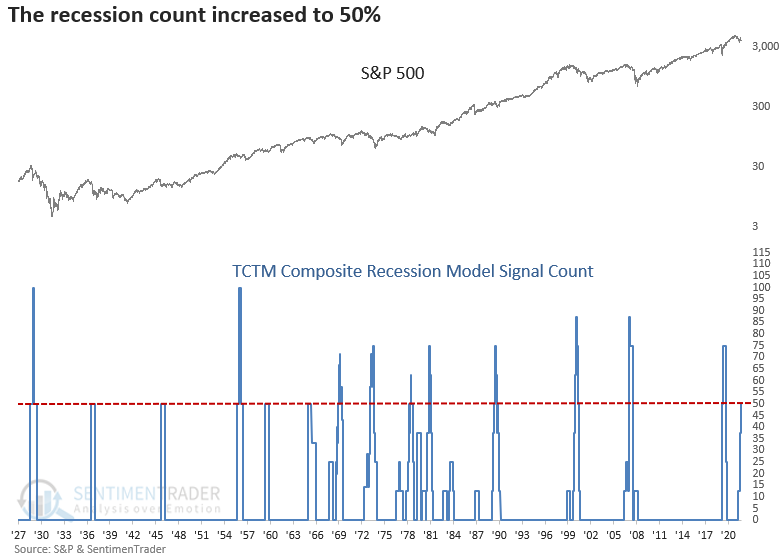 Recessions signals were unkind to stocks, especially 3 to 12 months later. The signal shows a loss at some point in that time frame in all but one instance, which occurred within the context of the Covid-induced government shutdown of the economy.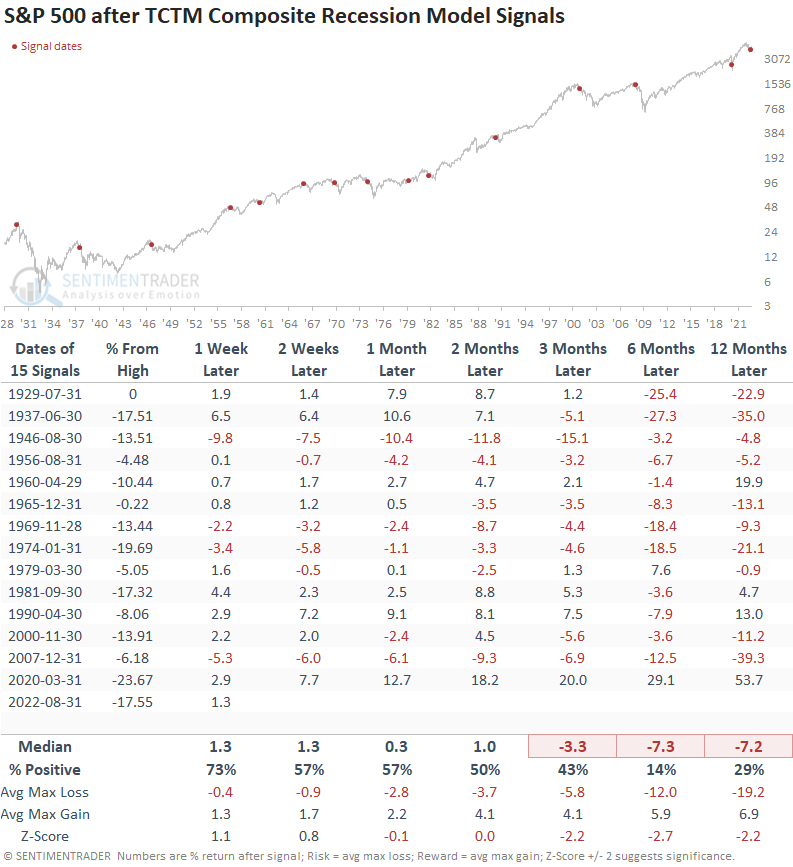 The new recession signal does not alter the overall TCTM outlook, which remains with a cautious bull status. That will be the case until the Composite Thrust Model signal window expires.
If that window expires and the TCTM Long-Term Trend Model is negative, the overall TCTM model will return to a bearish status. 
What the research tells us...
Building permits, a leading indicator of the housing market's future direction, plunged annually, triggering a warning signal from a member of the Composite Recession Model. After similar alerts, stocks were flat to negative up to 6 months later, and the odds of a recession were more likely. The housing signal pushed the overall Composite Recession Model count above the threshold for a recession warning. The outlook for stocks after a composite signal suggests the low in June is likely to be tested and potentially broken.