The buck loses its trend, while commodities gain theirs
---
---
The dollar loses its medium-term trend

The U.S. dollar has been on investors' radars for months as it climbed to its highest level in more than a year. In recent weeks, the uptrend stagnated. The buck crossed below its 50-day average on Friday, followed by a lower low on Tuesday potentially confirming the move lower.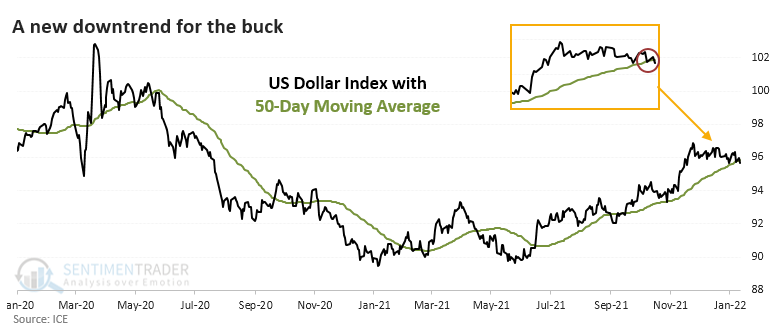 The dollar had gone 80 sessions above its 50-day average. The drop on Friday ended one of its longest-ever streaks above its medium-term moving average.
When the dollar fell below its 50-day average for the first time in months and had set a 52-week high at some point in the prior 2 months, it has usually kept falling. Its shorter-term returns were fragile.
We might expect a falling dollar to be a net positive among other markets. Gold did tend to see a quick bounce, but it showed weak returns after that. So did crude oil and commodities in general.

Stat box



On an average day over the past 10 sessions, the TLT Treasury bond ETF has seen an outflow of more than $200 million. All four of the other times this happened, TLT rallied over the next 2 months, averaging a return of +6.3%.
Most commodities are above their averages
There has been a broad surge in commodities, and most are now trading above their 50-day moving averages.
Dean assessed the outlook for the Bloomberg commodity spot price index when a basket of spot commodities trading above their 50-day average reverses from less than 40% to greater than 83%.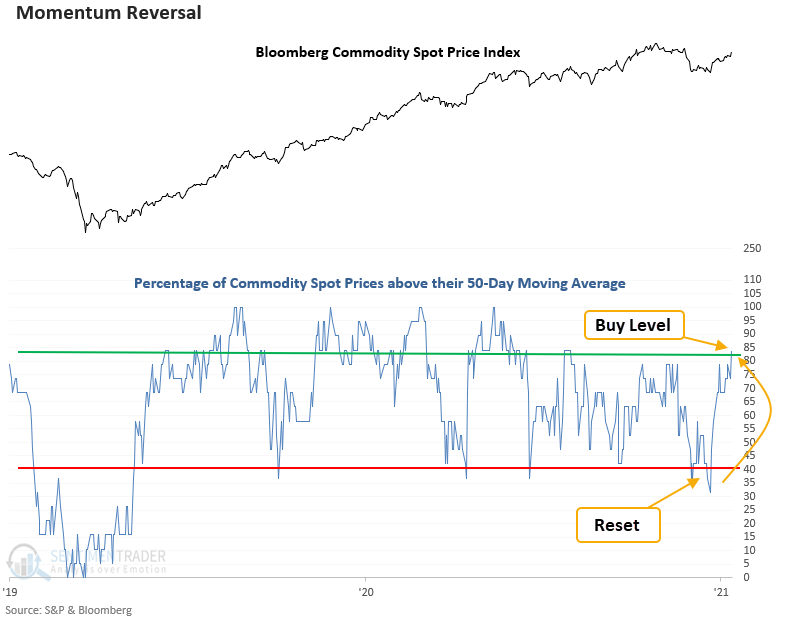 This signal has triggered 57 other times over the past 51 years. After the others, commodity future returns, win rates, and z-scores look solid across all time frames, especially the 3-month window.


The post titled The buck loses its trend, while commodities gain theirs was originally published as on SentimenTrader.com on 2022-01-13.
At SentimenTrader.com, our service is not focused on market timing per se, but rather risk management. That may be a distinction without a difference, but it's how we approach the markets. We study signs that suggest it is time to raise or lower market exposure as a function of risk relative to probable reward. It is all about risk-adjusted expectations given existing evidence. Learn more about our service , research, models and indicators.
Follow us on Twitter for up to the minute analysis of market action.
Follow @sentimentrader