The Bond Market's "Sorry, Not Sorry" Moment
---
---
This is an abridged version of our recent reports and notes. For immediate access with no obligation, sign up for a 30-day free trial now.
Bond boondoggle
Bond traders are often considered the smart money, or at least smarter than equity investors. It might be an issue now because high-yield bonds have been dragging a bit. And leveraged loans have been hit even harder.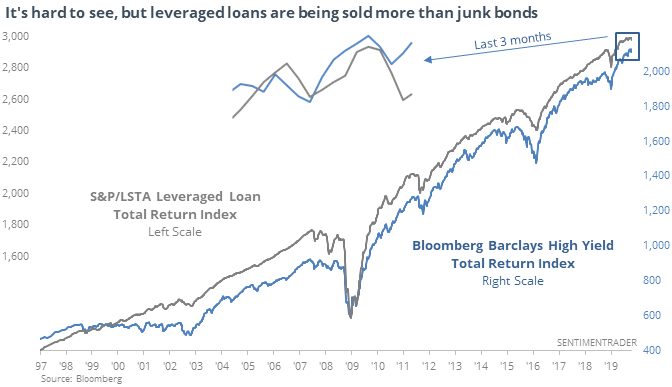 But it's not as bad as it appears on the surface, and even then, it has not been a consistent warning sign for investors.
This was a good heads-up of looming trouble in 2007, with horrendous returns in the S&P over the next year. But other than that, not so much. For the most part, the S&P rallied after these bond market divergences. So did the bond indexes themselves.
Participation problem
The S&P 500 has climbed close to its prior all-time high, yet fewer than half of stocks on the NYSE have managed to rise above their 200-day moving averages. That's a very low figure for a time when the S&P is so close to an old high.

This suggests that relatively few stocks are driving "the market" higher. When it has happened in the past, returns were below average, but inconsistent. For the record, returns were also below-average when participation was very high. The best returns followed times when participation was middle-of-the-road.
Germany
We've been following extreme oversold breadth readings in many overseas indexes, and then their thrusts to the upside. Similar to what's occurring in the Japanese Nikkei, the German DAX has broken out to a 1 year high.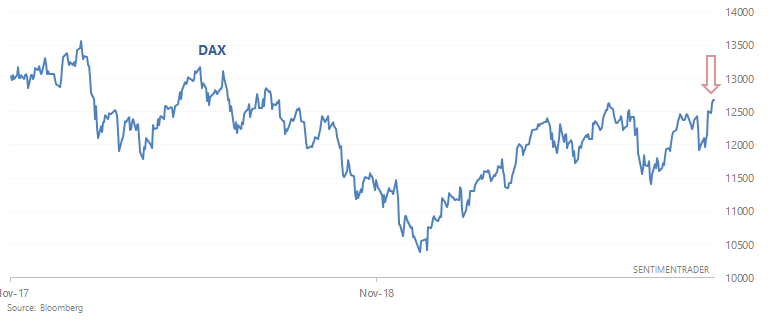 When this happened in the past, the DAX usually went higher over the next 3 months.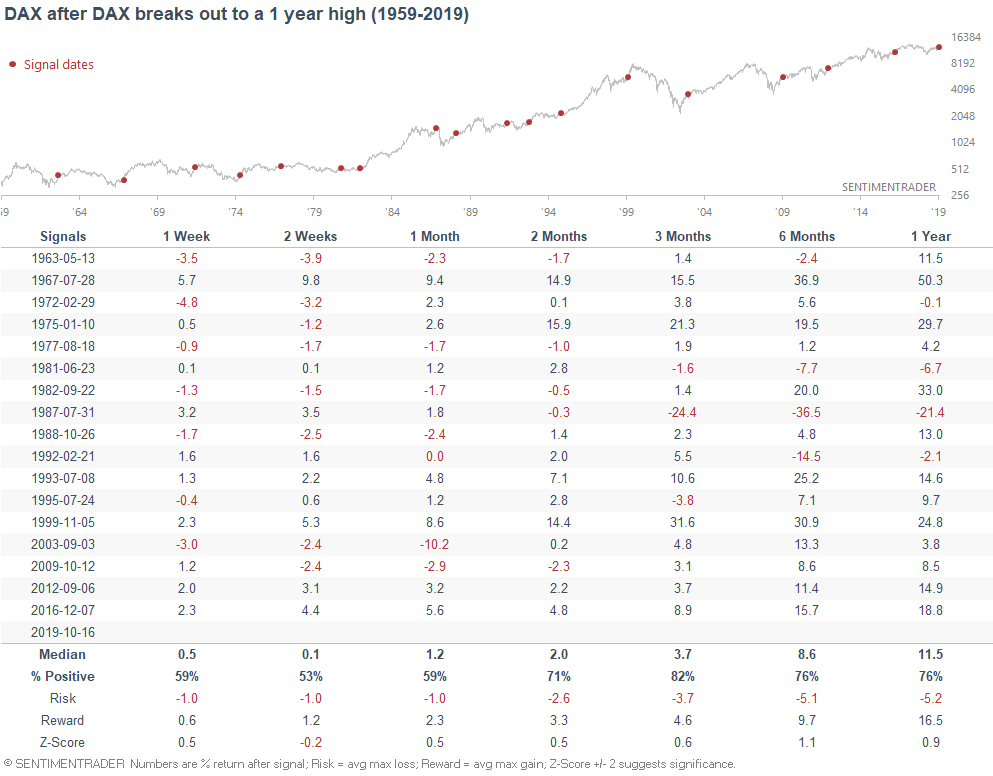 Related Posts:
---
Tagged As:
The post titled The Bond Market's "Sorry, Not Sorry" Moment was originally published as on SentimenTrader.com on 2019-10-18.
At SentimenTrader.com, our service is not focused on market timing per se, but rather risk management. That may be a distinction without a difference, but it's how we approach the markets. We study signs that suggest it is time to raise or lower market exposure as a function of risk relative to probable reward. It is all about risk-adjusted expectations given existing evidence. Learn more about our service , research, models and indicators.
Follow us on Twitter for up to the minute analysis of market action.
Follow @sentimentrader