The bond market has calmed down
---
---
The bond market is calming down. That market's equivalent of the VIX "fear gauge" has now dropped below its levels from early this year, before the pandemic.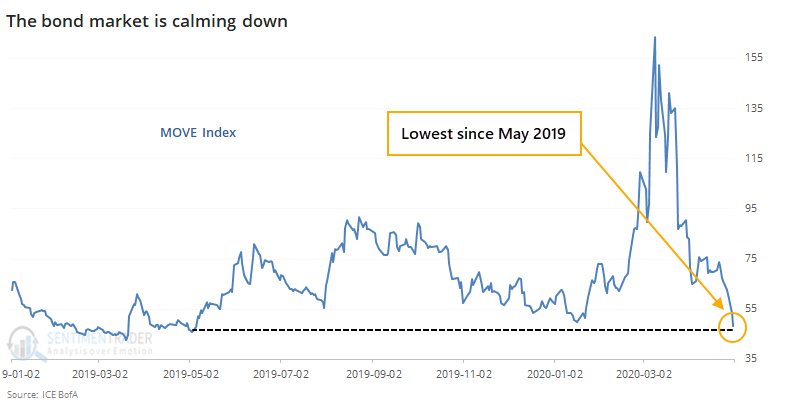 The bond market is about 25% larger than the stock market, and its moves can drive massive flows between assets. Theoretically, a drop in volatility in this massive market should calm investors across all assets.
For the MOVE Index itself, when it cycles from a multi-year high to a one-year low, it has tended to perk up again at some point during the next 1-2 months.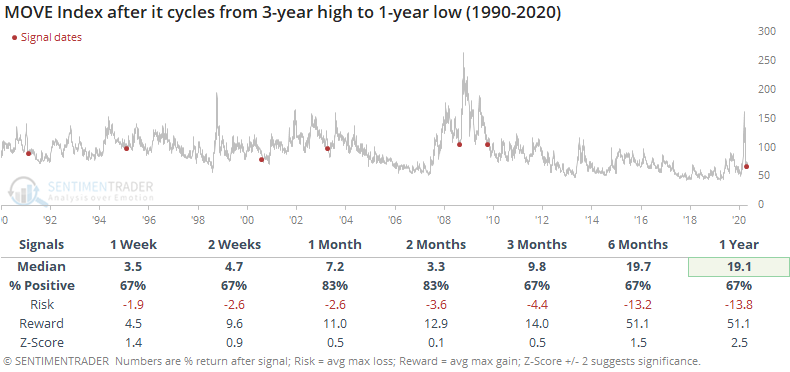 Unlike the stock market, where there is a more consistent inverse relationship between stock prices and volatility, there isn't such a close relationship in other assets like bonds. Even though the MOVE Index tended to rebound after a cycle like this, it didn't necessarily mean losses on bonds. There were also inconsistent returns in stocks and gold, both with an upside bias.
This is an abridged version of our recent reports and notes. For immediate access with no obligation, sign up for a 30-day free trial now.
We also looked at:
Our Macro Index Model has moved to cash - reasons why this is important, and what to watch going forward
Traders are becoming more comfortable with individual stocks vs ETFs
Fear & Greed has moved into "greed" territory during a downtrend
Realized volatility in the S&P is coming down
Gold's volatility is dropping, too - what that means for the metal

The post titled The bond market has calmed down was originally published as on SentimenTrader.com on 2020-05-05.
At SentimenTrader.com, our service is not focused on market timing per se, but rather risk management. That may be a distinction without a difference, but it's how we approach the markets. We study signs that suggest it is time to raise or lower market exposure as a function of risk relative to probable reward. It is all about risk-adjusted expectations given existing evidence. Learn more about our service , research, models and indicators.
Follow us on Twitter for up to the minute analysis of market action.
Follow @sentimentrader