The Anti-Hindenburg Omen; Fed Recession Risk Rises
---
---
This is an abridged version of our Daily Report.
The anti-Hindenburg
A compelling reason for caution last fall was the kind of split market that triggered a cluster of Hindenburg Omen warning signs. Over the past two weeks, there has been a cluster of signals that are the exact opposite of the Hindenburg (we'll call them Apollo Prophesies just for the heck of it), and that has usually been a good sign.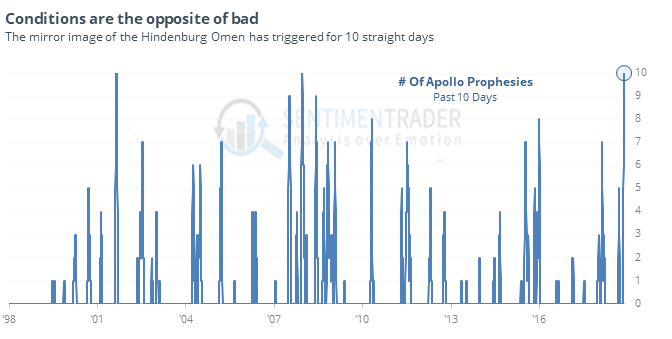 After the handful of signals since 1965, the S&P managed to rise every time over the next two months, but a few of those failed over longer time frames.
Rising risk
A model from the NY Fed is showing the highest risk of recession in a decade.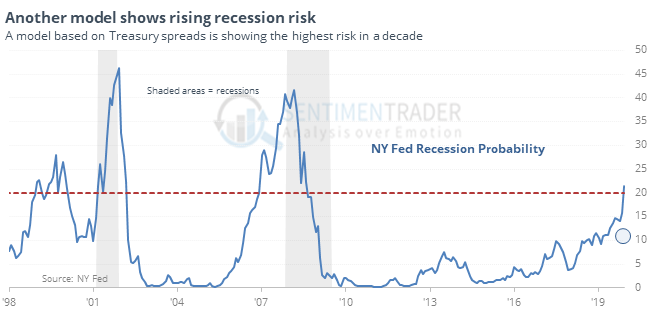 It's a mild concern, since it has a decent record of preceding recessions since 1960, and returns in stocks once risk got this high were modestly negative. For bonds, it was more of a positive longer-term.
New trend
The Nasdaq Composite is the first of the major averages to regain its 50-day average after going months below it.
Pessimism for volatility
The Optimism Index for VXX has dropped below 15 for the first time since November. According to the Backtest Engine, over the past 5 years when it has done this, the VIX "fear gauge" jumped over the next week 79% of the time and the S&P 500 rose 45% of the time.



Related Posts:
---
Tagged As:
The post titled The Anti-Hindenburg Omen; Fed Recession Risk Rises was originally published as on SentimenTrader.com on 2019-01-16.
At SentimenTrader.com, our service is not focused on market timing per se, but rather risk management. That may be a distinction without a difference, but it's how we approach the markets. We study signs that suggest it is time to raise or lower market exposure as a function of risk relative to probable reward. It is all about risk-adjusted expectations given existing evidence. Learn more about our service , research, models and indicators.
Follow us on Twitter for up to the minute analysis of market action.
Follow @sentimentrader