The 4th Longest Momentum Streak Since 1928 Just Ended
It was quite a run, but the dip in stocks last week did a bit of damage.
We've seen from multiple perspectives just how much of an outlier 2021 has been in terms of sentiment, breadth, and momentum. At various points since January, momentum ebbed, or negative breadth divergences triggered, then buyers came in immediately.
Yet, at no time did fewer than 75% of S&P stocks close below their long-term averages until the end of last week. For the first time in 10 months, fewer than 3 out of every 4 stocks in the S&P 500 closed above their 200-day moving averages.
That ends the 4th-longest streak since at least 1928.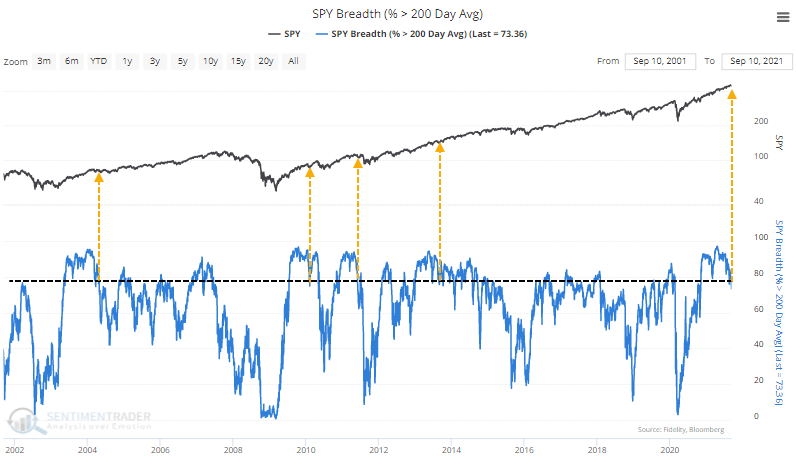 In over 90 years of history, there have only been 5 other streaks of at least 200 consecutive days. Like we see with many momentum types of data, forward returns were good, even after the streaks ended. While it did precede a big dip in 1950, the others saw minimal losses or gains over the following months.

---
What else we're looking at
Returns following the ends of long streaks of more than 75% of stocks trading above their 200-day averages
A look at the near-term window for Health Care stocks
A trading system using the Medium-Term Optimism Index
---
Stat box



The S&P 500 index has closed below its open for the 6th consecutive trading day. That ties it for the longest such streak of intraday selling pressure in over 2 years, with February 27, 2020 being the other.
---
Etcetera
Seasonal window is shut. The annual seasonal pattern in the XLF health care fund shows that it has typically peaked in mid-September, with weakness lasting for about the next 30 trading days.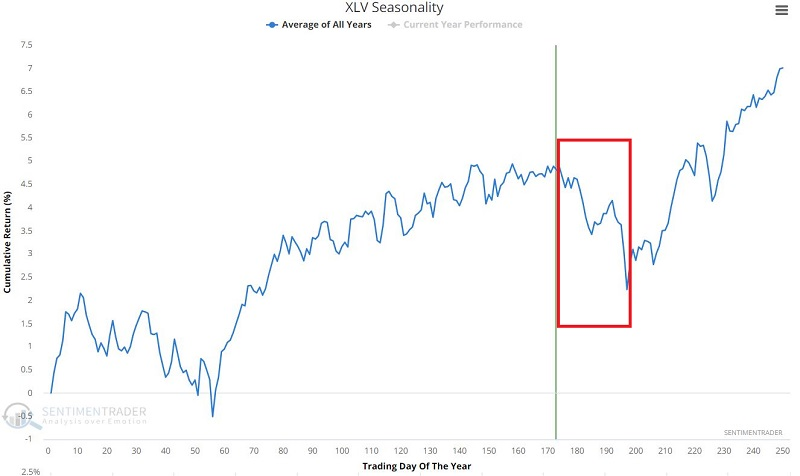 A bond put-down. Over the past 5 days, the put/call ratio on 10-year Treasury note futures has dropped toward 1, meaning traders nearly traded as many call options as put options. That's nearing the lowest level in a year.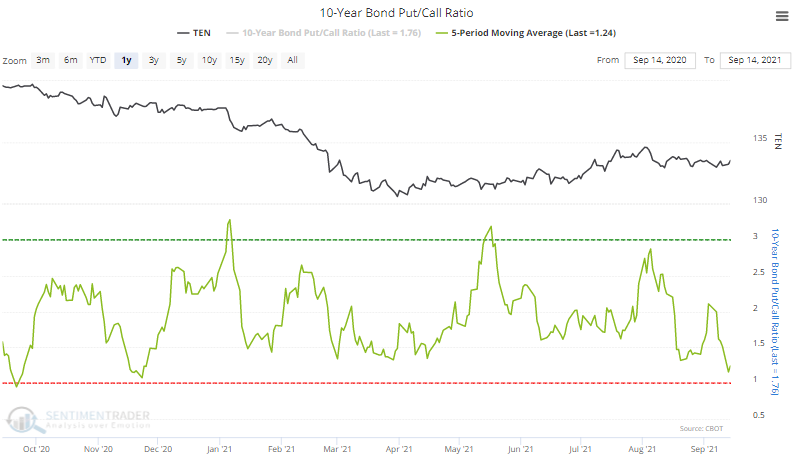 Corporate bonds a-ok. Among high-yield bonds, the cumulative advance/decline line just reached a new high, showing no distress under the surface in this market.