Tepid Fund Flows With Record Exodus From Financials
---
---
Tepid equity flow
The S&P 500 has jumped more than 12% over the past two months, yet inflows to equity funds continue to be tepid.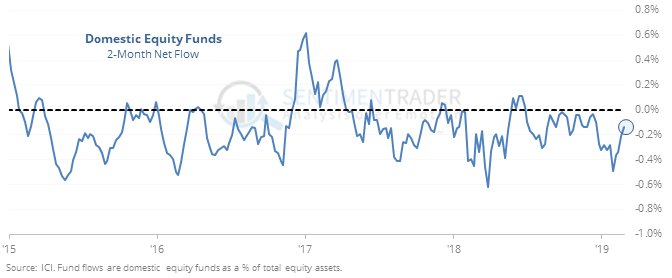 This is one of the few times that stocks have performed so well over a two-month span, with negative equity flows during the rally. Future returns in the S&P were impressive after other times this happened, better than random on every time frame, and significantly so over the next two months. But the numbers don't really tell the whole story.
February ETF flow
Last month, commodity funds mostly saw outflows, and bonds saw inflows, continuing the recent pattern. In equities, financials saw yet another monthly outflow, the 11th in a row.

Real estate funds added more than 4% in assets, one of their best flows ever.
Bull
Nearly 70% of stocks in the Shanghai Composite are now above their 200-day averages, the most in over two years. When the index went from fewer than 20% to at least 70% above the 200-day, the Shanghai showed a negative return over the next 1 or 2 months all six times this happened in the past 17 years.
Slipping
The S&P 500 finally closed below its 10-day moving average, the first time in 40 days, ending its 9th-longest streak ever. The ends of other streaks led to okay returns in the short-term, but three months later it averaged a return of -1.8%.
No shine
Gold futures closed lower for the 7th straight day. Since '75, that's happened 5 times when above the 200-day average. Gold rallied over the next month 5 of the 6 times.
This post was an abridged version of our previous day's Daily Report. For full access, sign up for a 30-day free trial now.

Related Posts:
---
Tagged As:
The post titled Tepid Fund Flows With Record Exodus From Financials was originally published as on SentimenTrader.com on 2019-03-06.
At SentimenTrader.com, our service is not focused on market timing per se, but rather risk management. That may be a distinction without a difference, but it's how we approach the markets. We study signs that suggest it is time to raise or lower market exposure as a function of risk relative to probable reward. It is all about risk-adjusted expectations given existing evidence. Learn more about our service , research, models and indicators.
Follow us on Twitter for up to the minute analysis of market action.
Follow @sentimentrader