Tech's Perfect Signal
---
---
Tech's fully recovery
Out of the S&P 500's 11 major sectors, only one has made a fully recovery from the December decline, and it's an important one. The information technology group has fully recovered from its decline of more than 24%.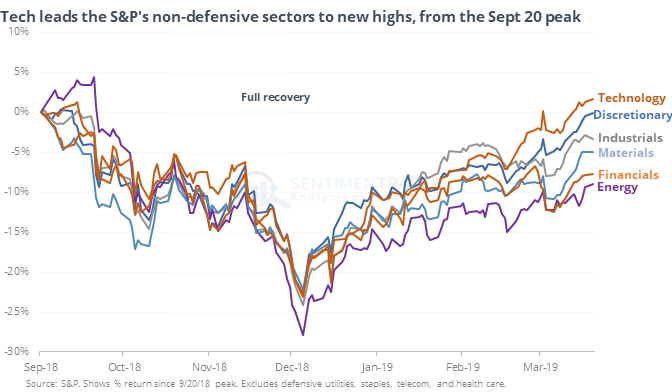 Other times it fully recovered a drop of 20% or more within a six-month window, it showed excellent returns going forward. Most impressively, a year later the sector was higher by at least 13% every time. Returns were excellent for the S&P 500 itself, as well.
Sentiment spread
The persistent bid under stocks has buoyed sentiment, and the spread between Smart and Dumb Money Confidence hit a multi-year low this week.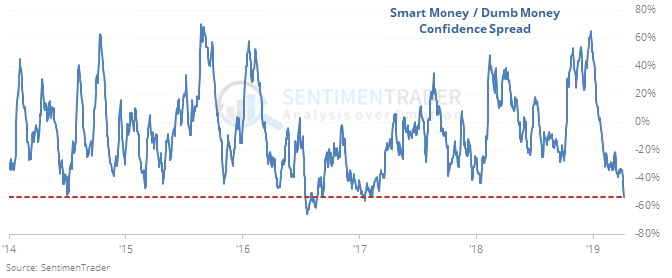 When it first hits this wide of a spread, it has not been a negative, but as the days progress with this kind of extreme, the risk/reward quickly turns negative.
A down day!
The S&P lost more than 0.5% on Tuesday for only the 9th time since the December 24 bottom. After 7 of those other 8 down days, the S&P rebounded over the next two days and returned an average of more than 1%.
This post was an abridged version of our previous day's Daily Report. For full access, sign up for a 30-day free trial now.

The post titled Tech's Perfect Signal was originally published as on SentimenTrader.com on 2019-04-10.
At SentimenTrader.com, our service is not focused on market timing per se, but rather risk management. That may be a distinction without a difference, but it's how we approach the markets. We study signs that suggest it is time to raise or lower market exposure as a function of risk relative to probable reward. It is all about risk-adjusted expectations given existing evidence. Learn more about our service , research, models and indicators.
Follow us on Twitter for up to the minute analysis of market action.
Follow @sentimentrader