Tech Tour De Force, Even With Big Money On Sidelines
---
---
A tech tour de force
The tech sector has been on a record run over the past 18 weeks.
Going back 93 years, the only other time it had a run like this was in June 1957. There were slightly lesser streaks, including near the peak of the bubble years in 2000 and prior to the 1987 crash. While not a consistent bubble-spotting sign of excessive momentum, future returns were lower than average after these streaks, but about in line for the broader market.
Big money pulls back
The semi-annual Barron's Big Money poll shows that money managers have pulled back quite a bit on their optimism, with more of them expecting stocks to go nowhere or decline than rally further.
Their sentiment is not at an extreme and thus not a contrary indicator, so it's a very slight negative for stocks. After surveys with a bullish percentage below 50%, the S&P returned an average of only 0.8% until the next survey and was positive 53% of the time.
Not neutral on the Swiss
Speculators have been pressing bets against the Swiss franc, and the Optimism Index is now below 20. Over the past four years that led to a bounce over the next two months 89% of the time according to the Backtest Engine.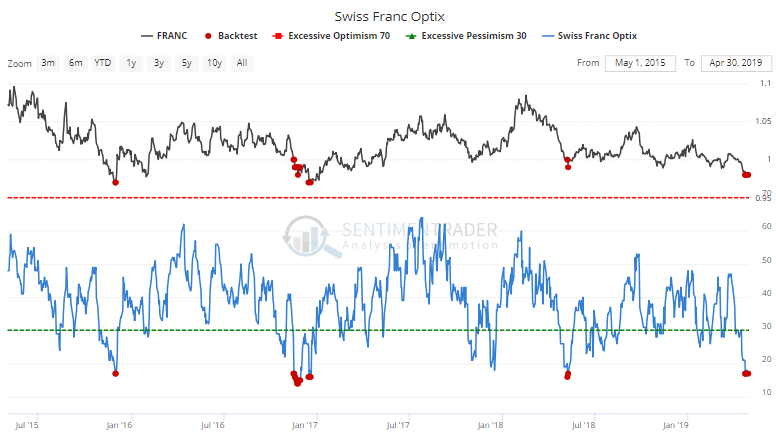 It also tended to lead to gains in U.S.-based funds for Swiss stocks like EWL, which preceded gains 89% of the time over the next three months.
Volatility flipped
Bloomberg notes that volatility on the tech-heavy Nasdaq 100 is now lower than even the S&P 500 Low Volatility Index. Only 174 days since 1990 have seen this happen. Seems like it should be a complacency warning sign, but 2 months later the S&P 500 was higher 83% of the time.
This post was an abridged version of our previous day's Daily Report. For full access, sign up for a 30-day free trial now.

Related Posts:
---
Tagged As:
The post titled Tech Tour De Force, Even With Big Money On Sidelines was originally published as on SentimenTrader.com on 2019-04-30.
At SentimenTrader.com, our service is not focused on market timing per se, but rather risk management. That may be a distinction without a difference, but it's how we approach the markets. We study signs that suggest it is time to raise or lower market exposure as a function of risk relative to probable reward. It is all about risk-adjusted expectations given existing evidence. Learn more about our service , research, models and indicators.
Follow us on Twitter for up to the minute analysis of market action.
Follow @sentimentrader