Tech, dollar suffer selling "shocks"
---
---
Tech's shocking decline
Friday's loss was more than 2 standard deviations beyond the typical daily change in the Nasdaq over the past year, likely a shock to newer investors. Coming quickly on the heels of an all-time high, there is a temptation to believe it's a sign the rally has ended.
That kind of thinking doesn't have much support.

When we look at every time the Composite quickly cycled from an all-time high to a 2 standard deviation loss since 1970, 3 of them coincided with important peaks while the 18 others did not. If anything, this was a good sign for bulls especially in the S&P 500 which showed surprisingly robust returns.
There are many compelling reasons to believe that upside should be limited in the coming month(s), but using a reason like Friday's selling sounds better in theory than it has worked in practice.
The dollar's shocking decline, too
It wasn't just tech's decline that was shocking. The U.S. Dollar Index dropped sharply after a strong rally that pushed it to multi-year highs.
If we look at the USD Index's 1 day % change vs. a 3 month average of daily % changes, this was a rather abrupt reversal in the uptrend.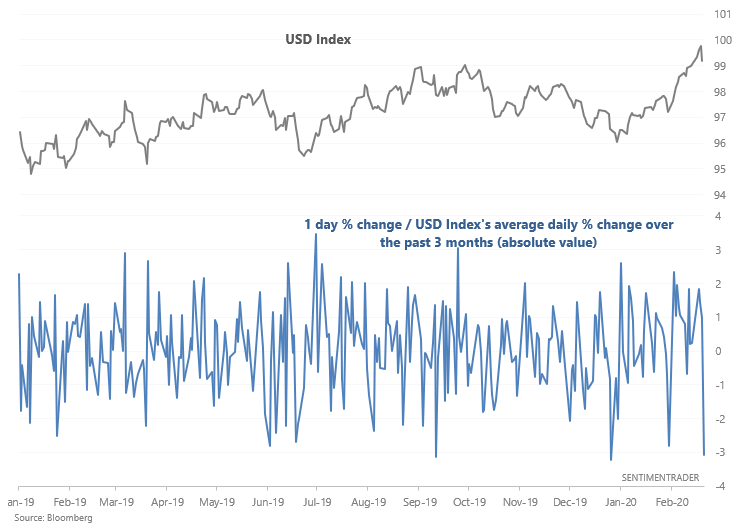 When the USD Index reached at least a 1 year high and then dropped like a stone (defined by the above chart < -3), the USD Index's returns over the next week were bearish.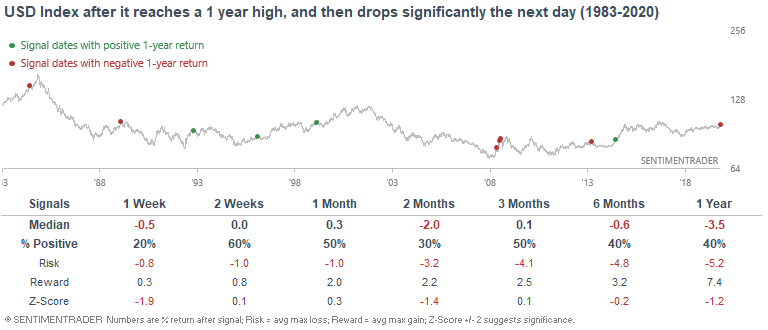 Most sudden reversals in the USD's uptrend led to more downside over the coming weeks. Recent signs of upside momentum in the buck have had much more positive returns over the following month(s) so it's debatable whether Friday's single loss will be enough yet to reverse those positive signs.
This is an abridged version of our recent reports and notes. For immediate access with no obligation, sign up for a 30-day free trial now.
We also looked at:
Professional money managers are positive on the U.S. and taking above-average risk
With put/call volume ratios low, open interest ratios are high
More technical warning signs have triggered
Gold's weekly Relative Strength Index is very high

Related Posts:
---
Tagged As:
The post titled Tech, dollar suffer selling "shocks" was originally published as on SentimenTrader.com on 2020-02-24.
At SentimenTrader.com, our service is not focused on market timing per se, but rather risk management. That may be a distinction without a difference, but it's how we approach the markets. We study signs that suggest it is time to raise or lower market exposure as a function of risk relative to probable reward. It is all about risk-adjusted expectations given existing evidence. Learn more about our service , research, models and indicators.
Follow us on Twitter for up to the minute analysis of market action.
Follow @sentimentrader