Summation Indexes show broad-based recovery
---
---
The rally has lasted long enough, and has been widespread enough, that longer-term breadth measures are recovering from their March devastation.
According to our Sector Breadth page, almost all major indexes, domestic and overseas, now have a positive McClellan Summation Index.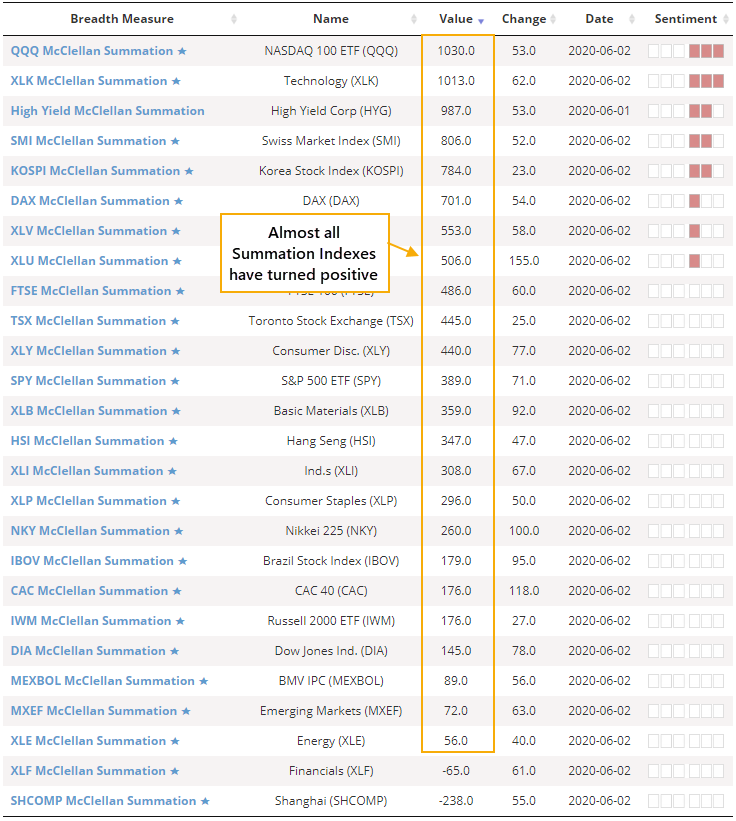 The Summation Index is based on work pioneered by Sherman and Marian McClellan. It is a longer-term look at the momentum of the underlying breadth of an index, adding each day's McClellan Oscillator reading to the day before. When it is above zero, momentum is positive; below zero, it is negative.
When the Summation Index has recovered from below -1000 to above +500, like it has now, it has typically preceded sustained recoveries in the S&P 500. If we filter the study to only include those cycles that completed within two months, then forward returns were even more impressive.
What makes this recovery more impressive is how broad it is. Not just within the S&P 500 or even the NYSE, but across markets and across regions. The Summation Index for high-yield bonds has fully cycled as well, as it has for the German DAX and emerging markets.
This is an abridged version of our recent reports and notes. For immediate access with no obligation, sign up for a 30-day free trial now.
We also looked at:
An in-depth look at full cycles in the McClellan Summation Index for the NYSE, high-yield bonds, the DAX, and emerging markets
Fund manager sentiment is heavily skewed away from overseas markets
The Nasdaq is almost fully recovered

The post titled Summation Indexes show broad-based recovery was originally published as on SentimenTrader.com on 2020-06-04.
At SentimenTrader.com, our service is not focused on market timing per se, but rather risk management. That may be a distinction without a difference, but it's how we approach the markets. We study signs that suggest it is time to raise or lower market exposure as a function of risk relative to probable reward. It is all about risk-adjusted expectations given existing evidence. Learn more about our service , research, models and indicators.
Follow us on Twitter for up to the minute analysis of market action.
Follow @sentimentrader