Stocks, Sectors In Correction; Nasdaq's Bad Day; S&P Negative YTD; Spike In Pessimism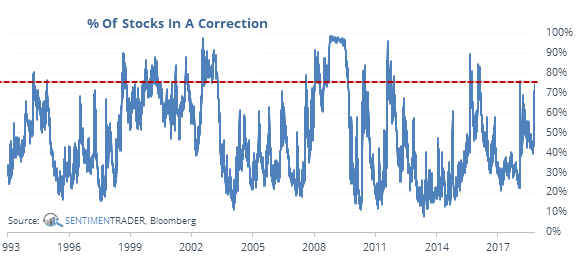 This is an abridged version of our Daily Report.
Stocks in correction
The S&P still hasn't suffered a correction, if we define it by a 10% decline from a 52-week high. With the severe loss on Wednesday, it has just barely missed the cut. Most of its stocks haven't been so fortunate, however. With the selling over the past couple of sessions, more than 75% of stocks in the S&P 500 are now down more than 10% from their highs of the past year.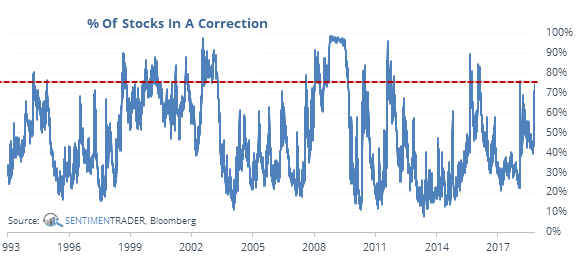 While by definition that happens before a bear market, by the time this many stocks fell this far, the S&P usually showed a positive return 3 months later.
Sector corrections
Half of the major S&P 500 sectors have also fallen into corrections. Looking at times when half of them fell this far and comparing the ones with the most similar sector leadership/weakness, future returns were decent. Returns were worse when it was different sectors that were sinking the most.
Nasdreck
The Nasdaq dropped into a correction for the first time in two years, almost always leading to rallies. It also suffered its worst loss in 7 years, which had a much more mixed record.
Negative YTD
The S&P 500 spent most of the last six months with a gain for the year. This is a late time of the year for it to sink into a negative return year-to-date.
Spike in pessimism
More than 40% of our indicators are showing excessive pessimism. Many of those are "dumb money" gauges, with Confidence reaching a low level.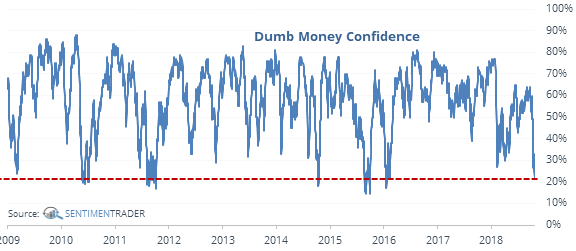 We haven't seen this kind of combination of extremes on many days since the 2009 bottom, but that's to be expected. There were a total of 43 days when the S&P was within 20% of a 52-week high, after which the S&P rallied 40 times (a 93% win rate) over the next 1-2 months.