Stocks Haven't Done This For 7 Years
---
---
This is an abridged version of our recent reports and notes. For immediate access with no obligation, sign up for a 30-day free trial now.
There's always tomorrow
Since early October, holders of the S&P 500 have not had to suffer back-to-back losses. It's been 25 sessions since the S&P faced losses on consecutive days, its longest streak since 2012, one of the longest since 1998 - and even among the longest going all the way back to 1928.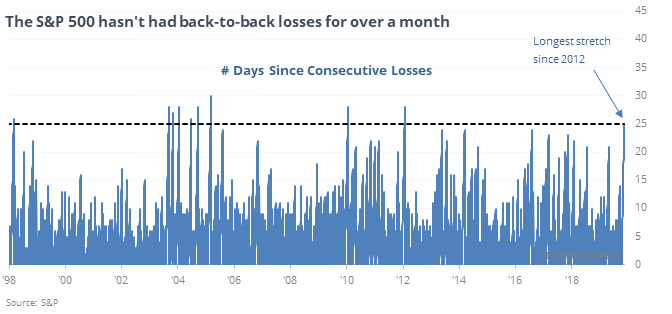 Most momentum-related studies show even more strength over the medium- to long-term (momentum does not die easily) but this one is much less conclusive. While it's an impressive sign of momentum, it has not necessarily suggested an all-clear. Returns over the next 1-6 months were a bit weaker than random, especially the next month when the index added to its gains less than half the time.
S&P 500 Low Volatility
Investors and traders have been shifting away from defensive assets over the past few weeks. As the WSJ noted, the S&P 500 Low Volatility Index (which had rallied nonstop earlier this year) has been stagnant over the past 2 months while the S&P 500 continues to rally.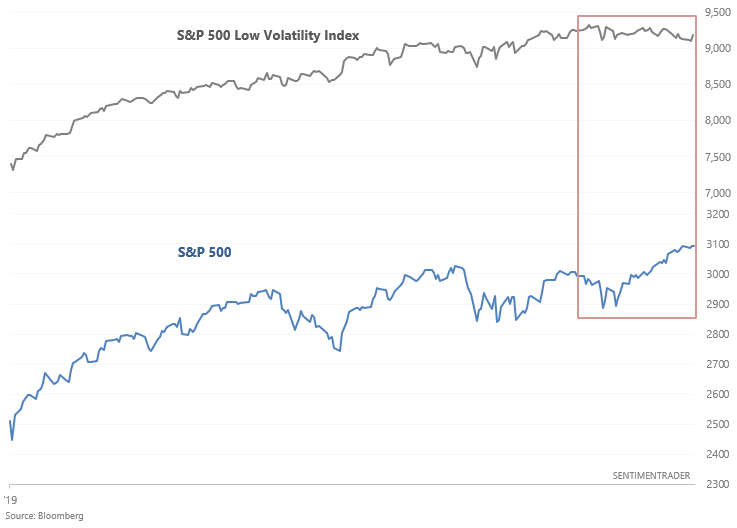 When the S&P 500 rallies more than 5% over a 50 day period, while the Low Volatility Index falls, the S&P 500 typically does poorly over the next few weeks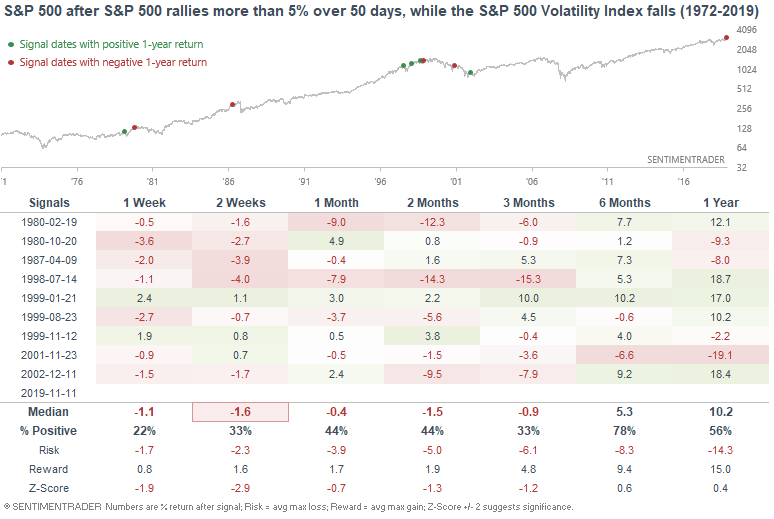 We also looked at:
Bond boondoggle - BB-rate CLOs are diverging negatively with high yield bonds
The OECD Composite Leading Indicator is plunging
The SKEW index keeps rising
NYSE Bullish % has eclipsed 60%
Emerging markets just enjoyed a Golden Cross

Related Posts:
---
Tagged As:
The post titled Stocks Haven't Done This For 7 Years was originally published as on SentimenTrader.com on 2019-11-14.
At SentimenTrader.com, our service is not focused on market timing per se, but rather risk management. That may be a distinction without a difference, but it's how we approach the markets. We study signs that suggest it is time to raise or lower market exposure as a function of risk relative to probable reward. It is all about risk-adjusted expectations given existing evidence. Learn more about our service , research, models and indicators.
Follow us on Twitter for up to the minute analysis of market action.
Follow @sentimentrader