Stocks have rarely done this before
---
---
Small-cap stocks have stolen the spotlight by enjoying a record run of days with more than a 1% daily gain. The broader market has rallied, as well, even if giving up some of those gains on an intraday basis.
Over the past 6 days, the S&P 500 has traded higher by at least 1% at some point during the day. That's the longest streak since 2011 and has been exceeded only a few times in the nearly 40 years. It was more common prior to the early 1980s.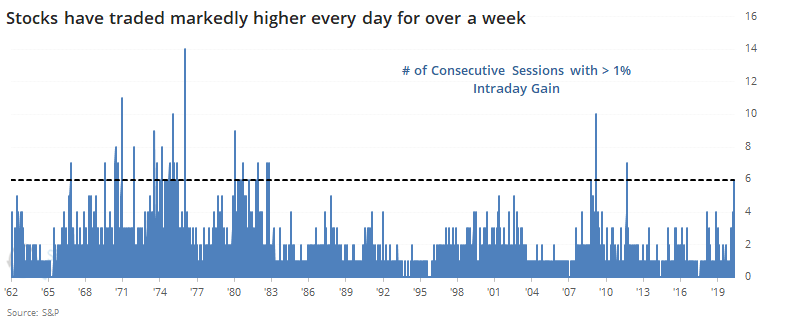 Most of these streaks occurred during downtrends when volatility was higher. If we look for any time the streak lasted 6 days while the S&P was trading below its 200-day average, then we get the following.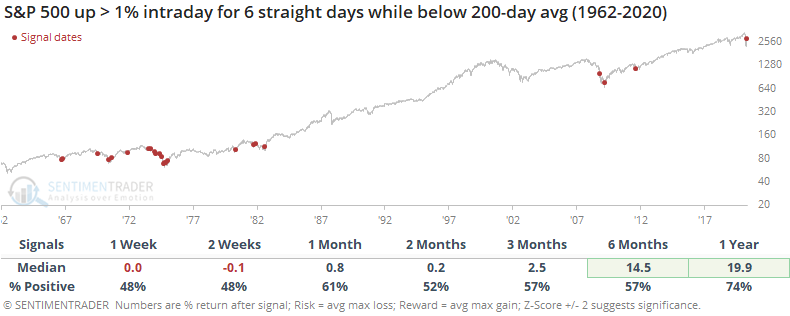 These thrusts led to some back-and-forth over the short-term as buyers took a breather. By a month later, returns turned more consistently positive and they were significantly so over the next 6-12 months.
Using a traded vehicle like a futures contract provides more accurate intraday data. Since futures were introduced in 1982, it's triggered about a dozen times and most of them were at least a temporary head-fake.
We need to see buyers persist in the coming week(s) to give at least a little more credence to the idea that we've witnessed something other than just another bear market rally.
This is an abridged version of our recent reports and notes. For immediate access with no obligation, sign up for a 30-day free trial now.
We also looked at:
What happens when consumers' optimism about the present is much worse than expectations about the future
Despite a surge in stocks in April, consumers aren't very optimistic the gains will continue
The Russell 2000 / S&P 500 ratio is turning up
So is the ratio between the equal-weight S&P and the capitalization-weighted version
Our Optimism Index for several sector ETFs is hitting record highs
Some defensive sectors are seeing almost all their component stocks above their 50-day averages

Related Posts:
---
Tagged As:
The post titled Stocks have rarely done this before was originally published as on SentimenTrader.com on 2020-04-30.
At SentimenTrader.com, our service is not focused on market timing per se, but rather risk management. That may be a distinction without a difference, but it's how we approach the markets. We study signs that suggest it is time to raise or lower market exposure as a function of risk relative to probable reward. It is all about risk-adjusted expectations given existing evidence. Learn more about our service , research, models and indicators.
Follow us on Twitter for up to the minute analysis of market action.
Follow @sentimentrader