Stocks Have Gone Absolutely Nowhere

This is an abridged version of our recent reports and notes. For immediate access with no obligation, sign up for a 30-day free trial now.
Going nowhere
The most benchmarked index in the world has gone nowhere for over a year and a half. The S&P 500 was just trading at the same level it was at in January 2018, not including dividends. This is not the return for investors, but rather the apathy anyone looking at a price chart would feel.

But there are some positive signs, like the fact that it's in the upper end of its range and only modestly below its all-time high. Other times it went nowhere for so long, but remained relatively healthy, it broke out to the upside. All but one signal led to a higher return a year later.
Double thrust
Last week, the 10-day Up Volume Ratio on the NYSE sunk into oversold territory. When that happened in January, it was followed by enough positive days to trigger a breadth thrust. It's too early this time around, but it's off to a good start with back-to-back days enjoying heavy volume flowing into advancing securities.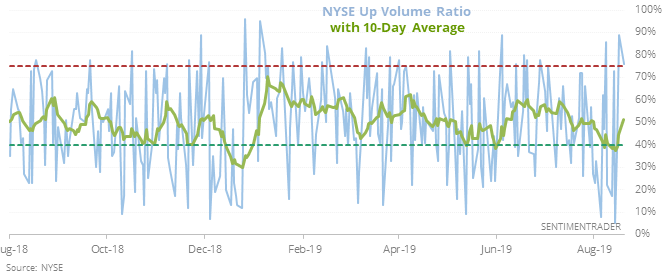 While big up days generate a lot of excitement and change the tone of mainstream media, they haven't consistently been good short- to medium-term buy signals as stocks often took a breather at some point. More than anything, they were decent signs that the longer-term risk/reward ratio was becoming more positive.
90% days
On the S&P 500 more than 90% of stocks rose on both Friday and Monday. Since 1990, there have only been two other times the index enjoyed 90% of its stocks rising – December 18, 2014, and August 27, 2015.
Dumb money and oversold yields
In a weekly review, Troy pointed out that Dumb Money Confidence fell to a 100-day low even while the S&P was within 10% of its peak. That preceded gains in the index 94% of the time over the next year.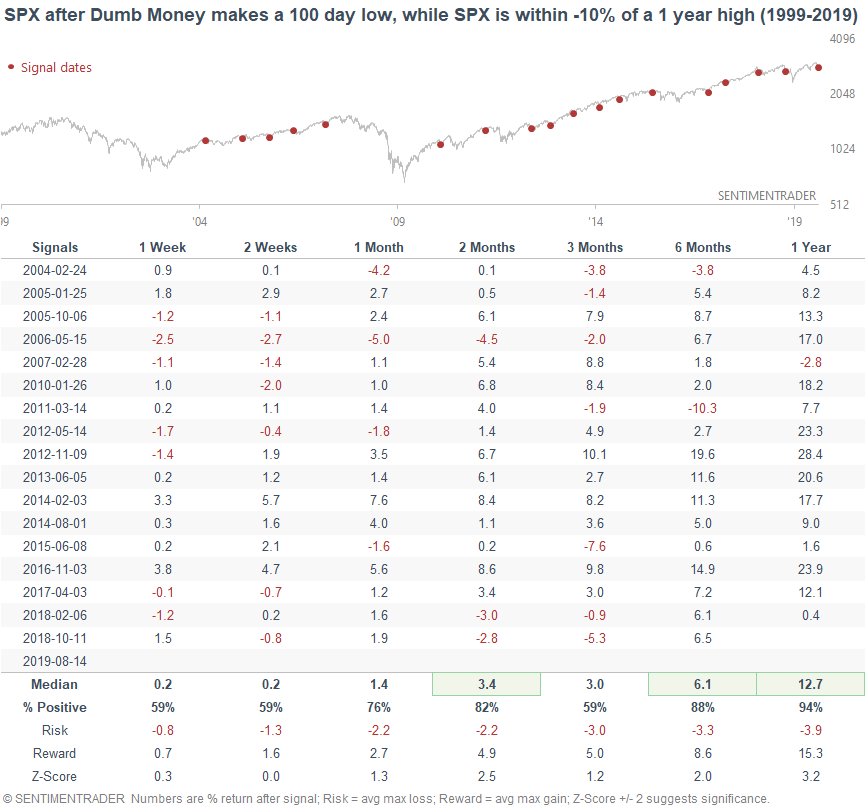 And the 10-year Treasury yield's RSI fell below 20 on a weekly basis, something that's happened 5 other times since 1970. Each time, stocks rose going forward, with an average gain of more than 22% in the S&P 500 a year later. Yields also rose.