Stocks Close Poorly As Smart Money Leaves Amid Tighter Conditions
---
---
This is an abridged version of our Daily Report.
Ramp Capital has folded
Last year, stocks routinely closed in the upper end of the day's trading range, but that has drastically changed. Over the past two weeks, the S&P 500 has closed in the bottom half of its range every day, a new record.


The smart money is leaving
An index that looks at when traders are buying vs selling has plunged to new lows, similar to 2000 and 2008. Divergences between the index and the S&P 500 have led to mostly poor returns and risk/reward ratio.

Getting tighter
Financial conditions are getting tighter, one of the few times since 2017 that investors have faced this condition.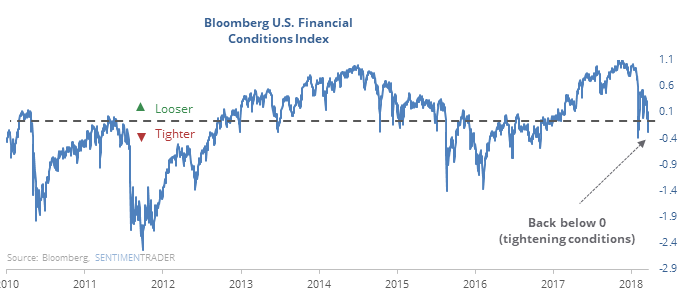 Stocks had a negative return during tightening financial conditions, though it has not worked well as a buy/sell signal.

The (almost) end of a long streak
The S&P 500 is within spitting distance of its 200-day average, which would end a streak of more than 400 days above. Its returns when below its average are poor, and the risk/reward going forward is not good.

Big drops
While the S&P is close to losing its 200-day average, it hasn't yet, despite back-to-back losses of more than -2%. This is the first time since 1997 the S&P has suffered such large consecutive losses while still being in an uptrend.


For access to the full report, indicators, charts, screens, and Backtest Engine, log in or sign up for a free 30-day trial today.
Related Posts:
---
Tagged As:
The post titled Stocks Close Poorly As Smart Money Leaves Amid Tighter Conditions was originally published as on SentimenTrader.com on 2018-03-25.
At SentimenTrader.com, our service is not focused on market timing per se, but rather risk management. That may be a distinction without a difference, but it's how we approach the markets. We study signs that suggest it is time to raise or lower market exposure as a function of risk relative to probable reward. It is all about risk-adjusted expectations given existing evidence. Learn more about our service , research, models and indicators.
Follow us on Twitter for up to the minute analysis of market action.
Follow @sentimentrader