Stocks, Bonds Rise As Volatility Diverges
---
---
A balanced investor's dream
The S&P 500's total return over the past three months is well over 10%. The total return in an aggregate bond index is up over 3% at the same time, a large move for that market.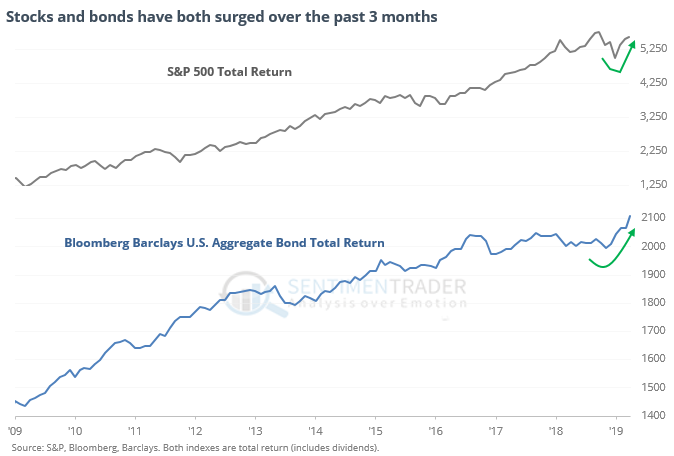 When both markets enjoyed such large total returns over a multi-month period, it tended to be a good sign for both. Far from being a worry, it led to significantly positive returns for stocks. Bonds, too, but it wasn't quite as positive.
Bond market is MOVEing
The MOVE Index of bond market implied volatility has spiked more than 40% off its low. Yet the VIX gauge of implied volatility in stocks hasn't budged much. While it's assumed that the bond market knows something that stock market doesn't, that hasn't really been the case after other times bond volatility surged ahead of that for stocks.
For the VIX, it was a mixed signal. Three times, it mostly rose over the next month, and three times it fell. The risk/reward was about even.
Valuable bonds
Bloomberg noted that the aggregate value of global corporate bonds has surged by more than $1.5 trillion in only the past three weeks. That's about 3% of its value. Historically, a jump that large and to a new-high valuation has preceded further gains over the next three months 93% of the time.
Global momentum
An MSCI index of global equity total returns is about to have its 3-month average cross above its 12-month average for the first time in more than a quarter.
This post was an abridged version of our previous day's Daily Report. For full access, sign up for a 30-day free trial now.

Related Posts:
---
Tagged As:
The post titled Stocks, Bonds Rise As Volatility Diverges was originally published as on SentimenTrader.com on 2019-03-29.
At SentimenTrader.com, our service is not focused on market timing per se, but rather risk management. That may be a distinction without a difference, but it's how we approach the markets. We study signs that suggest it is time to raise or lower market exposure as a function of risk relative to probable reward. It is all about risk-adjusted expectations given existing evidence. Learn more about our service , research, models and indicators.
Follow us on Twitter for up to the minute analysis of market action.
Follow @sentimentrader