Stocks are seeing high optimism during an unhealthy environment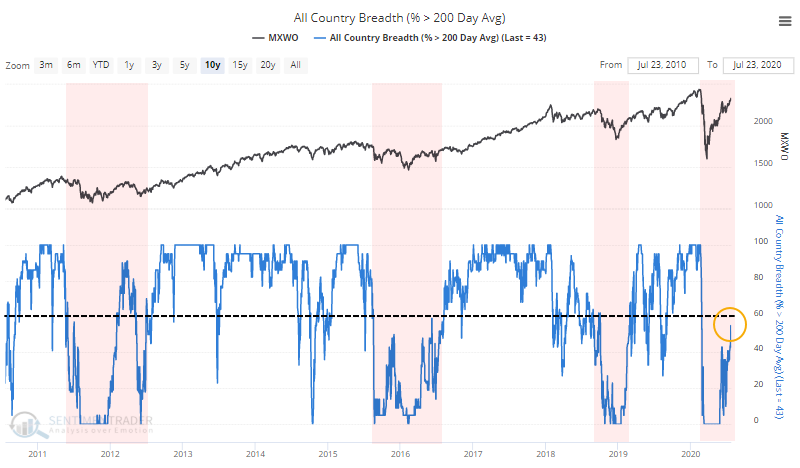 Investors are extremely optimistic at the moment, despite an unhealthy market environment.
There are a number of ways to define these. Simply looking for prices above/below the 200-day moving average works just about as well as complex trend models, and it's a good, clear-defined alternative. Combine that with a simple view of whether prices are making higher highs and higher lows, lower highs and lower lows, or both and you can get an excellent sense for whether bulls or bears are in control. 
Another of our preferred methods is looking at participation - how many securities are in uptrends/downtrends.
Healthy environments consistently see more than 60% of stocks, industries, sectors, and countries holding above their 200-day averages. Unhealthy environments consistently see fewer than 60% of these above their averages, and spikes above that level tend to get sold quickly.
That's where we are now. In addition to a large number of stocks trailing the S&P by double-digits, fewer than 60% have been able to hold above their 200-day averages. That's true among S&P 500 stocks, industries, sectors, and even global country indexes.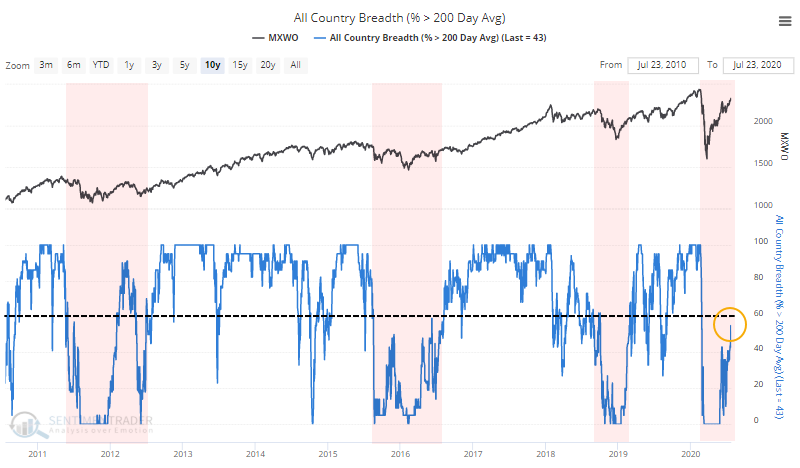 We've often noted that during times of unhealthy market environments, when fewer than 60% of stocks can hold above their 200-day averages, that periods of high optimism tend to lead to below-average forward returns.
We're seeing that now, to a historic degree. Since we've been tracking this data, just over 20 years, there has never been a day when Dumb Money Confidence was at or above 80% while fewer than 60% of stocks in the S&P 500 were trading above their 200-day averages. Until now.
This is an abridged version of our recent reports and notes. For immediate access with no obligation, sign up for a 30-day free trial now.
We also looked at:
A more in-depth look at stocks, industries, and sectors trading above their long-term averages
Forward returns when unhealthy environments are coupled with high optimism (and the opposite scenario)
Global economic surprises and earnings revisions have jumped higher - what that's meant for U.S. and overseas markets
U.S. dollar sentiment has plunged, with its surprising impact on gold
Both gold and silver are technically overbought to a historic degree