Stocks are finally becoming less volatile
---
---
In March and April, we spent a lot of time looking at the historic volatility in indexes and stocks. On some measures, it was the most volatile stretch in history, with the others essentially showing a perfect record of higher prices over the next 6-12 months.
Since then, volatility has ebbed. The VIX has declined for 16 out of the past 20 weeks, a record stretch.
Over the past week, in particular, stocks have calmed down. The 5-day average true range for the S&P 500 dropped below 1% for the first time in months. The end of August is often the least volatile, with the lowest volume, out of the entire year (including holidays) but this is early.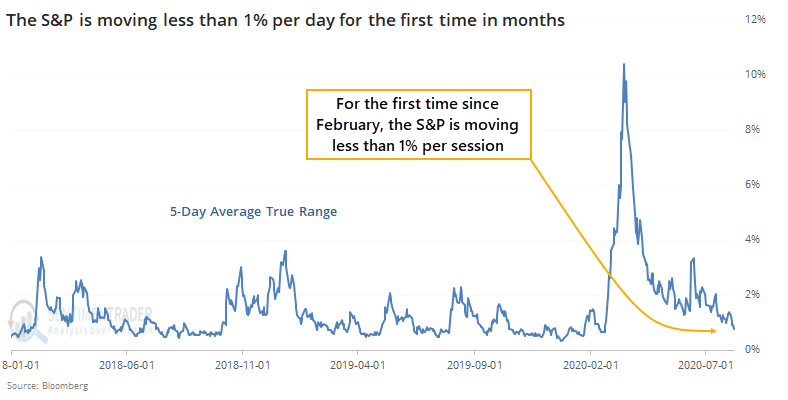 Of course, this follows what had been one of the wildest periods ever.
Once the S&P's average true range cycles from above 4% to below 1%, theory suggests that investors have come to grips with whatever crisis was at the forefront at the time, ostensibly ushering in calmer conditions and higher prices.
An argument could be made that this is the case, as the S&P rose most of the time, across most time frames. It was no slam dunk, however, and six months later it was down more often than up, with a poor average return. Price and volume patterns have become less reliable in recent years, however, and we wouldn't place much weight on this.
This is an abridged version of our recent reports and notes. For immediate access with no obligation, sign up for a 30-day free trial now.
We also looked at:
A closer look at returns following changes of regime in volatility
Speculative options traders are back, in force
The Nasdaq's relative momentum is waning
Money supply is falling...what that means for gold and silver

Related Posts:
---
Tagged As:
The post titled Stocks are finally becoming less volatile was originally published as on SentimenTrader.com on 2020-08-11.
At SentimenTrader.com, our service is not focused on market timing per se, but rather risk management. That may be a distinction without a difference, but it's how we approach the markets. We study signs that suggest it is time to raise or lower market exposure as a function of risk relative to probable reward. It is all about risk-adjusted expectations given existing evidence. Learn more about our service , research, models and indicators.
Follow us on Twitter for up to the minute analysis of market action.
Follow @sentimentrader