Still doing the splits
---
---
To one of the greatest degrees in history, we're seeing a large number of securities at 52-week highs and a large number at 52-week lows at the same time.
There is no doubt this is being heavily influenced by the sudden drop in SPACs, which have been distorting the breadth numbers for months. Whenever there is a split like this, there's always an excuse. In prior years, the split was "only" because of bank stocks, or energy stocks, or rate-sensitive issues. The vast majority of the time, that doesn't matter. It is what it is. Trying to outsmart the indicators and guess when they matter and when they don't has never been consistently successful.
This kind of split is what makes the HiLo Logic Index spike higher. The indicator is simply the lesser of 52-week highs and 52-week lows. Bull markets are typically preceded by very low readings, when everything is in gear one way or the other. Bear markets, or at least tough market conditions, tend to be preceded by times when markets are split between winners and losers. Like now.
Over the past 5 days, the HiLo Logic Indexes on both the NYSE and Nasdaq have averaged a very high reading. In recent years, this has had a mixed record, roughly preceding 3 rallies and 4 declines. Generally, if it was going to matter, then it mattered right away.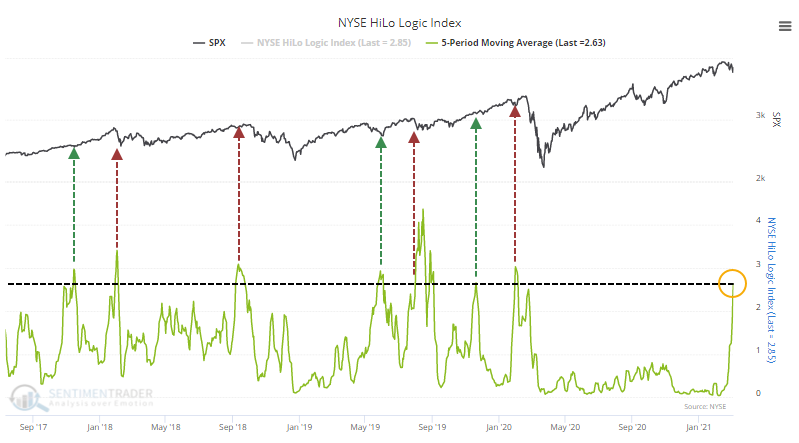 Over a long time frame, the Backtest Engine shows that anytime the NYSE figure averaged more than 2.5 over a week, forward returns were very poor, with a positive return over the next 2 months 40% of the time.
What else we're looking at
Full returns following jumps in the NYSE HiLo Logic Index
Same for the Nasdaq HiLo Logic Index, and what happens when they happen in conjunction
Chip maker AMD shows a definite pattern during the spring - and an options trade idea
The 6-month change in the energy sector is historic - what it's meant after other thrusts
Internal breadth among energy stock is among the strongest since 1950
There has never been a time with so many energy stocks outperforming the S&P

Stat Box



It took the Nasdaq Composite only

15

trading days to cycle from an all-time high to a correction, generally defined as a 10% or larger pullback. That's the 9th-quickest correction in the index's history dating back to 1971.
Etcetera
A lot of energy. More than 60% of large-cap energy stocks registered a 52-week high recently. That's among the highest percentages in 70 years. Source: CRSP, S&P, Bloomberg, SentimenTrader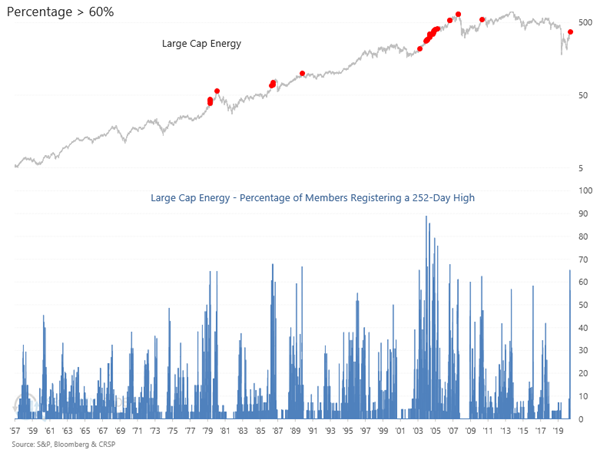 Gold's not glittering, though. Gold mining stocks have steadily slid in recent months, and now only 8% of gold mining stocks are holding above their 200-day moving averages. That's among the lowest readings in years. Source: SentimenTrader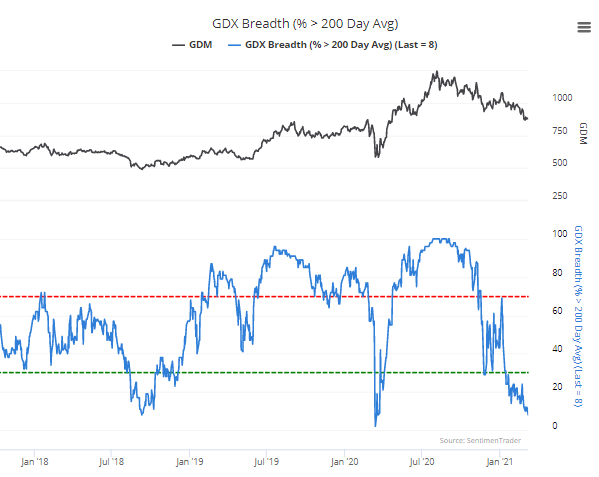 Not so safe haven. The popular broad bond fund, BND, has dripped lower in recent weeks. The Optimism Index for the fund has averaged barely above 20% over the past month, nearly a record low since the fund's inception. Source: SentimenTrader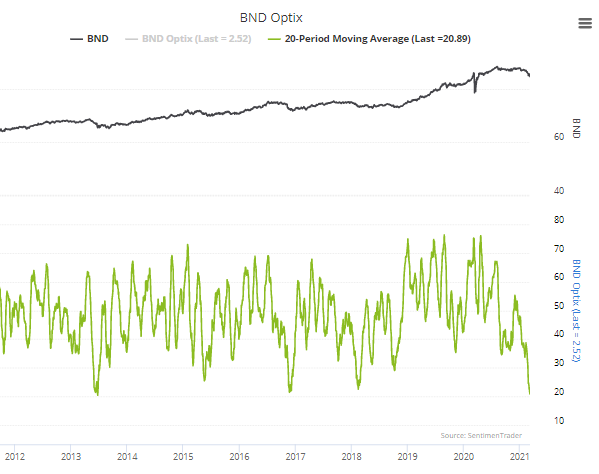 Related Posts:
---
Tagged As:
The post titled Still doing the splits was originally published as on SentimenTrader.com on 2021-03-09.
At SentimenTrader.com, our service is not focused on market timing per se, but rather risk management. That may be a distinction without a difference, but it's how we approach the markets. We study signs that suggest it is time to raise or lower market exposure as a function of risk relative to probable reward. It is all about risk-adjusted expectations given existing evidence. Learn more about our service , research, models and indicators.
Follow us on Twitter for up to the minute analysis of market action.
Follow @sentimentrader